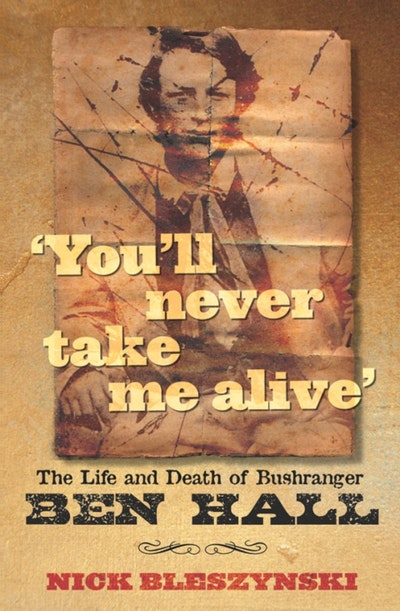 Published:

1 August 2008

ISBN:

9781741667554

Imprint:

Random House Australia

Format:

Paperback

Pages:

352

RRP:

$32.99
You'll Never Take Me Alive
---
---
---
'A ripper yarn' - BRYCE COURTENAYA classic tale of betrayal, injustice and vengeance from those wild, roaring days of the gold rush.
SHORTLISTED FOR BEST TRUE CRIME, NED KELLY CRIME AWARDS 2006
'I'm not a criminal. I've been driven to this life … I was held for a month in gaol, an innocent man. While I was away me wife ran away with a policeman … Then I was arrested for the mail coach robbery and held another month before I was let out on bail. When I came home, I found my house burned down and cattle perished of thirst, left locked in yards … By Gawd, Mr Norton, it's your mob have driven me to it and, I tell you straight, you'll never take me alive!'
A powerful tale of betrayal and vengeance, You'll never take me alive tells the story of Ben Hall, a hero in the great outlaw tradition. Falsely imprisoned for bushranging by New South Wales police in 1863, Ben Hall declared, 'I might as well have the game as the blame'. He bailed up more banks, stations, squatters and towns than any other bushranger and masterminded the Eugowra escort robbery, netting the biggest haul in the colony's short history.
Known as 'the gentleman bushranger', Ben Hall was a chivalrous champion of the people. He told police, 'You'll never take me alive!' and they took him at his word. But 140 years later there is one last shocking revelation still to come . . . Mixing archival research, folklore and the power of imagination, Nick Bleszynski, author of the controversial and bestselling Shoot Straight You Bastards!: The truth behind the killing of 'Breaker' Morant, brings Ben Hall out of the shadow of Ned Kelly and in vivid detail re-creates the life and struggles of the landowner who became an Australian bushranging legend.
Published:

1 August 2008

ISBN:

9781741667554

Imprint:

Random House Australia

Format:

Paperback

Pages:

352

RRP:

$32.99
Praise for You'll Never Take Me Alive
'… Bleszynski uses an inspired mix of archival research and the power of imagination to bring Ben Hall out of Ned Kelly's shadow.' - Forbes Advocate
'… Bleszynski's historical fiction offers a different and contemporary slant on the legend of Ben Hall … His book is the nearest thing to the stories I've been told by my parents and grand-parents.' - Dubbo Daily Liberal
'... a powerful tale of betrayal and vengeance, 'You'll Never Take Me Alive' tells the story of Ben Hall, a hero in the great outlaw tradition … [Bleszynski] vividly re-creates the life and struggles of this landowner - the son of convicts - who became an Australian bushranging legend.' - Griffth Area News