Debut author Sam Lloyd on the chess tournament that inspired his thrilling novel, The Memory Wood, 
Where did you get your inspiration for the book?
When our son was born, my partner spent a lot of time imagining nightmare scenarios that might endanger him. Some were the everyday kind: choking, sudden illness, fire. Others were more extreme: hostage crises, bridge collapses, home invasion by armed assailants. After six months her anxieties faded, but the episode stuck in my mind. And sometimes, when I'm in an unfamiliar location with our son, I catch myself looking around and thinking 'What if…?'
Then, when he turned eight, he reached the finals of a national chess tournament. One Saturday morning I drove him to the school where it was being held. The scene was chaotic: hundreds of parents and kids. Before the matches began, the adults were instructed to leave the main hall.
Some waited in the cafeteria. Others sat on the cricket pitch, or nipped out to buy coffee. And, because I'd forgotten my book – and perhaps because of the seed planted years earlier – I began to consider how easily a determined stranger might abduct a child from the venue.
As the tournament progressed, I pondered more questions. What if, far from being a helpless victim, that child possessed an intellect greatly surpassing its abductor's? What if this life-or-death struggle became one not of physical strength but of ruthless psychological cunning?
By the time the trophies were presented, I'd mapped out my story in full.
Your protagonist, Elissa, is a young chess prodigy and uses her strategising skills to great effect in the novel. How did you come up with the idea for Elissa's character?
The character of Elijah North had been kicking around inside my head for years, waiting for the right story to come along, but Elissa only materialised as I began to write her. It was thrilling to watch her form, right there on the page. Each new threat forces her to respond in more imaginative ways. I couldn't tell you where her ingenuity comes from – she's far more intelligent than me.
The story is told from the points of view of several characters, including Mairead, a police officer investigating Elissa's abduction. How much research did you have to undertake to write The Memory Wood?
The police investigation took the longest to research. I spent months reading policy documents and training manuals and researching real-life cases. Once the book's first draft was complete, I persuaded a serving detective inspector to read it and provide feedback.
How important is it for the reader to see the story unfold from different points of view?
At its heart, The Memory Wood is a cat-and-mouse game played by two highly intelligent children. They want to trust each other but they're forced – for reasons of survival – to engage in deception. It was important for the reader to see how each child perceives the other, and how much of each deception is understood by its target.
The Memory Wood is your debut thriller. How did you find the writing process? Did it differ from your previous writing?
Whatever the genre the process is generally the same. There are highs and lows, periods of jubilation and crushing doubt. Towards the end of a book I'm pretty much useless in the real world. Before writing The Memory Wood's final chapter, I went out for a drive, filled our diesel car with unleaded and sputtered to a halt a few miles from home.
Who was your favourite character to write and why?
Elissa was great fun, but Elijah was the most challenging and therefore rewarding. He wants to help Elissa but fears that by doing so he'll lose her, and he can't achieve one without the other. When he begins to doubt her sincerity, his allegiances shift once again.
What was your hardest scene to write?
Both Elissa and Elijah's later scenes proved harrowing. I can't say much more than that without giving away spoilers.
Do you have any pre-writing rituals?
I write at the same table where my kids eat breakfast. The only essential pre-writing task, other than brewing coffee, is mopping up spilled milk and Rice Krispies. I can't write for long periods because of the dog. After two hours of being ignored, she'll jump onto my lap and start typing nonsense.
What books have had the greatest influence on your work?
My dad read me The Hobbit when I was five and I've wanted to be a writer ever since. I'm a huge fan of Thomas Harris, Stephen King, Gillian Flynn. I love meaty characters and epic twists.
---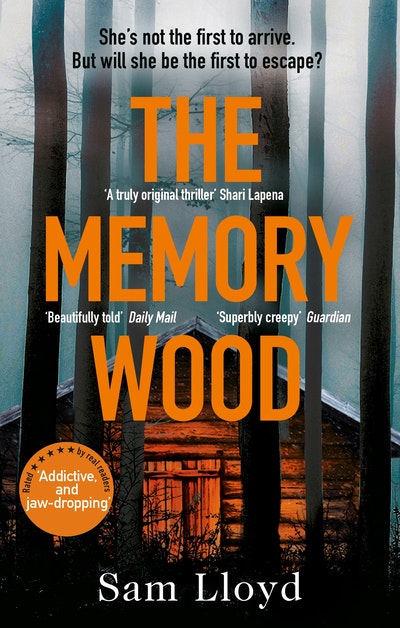 Gripping, twisty and addictive, this unique and heart-wrenching thriller has received unprecedented support from readers, press and authors alike. The must-read thriller of the year.
Buy now
Buy now
---