Author Richard Fairgray talks about what he thinks makes a good scary story, what scares him and more in this Q&A!
The kids in Black Sand Beach deal with some pretty scary stuff, but they seem more excited than scared, why is that?
I think things are scarier when you have the time to stop and think about them, but I never really give my characters time to do that. From the minute Lily and Dash get to the beach they're confronted by a zombie sheep, magnetic sand, the sky getting dark at random times of day so from there it's just an adventure that they can't help but be on. Also, I think it's way easier to be brave for someone else than for yourself, so the four kids sort of take turns being scared while the others step up.
You grew up in New Zealand, a place with plenty of beaches with black sand, but in the story you never specify where exactly this place really is, was that deliberate?
Yes. The reason I like stories about ghosts and monsters is that they can happen anywhere. All the reader ever finds out is that Black Sand Beach is the place on the very edge of the world, which means it could be anywhere in the world. It's probably no coincidence though that I spent a lot of my summers staying right by an actual haunted lighthouse here in New Zealand.
Have you always enjoyed horror stories? 
Absolutely, I love being scared and I love scaring people. I started writing ghost stories before I even started primary school. As a kid I loved Goosebumps and Eerie Indiana and all those books of short horror stories about kids getting carried away by moths or cats speaking for no reason.
What do you think is the key to a good scary story?
Taking something ordinary and twisting it just a little bit. The best scary stories make your heart race, delight you but leave you thinking about them for a long time. Often that's as simple as putting something unusual in the wrong place. You can scare me with a big fanged monster for a minute, but if I find corn cob holders in your toothbrush cup I am never going to stop wondering why they were there.
What are you scared of?
I want to be tough and say I'm not scared of anything, but I actually managed to scare myself a few times while I was writing Black Sand Beach. I wrote most of it in a building that was actually connected to another haunted lighthouse and when I was up late writing it in the dark my imagination would sometimes get the better of me. I can't tell you how often I have double checked that my office door is locked and bolted.
---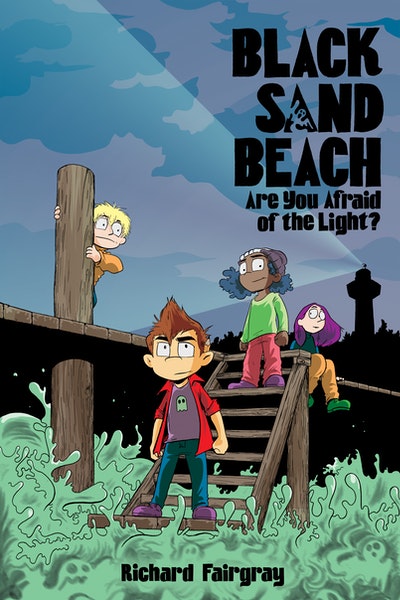 Book one the Black Sand Beach series, a middle grade graphic novel series about a haunted summer vacation, written by Richard Fairgray, a bestselling and award-winning comic book and picture book author / illustrator.
Buy now
Buy now
---