Vintage Creative Director Suzanne Dean and artist Lena Peters on circles, Murakami and monkeys.
The cover for First Person Singular, the new short story collection from Haruki Murakami, certainly catches the eye. Here, Vintage Creative Director Suzanne Dean and artist Lena Peters talk about the design and their work more broadly. 
Lena Peters: Murakami's covers have a very distinctive look. How do you go about a new Murakami cover, and was this one any different? 
Suzanne Dean: I have created a strong look for Murakami's book covers through font, palette and the use of circles within each his designs. The look is now well established so I felt I could play with the boundaries a little. 
For each book cover I design, I am looking to respond to the text, its tone and content. Within this collection of short stories, there were several mentions of monkeys, so that's what I picked up and ran with. This was one of the first covers I worked on at home as lockdown began. I'm not sure if that made any difference. Looking back, I have found some rough ideas in my sketchbook that I made when conceiving the design.
Can you tell us a bit about your work?
Lena Peters: Of course! I'm an artist and I usually work in ceramics. My work is inspired by historical objects and by stories, for example Ancient Greek vases and mythology. My pieces then work to illustrate and embody a narrative of my own devising, inspired by these areas of interest.
When the pandemic started and I was unable to access my studio, I decided to experiment with lino print as it was something I could do at home and I have always loved the process, texture and results of lino. In a lot of ways, lino prints are visually similar to my illustrations on ceramic, and this was the medium I used to create the design for First Person Singular. Illustrating a book cover works really well with my usual practice – this time I was just trying to tell a story by someone else!
I'd love to know what it was about my work that led you to approach me to work on the cover.
Suzanne Dean: I have always loved your work. I remember you came into the office with your portfolio when you graduated, and I have been watching out for your new work ever since. Your illustrations reminded me of the Japanese signature block stamp or chock and so I commissioned you to draw me a golden monkey, for the front cover and a shaggy monkey for the back. Originally, I had thought the monkey would be a small chock incorporated into the design, but things developed as I started pulling the cover together.
What were your first impressions on reading First Person Singular? Had you read any of Murakami's books before?
Lena Peters: I'm a huge fan of Murakami and have read almost all of his books – he is one of my all-time favourite authors! It was a dream come true to be approached for this cover design. I loved the stories from First Person Singular that I read to get a feel for the cover illustration (hint: there's a monkey in one!) and I really can't wait to read the rest.
How did you come to the other elements of the cover – the circles, the Japanese character? 
Suzanne Dean: In the story 'Cream', Murakami mentions 'a circle with many centres', and a circle that 'is, most likely, not a circle with a concrete, actual form'. This is why the circles are loose and hand drawn. I wanted a Japanese symbol for the letter 'I' – the wonderful Japanese calligrapher, Keiko Shimoda, supplied me a handwritten translation.
This is (I think!) the first time your work has appeared on a book cover. How does it feel to see your work in this format? 
Lena Peters: It is the first time! I have always loved books, for their covers as well as their stories, and so it is such an amazing feeling to see my own work on a cover. I'm very excited to see it in the flesh, and so grateful to you for the opportunity to work on this project.
What's your next Murakami project?
Suzanne Dean: I am working on Murakami T, a non-fiction book about Murakami's amazing collection of t-shirts. I suspect this book will be extremely popular. And as for the paperback of First Person Singular – well I don't know, but I am still very keen on your monkey.
---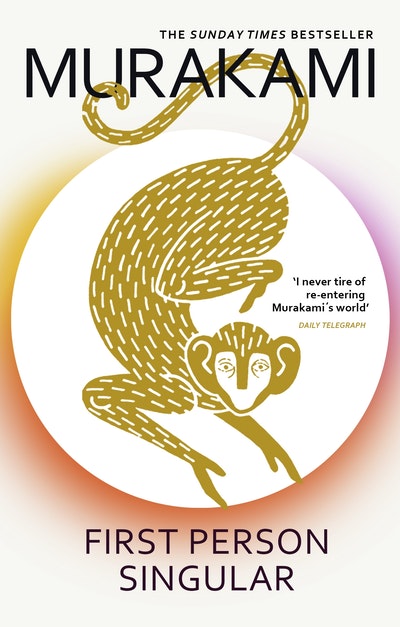 A brilliant new collection of short stories from the unique mind of the internationally bestselling author of Men Without Women and Killing Commendatore.
Buy now
Buy now
---