This recipe has been a fan favourite for over a decade. Cut it into slices for the kids or into tiny squares as a treat with your cuppa. It also freezes well, so you can stash a few squares away for when no one is looking.
READY IN: 30 MINUTES PLUS CHILLING MAKES: 24 SERVES, DEPENDING ON SIZE
Ingredients: 
1 packet of plain biscuits – wines, malts, whatever is cheap
1 1/2 cups desiccated coconut
1 cup raisins, sultanas or Craisins
395g can sweetened condensed milk
2 tbsp cocoa
150g butter
1 tsp vanilla essence
Icing: 
1 1/2 cups icing sugar
3 tbsp cocoa
3 tbsp butter, at room temperature
2 tbsp hot water
1/2 tsp vanilla essence
100s and 1000s to decorate (optional) 
Method: 
1. Grease and line a Swiss roll tin or slice tray. Crush the biscuits in a sturdy bag or pulse in a food processor, then combine with the coconut and raisins in a large bowl. 
2. Place the condensed milk, cocoa, and butter in a small saucepan. Heat till bubbling, stirring frequently to prevent scorching. Remove from the heat and add the vanilla. 
3. Stir the hot mixture into the dry ingredients till thoroughly combined. Press into the greased tin, then refrigerate or slip into the freezer until cooled and firm. 
4. Make the icing. Combine the icing ingredients in a bowl or processor and spread over the cooled slice using a spatula or palette knife. Sprinkle with 100s and 1000s if using. Chill to set the icing before slicing into bars. 
Tip: If coconut allergy is a problem, substitute with rolled oats; my sister always made this with oats, as her kids simply didn't like coconut. 
---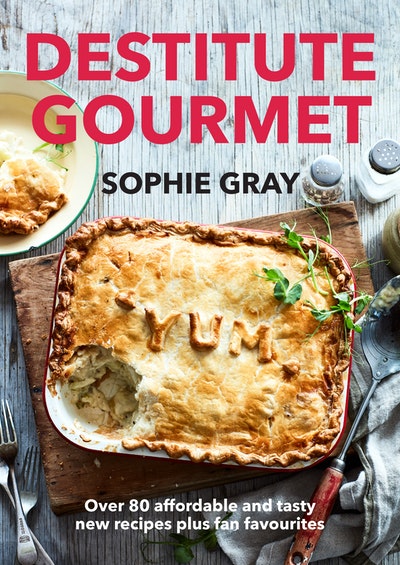 Modern tasty food that's quick and easy to make, with readily available and very affordable ingredients.
Buy now
Buy now
---