This hearty soup is a proper hug in a mug. The ricotta and Parmesan topping really fulfills the 'lasagne' promise, but if you don't want to bother you can just top it with grated cheese and it'll still be a winner. The super-cheesy garlicky toasties are a good addition to any tomatoey soup — or just eat them on their own!
READY IN: 45 MINUTES SERVES: 6
Ingredients: 
2 tsp olive oil
350-500g beef mince
1 onion, chopped
3-4 cloves garlic, crushed (around 1 tbsp) 
1 courgette, chopped (or use another green vegetable)
1 carrot, peeled and chopped
500ml passata 
400g can chopped tomato
2 cups beef stock
1 tsp extra beef stock powder 
1/4 cup tomato paste (around 4 tbsp)
2 tbsp chopped parsley 
2 tsp dried basil 
1 tsp dried oregano 
2 cups broken-up lasagne sheets,  the crinkly kind, or another pasta such as macaroni 
Cheesy garlic melts:
2 tbsp butter
1/2 tbsp olive oil 
2 cloves garlic, crushed
2 tbsp finely chopped parsley 
8 slices white bread
4 slices of cheese – cheddar, Edam (whatever you have) 
1/4 cup grated mozzarella (optional) 
Topping: 
1/2 cup ricotta
1-2 tbsp grated parmesean 
1 tbsp chopped parsley, plus extra 
2 tbsp chopped basil (optional) 
Method: 
1. Heat the oil in a large saucepan. Add the mince and cook, stirring and pressing with a fork or masher to break up any lumps. When crumbly and browned, add the onion, garlic, courgette and carrot to the pan and cook gently, stirring occasionally, until the onion is soft. 
2. Add all the remaining soup ingredients except for the lasagne. Bring just to the boil and simmer the soup for 30 minutes. 
3. Add the uncooked lasagne directly to the soup, simmer for 10 minutes until cooked, then add some extra water to thin. 
4. Make the cheesy garlic melts. Combine the butter, oil and garlic in a small microwave-safe bowl and melt in the microwave (or melt in a small saucepan.) Add the chopped parsley, then brush over one side of each piece of bread. Place the cheese on the uncoated sides of the 4 slices, then top with the remaining bread, with the buttery sides on the outsides. Heat the remaining butter mixture in a frying pan and gently cook the sandwiches on both sides till golden and the cheese has melted. Slice into quarters to serve. 
Tips: Mix and match the vegetables according to what you have: capsicum, finely shredded spinach, broccoli. . . If your jar of passata is a bit larger, just use it all  – a little more won't hurt. 
---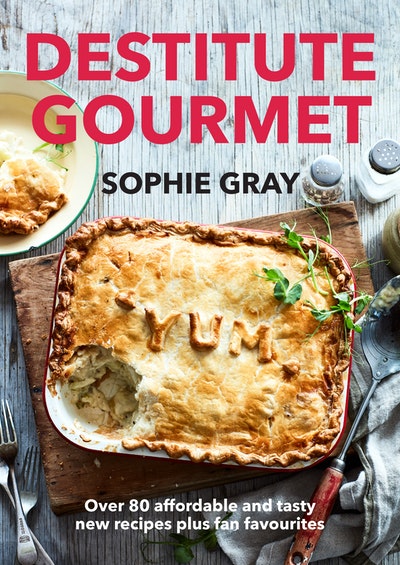 Modern tasty food that's quick and easy to make, with readily available and very affordable ingredients.
Buy now
Buy now
---