The magic of warm, runny eggs and cold garlicky ricotta with a spicy kick of bolshy butter will blow your mind. . . So simple but so delicious, a magical dish to impress with ease.
Serves 1, or 2 if you're sharing on Valentine's Day
INGREDIENTS 
2 free-range eggs, at room temperature
Brown Chilli Butter
1 tbsp butter
1 tbsp olive oil
½ tsp sweet smoked paprika pinch of cayenne or chilli flakes
sea salt and black pepper, to taste
Whipped Ricotta
¼ cup ricotta or cottage cheese
½ cup plain unsweetened yoghurt
2 cloves garlic, minced
1 tsp za'atar
1 tsp ground sumac
sea salt and freshly ground black pepper, to taste
1 tbsp chopped fresh chives, parsley or dill

To serve
chopped fresh chives
thinly sliced spring onion
pinch of za'atar
pinch of ground sumac
toasted slice of Seedy Keto Loaf
METHOD
In a saucepan, bring water to the boil over a high heat. Add the room-temperature eggs, turn the heat down a little and boil gently for 5 minutes. Remove from the water with a slotted spoon and peel when cool enough to handle.
In another small saucepan combine the butter ingredients, stirring frequently till the butter starts foaming and darkening. Remove from the heat.
For the ricotta, simply whisk the ingredients together. Taste and adjust seasoning.
To serve, spread the whipped ricotta mixture into a bowl or plate, add the peeled eggs and spoon over the chilli butter to enrichen. Serve sprinkled with the chopped fresh chives, spring onion, za'atar and sumac and the toast on the side to scoop up all the eggy saucy goodness.
---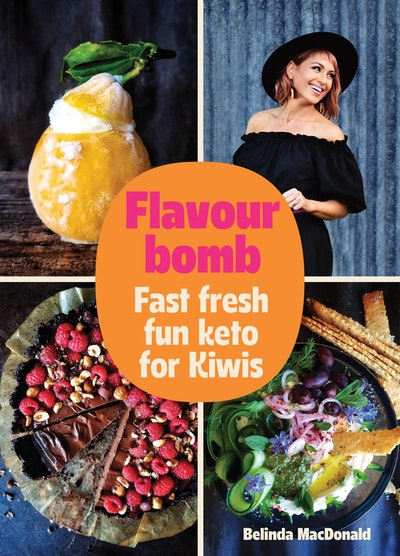 Over 150 recipes from vibrant keto cook Belinda MacDonald - joint winner of My Kitchen Rules NZ in 2014 and, more recently, the creator of the popular Flavourbomb website.
Buy now
Buy now
---