If you're a lemon-lover you will adore these decadent, keto-friendly, luscious lemon bars studded with succulent raspberries and fragrant rosemary. Beware! – HIGHLY ADDICTIVE :)
Makes 12
INGREDIENTS 
Biscuit Base 
125g butter, melted
1 cup almond meal
1 tbsp powdered erythritol or blend, or sweetener of your choice
pinch of salt
Lemon Topping
3 juicy lemons, to taste
3 free-range eggs
¼ cup powdered erythritol or blend, or sweetener of your choice
¾ cup almond meal
pinch of salt
1 tbsp fresh rosemary leaves, finely chopped
½ cup fresh or frozen raspberries
METHOD
Preheat the oven to 175°C and line an 8cm x 8cm baking dish with baking paper.
For the base, combine all ingredients and press evenly into your lined dish. Bake for 20 minutes, then remove and cool for 10 minutes.
For the topping, zest the lemons (one, two or all three, depending on how zesty you like things) into a mixing bowl. Add their juice, followed by the eggs, powdered sweetener, almond meal, salt and chopped rosemary. Whisk together until glossy and smooth, then pour onto your cooled biscuit base and stud evenly with the raspberries. Bake for another 20–25 minutes.
Cool in the tin before slicing into bars. Best served fridge-cold along with a dollop of yoghurt or cream. The bars will keep for up to 5 days in an airtight container in the fridge.
---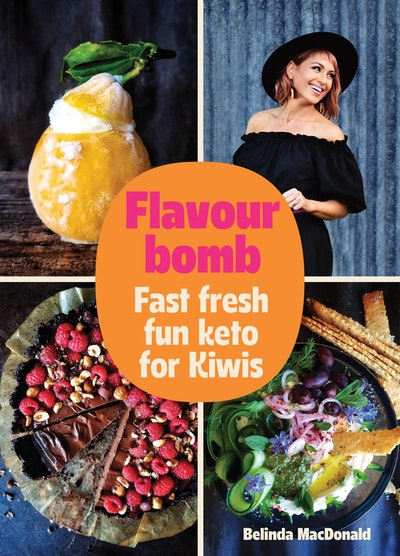 Over 150 recipes from vibrant keto cook Belinda MacDonald - joint winner of My Kitchen Rules NZ in 2014 and, more recently, the creator of the popular Flavourbomb website.
Buy now
Buy now
---