This cake is a must for speculoos biscuit lovers.
It's soft, moist and so easy to make. With speculoos spread (cookie butter) being the main ingredient, this cake is packed with sweet, cinnamon flavours.
Serves 8
Cook 40 min + 40 min cooling 
525g (18.5oz) speculoos spread/cookie butter (I use Biscoff)
1 ½ tsp baking powder
2 large eggs 
For the topping (optional):
2 speculoos biscuits (I use Biscoff), finely crushed


1. Preheat the oven to 180°C (160°C fan)/350°F/Gas mark 4 and line the bottom of a 20cm (8in) round springform cake tin with a circle of nonstick baking paper.
2. Put 400g (1 ⅔ cup) of the speculoos spread (cookie butter) into a microwave-safe bowl and microwave on high in 30-second bursts, stirring at each interval, until runny and smooth, then let it cool for about 5 minutes.
3. Transfer to a large mixing bowl, then stir in the baking powder with a balloon whisk until combined. Gradually mix in the eggs until fully combined, then pour into your prepared tin and smooth out evenly with the back of a spoon.
4. Bake in the oven for 30 minutes, or until a toothpick inserted into the middle comes out clean. Leave to cool in the tin for 30 minutes, then transfer to a cooling rack. 
5. Melt the remaining speculoos spread in a microwave-safe bowl as above, then pour over the cake, spreading it out with the back of a spoon and letting it drip over the edge. 
6. Store in an airtight container for up to 4-5 days. 
Optional topping:
At step 5, sprinkle the crushed biscuits over the top to decorate, if desired.
Hungry for more recipes? Sign up to our foodie email here
---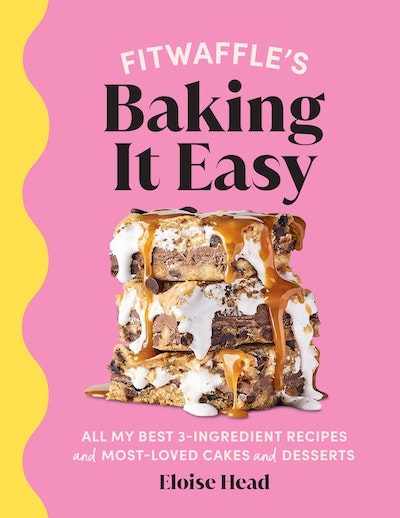 Social media baking superstar Fitwaffle (6 million followers) bakes quick and easy cakes, cookies, traybakes and puddings using only 3 ingredients.
Buy now
Buy now
---