A guide to choosing the right Great Walk for you and your group, from New Zealand's Great Walks.
Which track to do
If this is your first Great Walk and you are not particularly experienced at tramping, perhaps choose an easier track like the Abel Tasman. There are no big hill climbs and the terrain will let you test your fitness and finetune your outdoor skills before you try one of the more mountainous tracks. The Abel Tasman is also child-friendly, with lots of camping choices spaced all the way along the track.
Fitness
For the uninitiated, carrying a heavy pack (especially uphill) can be physically draining. If possible, do some training in the hills around home (yes, wearing a fully laden pack) before you venture on to the track. If there are no hills nearby, any form of aerobic training that uses your legs and core is worthwhile. Even an elevated walking machine at a gym will help; you might get funny looks from the other gym users if you are wearing a pack, but it's worth it. Being fitter and stronger will make your Great Walk experience that much more manageable and enjoyable.
Skill level
Although the Great Walks are well maintained and have lots of facilities, learning the correct skills for travelling in the outdoors is still a good idea. Things like pitching a tent, reading a map, lighting a cooker, dealing with (or, better yet, preventing) blisters, managing more serious first-aid situations, and understanding the changes in weather in the mountains are fundamental to a safe trip in the back country. See if there is a walking or tramping club nearby to where you live and enquire if it runs basic outdoor courses. Find out if any of your family or friends are experienced trampers and, if so, get them to show you what they have learnt. Staying safe in the outdoors should always be your main priority.
Season
Some of the Great Walks are open only during certain times of the year, usually because of the threat of avalanches in the higher mountain sections. Other tracks are open all year round and, while colder during the winter months, they are likely to be less crowded. The weather in New Zealand is very changeable and sometimes quite unpredictable (see more in the Weather section on page 27), and you may experience poor conditions during any time of the year. Check the DOC website (www.doc.govt.nz) for updates, such as whether the open season for a particular walk has changed.
Booking
You will need to book your bed or campsite online with DOC well before you decide to do the trip. The online process is easy, but don't delay: some of the Great Walks become booked out very quickly, especially during the more popular summer months.
This is also a good time to consider what transport you will require getting to and from each end of the track (the chapters on each of the Great Walks will spell out any transport requirements and options). You may need to book this well in advance also.
---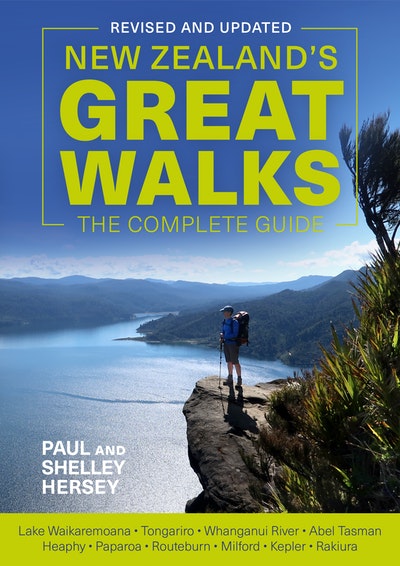 The ultimate guide to exploring New Zealand's Great Walks, fully revised and updated.
Buy now
Buy now
---