Sam Neill's twin love affair with Central Otago and Pinot Noir goes back to childhood.
In the beginning, in 1993, there was The First Paddock vineyard in Gibbston. Then, five years later, The Last Chance vineyard was planted in the Alexandra Basin, and soon after, Red Bank Farm, near Clyde, at the other end of the Alexandra Basin, was bought and planted. Twenty years on, in 2013, The Fusilier vineyard on Felton Road in Bannockburn was bought. Two Paddocks now had four vineyards in three sub-regions, with a total of 20 hectares of grape vines. Since 1999, Red Bank Farm, which had been a government research station, has been the engine room for Two Paddocks, and is now also the home of the Two Paddocks Wine Club.
Sam Neill's twin love affair with Central Otago and Pinot Noir goes back to childhood days when he camped in the region with his family and 'fell in love with the big empty hills'. The Pinot bug came a bit later. His father had seen the potential for growing grapes in Central Otago back in the 1950s and was excited when his friend Rolfe Mills started planting grape vines in the 1970s at Rippon, in Wanaka. Then, when he was living in London in the 1980s, the best French wine Neill could afford to buy was Burgundy. 'You could get a really good Burgundy back then for about twenty quid.' Once he had enough money to invest in Central Otago, 'Pinot rang like a bell', and from the start Two Paddocks has been all about Pinot Noir. However, Neill has also planted 2 hectares of Riesling at Red Bank Farm to extend his portfolio to include two different Rieslings as well as five different Pinot Noirs.
Two Paddocks is certified organic, and alongside the vineyard at Red Bank Farm, Neill also has a cherry orchard, lavender, saffron, chickens, ducks, pigs, sheep and cattle, and he has planted natives to encourage the native bird population to return. The cattle and sheep provide compost for the vineyards, and the sheep are also winter lawnmowers and provide the odd roast of lamb. The chickens lay free-range eggs and the pigs are there because Neill 'likes pigs', and he has named them after friends. Angelica, the kunekune pig, actually turned out to be a boy, while Charlie Pickering, the white duck, who swims with Neill in his pond, is in fact a girl. Well, Sam Neill is an actor as well as a farmer, so a little poetic licence is probably allowed. Being organic is more work and more expensive, but Neill believes in providing a healthy place for the people working with him, and in making healthy wine.
Neill spends about four months a year in Central Otago and describes Pinot as an obsession. 'You can't make good Pinot on the cheap. It's hand-crafted from beginning to end.' His talented viticulturist Mike Wing has been with him for 12 years now, taking good organic care of all the Two Paddocks vineyards. The work is hard and ongoing — the vines are visited up to 14 times a year. It starts with winter pruning and ends with the harvest. In between, it includes bud rubbing, shoot thinning, leaf plucking, wire lifting and fruit thinning. Not to mention putting on and taking off nets in late summer and early autumn. Pinot is a naturally low-yielding grape vine anyway, but to get the desired concentration of flavour inevitably some fruit has to be dropped, making for even lower cropping levels and making it even more expensive to produce.
In 2016, Two Paddocks celebrated its twentieth Pinot Noir vintage. Winemaker Dean Shaw makes three single-vineyard Pinot Noirs, a blended Pinot, which is Two Paddocks' flagship wine, and then, under the Picnic label, a second blended Pinot Noir and a small quantity of Riesling. He has been working with Neill for nearly 20 years and both are shareholders in the Central Otago Wine Company (COWCo), which Neill co-founded back in 1997.
Shaw says of winemaking that 80 per cent of the final result depends on the vineyard and what happens there, 15 per cent is down to luck, and 5 per cent is about the winemaking process. 'Winemakers prefer to work with good material and not do too much. But you have to have the confidence to not do too much. You only get one shot a year.' However, in a poor year, he does acknowledge that winemakers need much more skill and knowledge. 'Very good winemakers can make something ordinary pretty bloody good.'
Both Pinot Noir and Riesling are very much soil-based wines, and in their single-vineyard Pinot Noirs, Shaw is trying to reflect the different Two Paddocks sites, as well as the particular vintage. With three single-vineyard Pinots from three different sub-regions, Gibbston, Bannockburn and Alexandra, fans have plenty of Pinots to choose from, but if they are unable to decide where to start, the Two Paddocks flagship blended Pinot Noir 'ticks all the boxes', in the words of New Zealand Master Sommelier Cameron Douglas.
Gibbston is higher and colder than the other Central Otago sub-regions, and so more frost-prone, but Neill says in a good year the wine is superb. His Last Chance vineyard, near Alexandra, is not so high, but is 'possibly the southernmost vineyard in the world'. His 2015 Pinot Noir from this vineyard was described by Frank Wilden in Business Insider Australia as being 'as good as any Pinot I've seen out of NZ. Outstanding.'
'Some places have magic; some don't,' says Neill modestly. The latest offering from Two Paddocks is a 'natural' Pinot Noir, made from grapes from The Fusilier vineyard at Bannockburn. A natural wine is not built to age as it has no preservatives, but 'it's entirely different and very delicious'. Just 40 cases were made and these are for sale only to members of the Two Paddocks Wine Club.
Neill wants to leave a 'wine legacy' — a legacy in which he takes quiet pride and which gives him ultimate satisfaction. 'When my films are all dead and gone, there will still be the great vineyards.' It may not be 'a sane person's business', but thanks Sam — for your films and your wine.
---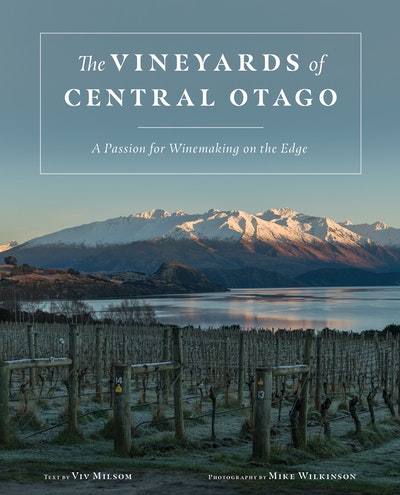 A beguiling, beautiful snapshot of Central Otago wine – its history, its distinction, and the people who have made it all happen.
Buy now
Buy now
---