Learn how you can reduce, reuse, recycle to live smarter and more sustainably with two new books, Eco Home by Melinda Wililams and Repurposed by Catherine Foster. 
Get your eco-inspiration from two of our recently published titles.
Eco Home, is an entertaining, informative and highly accessible guide to eco-friendly building, renovating and simply living. Repurposed is an aspirational showcase of 20 stunning New Zealand homes that use recycled and upcycled materials, structures, spaces and furnishings.
Repurposed features people who have taken environmental living to the next level, creating a home that is eco-led from the inside out. For Peta and Jo Davy, this meant incorporating disused Australian ironbark telegraph poles into the design of their innovative Mangere home, while Fleur Palmer and Justin Marler transformed an army barracks into a secluded suburban oasis in Point Chevalier.
Whether it's looking beyond the original purpose of a building to create a new, unique dwelling, reimagining a use for items that would otherwise go to waste, or simply reducing our consumption of non-renewable materials, there are so many ways you and your family can contribute to a cleaner, greener planet.
And now, for some kitchen life hacks that are sure to improve your personal green-star rating, and that you can easily incorporate into everyday life, starting today! 

DESIGNING A WASTE-FREE KITCHEN: tips from Melinda Williams' Eco Home

Audit your eating
Tiny changes to your shopping habits can easily eliminate rubbish that you throw out every week. For example, if you buy chicken breasts every week, taking a reusable container to the supermarket's butchery section rather than grabbing a pre-wrapped tray from the chiller will eliminate 52 pieces of plastic wrap, 52 plastic trays and 52 of those disgusting chicken-juice soaked pads from your rubbish every year.

Stick to fresh ingredients: There's a direct correlation between the amount of processed food you eat and the amount of rubbish you generate. Try to shop the periphery of the supermarket — that's where all the fresh food in the least packaging is kept — and avoid going down the aisles. Or shop at farmers' markets — fresh foods without the temptations of their convenience-packaged cousins.

Learn to make basics: There is a huge amount of pleasure and accomplishment in making your own staple foods like bread, butter, yoghurt, stock or pasta sauce — and it's usually a lot easier than you think.

Plan your meals and shop to a list: According to a report prepared for the Ministry for the Environment, every year the average New Zealander sends 61.2 kg of food waste to landfill. Meal planning helps decrease that waste (and the chore of having to regularly expunge those soggy cucumbers and the expired meat that you didn't get around to coming up with a recipe for from your fridge).

Eliminate disposable bags: You probably already bring your own reusable carrier bags to the supermarket, and the major supermarkets are slowly starting to eliminate plastic carrier bags from checkouts as well. Lightweight reusable produce bags (usually made of string or recycled plastic mesh) will help bring your plastic bag count to zero.

Invest in reusable storage containers: Reuse jars or buy storage containers for baking ingredients, spices and dried foods like pastas and grains that can be refilled at bulk food outlets. Some bulk food stores even have online shops that will send your order straight to your door in paper bags.

Segment your bins: Segmented under-bench bins make it easy to separate your different kinds of waste. Ideally, you'll have four: one for 'regular' recycling, one for soft plastics, one for compost scraps and one for landfill.

Grow your own herbs: Besides being expensive, store-bought herbs almost inevitably come wrapped or boxed in plastic. Save money and waste by growing potted herbs on your counter, windowsill, balcony or deck (close to the kitchen is best).

Compost your scraps: Composting is one of the most beneficial ways to recycle in your home, giving you a first-hand experience of transforming waste into useable nutrients and connecting you directly to the cycles of nature.
---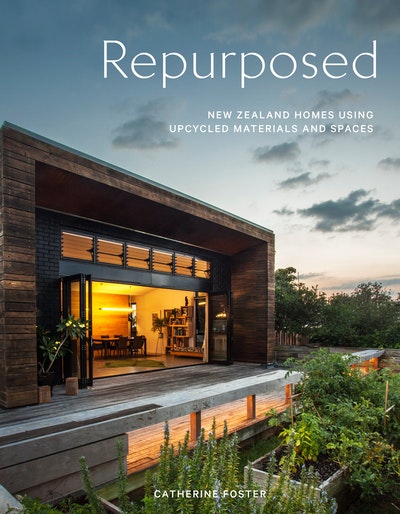 New ways to use old materials, spaces and buildings, by the author of Small House Living.
Buy now
Buy now
---