If anyone you know has a serious case of native plant nausea, an affliction caused by exposure to dull municipal or motorway landscaping, the doctor is in: Rosa Davison has concocted the cure.
But the patient will have to drive down long back country roads to reach the place of healing at Paripuma, on the Marlborough coast south of Blenheim.
This talented landscape designer has created a beautiful native garden by the sea. It's a gardener's and cinematographer's dream: lush and green and open in equal measure, home to the rare and interesting as well as to ordinary everyday native plants. And, used with panache and given room to breathe, they all shine. Rosa's native garden is an instant pick-me-up.
Rosa likes to treat arriving visitors to a touch of drama. Hop off the coach or untangle yourself from the car and step into the enclosed courtyard between two wings of her stylish country house, where you'll be greeted with a cup of tea and a slice of homemade shortbread. You may notice a rustic wooden door, festooned with a pair of glossy emerald-green Tecomanthe speciosa vines. Shapely ngaio trees at the entrance face a pair of pots bearing Marlborough rock daisies. Neither tree nor daisy is rare, but here is where they belong and so they flourish. These are Rosa's scene setters, her statement of intent.
Tea finished, she throws open the door to the house and you look through the windows. That's when you clock a glimpse of a garden unfurling like a green carpet, its view across the sea to Mt Rahotia tugging you out to the terrace. It's a gesture that can leave people gasping with delight or, occasionally, bursting into tears. The discomfort of your journey is dispelled with the reward of a glorious garden framed by coast and cliff (pari means 'bluff' and pūmā, 'off-white' in Māori). 'I love the idea of giving people a bit of a shock,' Rosa says.
Wide steps entice you down into the park-like garden, with its curious centrepiece of a rusting ancient whale pot (a family treasure) and fire-bright Poor Knights lilies, Xeronema callistemon. From here on, Rosa lets people discover the garden at their own pace.
It helps, though, if you know that Rosa planted everything you see: when she and Michael and their three teenaged children moved here in 1999, this was all exposed sandy paddocks. Ask her how much land there is, and she jokes, 'depending on the tide, 5 or 7ha'. She remembers standing with arms outstretched, thinking, 'I want this to look as if we've cleared a space from the bush.' You be the judge. Rosa drew plans for house and garden together, plotting it all down to the last detail, including the theatrical entry. Though she loved European formal gardens she never felt she should copy them at Paripuma — the bright antipodean light does exotic plants few favours. 'And how can you beat an English herbaceous border? They're fabulous, but I thought it would be fun to do a New Zealand version.' Rosa had grown up in the area and holidayed in the Marlborough Sounds as a child, so she knew which plants were sturdy enough to withstand the harsh coastal climate.
She's not saying use only local plants: 'I love all plants. But why not use ours to better advantage?' Rosa began at the borders, chipping through rock-strewn ground to plant windbreak gums (the 'ghosts of Gondwanaland', she calls them) and 2000 ngaio seedlings that she protected from wind-rock, possums and rabbits with haybales. As they found their feet, she followed up with generous quantities of ake ake (Dodonaea viscosa), Coprosma acerosa 'Hawera' for groundcover, hedges of hebes and Coprosma repens 'Middlemore', griselinia, puka, pittosporum and the buxus native alternative, Melicytus obovatus. Rarities include a yellow flowered pōhutukawa, descendant of a pair found on Motiti Island in the Bay of Plenty. Tecomanthe speciosa, the elegant small tree Elingamita johnsonii, the aforementioned Xeronema callistemon, and one of the world's rarest plants, Pennantia baylisiana, were all rescued just this side of extinction from islands off the Northland coast and given a new home in Marlborough.
Rosa takes a laissez-faire approach when random seedlings appear. Mostly they're native plants such as ngaio, or weeds, and if they thrive that's fine by her. But she also propagates her own plants from seed, including lemonwood and tecomanthe, plus kākābeak (Clianthus) and the linen flax Linum monogynum.
When you reach the end of the 300m avenue, where garden melts into rocky beach, don't be surprised to find silverbeet, the commonest plant in Kiwi kitchen gardens, growing happily in the tide: it's floated up the coast, and Rosa lets it be. Grass paths take you off the main divide through a tranquil nīkau grove that is one of her favourite areas. Elsewhere there's a handsome potager where vegetables grow in raised beds edged with railway sleepers; a scaled-down children's garden; and a native perennial area that is still under construction.
Her next project is to merge the whole garden with the beach using plants that live on the saltwater margins. One of Rosa's off-piste garden areas holds special memories: at Christmas it's red and glowing, thanks to a double row of the upright hybrid pōhutukawa 'Vibrance' flanking a red-painted bench seat. Rosa planned this when her mother, who loved pōhutukawa, was dying. Rosa likes not being influenced by any designers or schools of thought: she doesn't want to do what everyone else has done. But if she's pushed to cite visual cues, she mentions the illustrated books she read as a child, with idealised landscapes that are still fresh in her artist's mind. 'I have a distinct memory of the clearing with the foal's grave in a Hans Christian Andersen book,' she says wistfully. She loves the freedom that formal design gives a gardener: get your clean straight lines right (and she admits she's fussy about this), fill it up to overflowing and it always looks tidy.
Nature has offered its own seal of approval with the return of tūī, kererū and korimako, quail, pheasants and grey ducks. The latter are descendants of a rescued duck, coddled in Rosa's bedroom until it was well enough to be released; three years in a row she has returned to raise her own brood. Rosa knows it's the same duck because 'she comes to my whistle and all the other ducks fly away'. This duck's growing family makes a beeline for the pond, home to hundreds of croaking frogs in summer ('the Kermit chorus'), plus geckos, insects and butterflies. Rosa is thrilled: 'It's given me the greatest pleasure of all.' She is a bit nuts about animals, she says. In fact, rabbits gambol unmolested here. After all, once seedlings are established, Bugs Bunny and co seem to lose their appetite for tougher older plants, she reasons. Rosa is modest about her achievements and genuinely delighted when people compliment her skills, or say this five-star garden of national significance has changed their minds about native plants. When she is praised for her floriferous display of xeronema, she demurs. There's nothing tricky about growing the famously difficult Poor Knights lilies here, she insists. Her prescription: plant them in rock, don't feed or water them, let them breathe in the wind, and chuck seaweed at them every now and then. It's easy.
---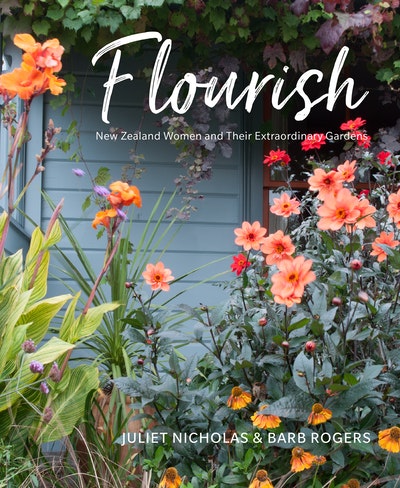 A look at gardens that are living works of art, developed by creative women all around New Zealand.
Buy now
Buy now
---