Each story in the Showtym Adventures series is inspired by a true event from the Wilson sisters' childhood, so every pony featured in the series has a real-life counterpart! We talked to Kelly Wilson to find out more about the real-life Showtym ponies.
In book one, Vicki Wilson has the chance to tame a wild chestnut mountain pony named Dandy.
Kelly says: Dandy was the natural choice for the first book in the Showtym Adventures series. When we were kids my sisters and I thought Dandy was totally wild, but it's only now, after taming truly wild Kaimanawas, Mustangs and Brumbies around the world, that we can appreciate how different he was from a truly wild horse who has never encountered humans. Although Dandy ran wild in the mountains, he was purpose bred in domestication and was used to seeing people and being contained behind a fence. Nothing like a truly wild pony!
Book two sees the rescue of street pony Cameo. Will Kelly be able to overcome her fear of riding this untested steel-grey mare? 
Kelly says: I can still remember Mum coming home from hospital and telling us the story of how she'd seen Cameo trotting through the main street of Kaitaia, behind an old truck. It's something you'd be unlikely to encounter nowadays, but twenty years ago these types of things truly did happen! Cameo went on to become the ultimate family pony and was included in some of our favourite adventures.
The third book introduces us to the wayward and mistrustful Casper. Vicki must try her best to get Casper to trust humans again.
Kelly says: Casper was truly one in a million, not only because of his amazing transformation from a difficult, untrusting pony, but also because he was the first pony Vicki taught to ride bareback and bridleless, and won Champions on.
In book four, we meet Chessy—a wild Welsh pony who the youngest Wilson sister, Amanda, gets the chance to tame.
Kelly says: The story of Chessy really sums up our childhood years; we were always finding and saving ponies and animals that no one wanted. Taming those wild Welsh ponies was the ultimate challenge because of their small size—it was amazing training them to become the ultimate kids' ponies!
Book five is the latest book in the Showtym Adventures series. Readers will meet Koolio—he has the potential to be a champion but he's come to the Wilson sisters with big behavioural problems. 
Kelly says: Koolio was beautiful, powerful and talented; the type of pony I'd always dream of owning as a kid. But my dreams were very different to reality and I quickly found he was more of a challenge than I was ready for. With him I learnt that even when life doesn't turn out how you planned, it can still turn out exactly how it was meant to be.
Koolio, the Problem Pony is out this month and the Showtym Adventures series is available at all good bookstores.
---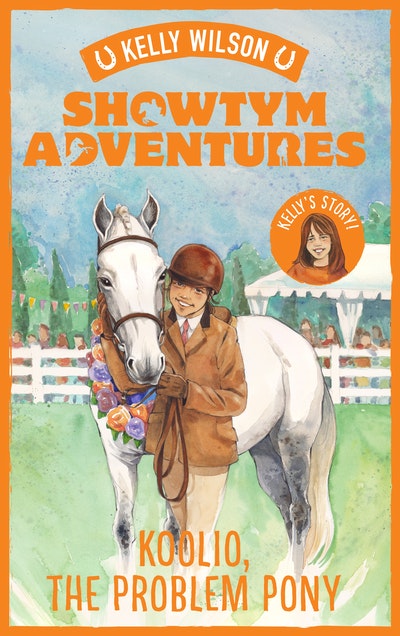 The fifth book in a bestselling junior fiction series inspired by true stories from the Wilson Sisters' childhoods. The chance of a lifetime — training a dream pony into a champion!
Buy now
Buy now
---