We asked young Kiwi readers all over NZ to read and review Struan Murray's debut novel Orphans of the Tide. The verdict is in, and it's raves across the board! Young kiwis LOVE this book. Out in all good bookstores from the 18th February. Read on for more!
'It was cool to read a story where a girl is the lead character because in most books boys are the lead. This makes it a great read for girls as I think they will be inspired because of how strong Ellie is in this book.'
- Xander, age 9, Te Rapa (read Xander's full review!)
'Orphans of the Tide is so incredible that I will definitely read it again. This book is one of the best books I've ever read. I give it 5 stars. '
- Stella-Grace, age 10, Orini (read Stella Grace's full review!)
'I absolutely loved the book because it was filled with action and there was always something going on so it kept me turning the pages. I loved the twists and turns in the story . . . I can't wait for the release of the book in February so that I can encourage our school librarian to get one for others to read.'
- Georgette, age 11, Marlborough (read Georgette's full review!)
'This book was a very enjoyable read. I would recommend this book to people who are 10-15 years old. If you are a fan of fantasy and dystopian books, this is a perfect book for you.'
- Aidan, age 12, Lower Hutt (read Aidan's full review!)
'When I started reading I couldn't put it down and I finished it in a few days. . . I found the whole book full of amazing description, if I closed my eyes I could see The City in my head. I loved Ellie's workshop, I could imagine all the clutter as it really reminded me of my bedroom! . . . one of my favourite parts of the book was the fantastic plot twist that left me gasping for breath! I can't wait for a sequel!'
- Charlie, age 12, Upper Hutt (read Charlie's full review!)
'This is the kind of book that you often dream of but rarely find. Once I finished I felt like I wanted to read it again. And again. And again. I don't have a favourite part because it was all awesome!'
- Erin, age 12, Lower Hutt (read Erin's full review!)
'The whole story was very descriptive and super easy to read. I felt like I couldn't put the book down, one night, i read 100 pages'
- Gracie, age 11, Auckland (read Gracie's full review!)
'This book takes the reader on a journey with the main characters being faced with lots of life changing decisions. . . They need to trust each other as the adventure takes them to the brink of life and death.'
- Kurt, age 12, Nelson (read Kurt's full review!)
'I think that people who like surprises will like this book because there is a lot of unexpected things that happen.'
- Louisa, age 11, Canterbury (read Louisa's full review!)
'I didn't want [Orphans of the Tide] to end . . . I think this book is good for people who like books written by Kiran Millwood Hargrave and Frances Hardinge, it is a good book for anyone who likes adventure, friendship and a little pinch of mystery.'
- Meredith, age 9, Wellington (read Meredith's full review!)
'Struan Murray used colourful words to describe his characters, which made them seem very real. And they were very unique characters, unlike any I had ever met in a book before. Each person had depth to them that made them feel more like real people than characters in a book. I felt their emotions, almost like they were my own.'
- Millie, age 13, Wellington (read Millie's full review!)
'I think this book could be made into a 3D movie because the setting would look very cool on the big screen.'
- Sage, age 11, Rangiora (read Sage's full review!)
'There were some cool scary parts in the story that I really enjoyed. Sometimes I felt worried for the characters when things were looking bad, but it all worked out in the end . . . I would recommend it for ages 8 and up. (Because my dad loved it).'
- Andrew, age 10, Blenheim (read Andrew's full review!)
---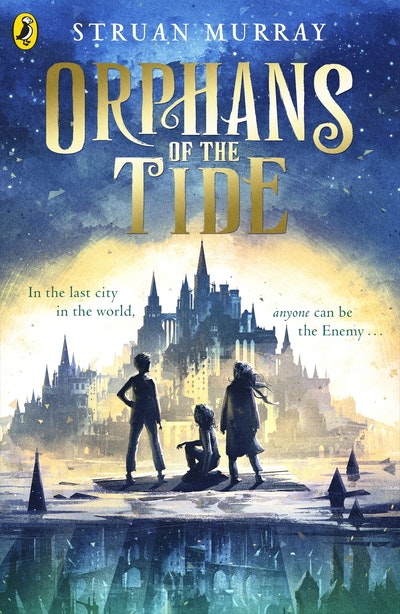 An extraordinary tale of myth, magic and the power of friendship, perfect for fans of Sky Song and Cogheart.
Buy now
Buy now
---