We asked young Kiwi readers all over NZ to read and review Hana Tooke's debut novel, The Unadoptables. To a person, every reader adored this book. Out in all good bookstores from 2nd July 2020. Read on for more! 
'Hana Tooke weaves in all the elements of a classic children's story: orphans, evil villains, and a gang of friends. Yet she somehow changes it up, bringing in a twist of suspense and passion while still keeping to the classic themes. '
- Eleanor, age 12, Wellington (read Eleanor's full review!)
'The Unadoptables covers so much depth in each sentence, page and chapter. This splendid book paints a crystal clear image in your mind, and trust me when you start reading you get completely sucked into this thrilling book and you'll never want to stop reading!'
- Evelyn, age 10, Auckland (read Evelyn's full review!)
'I would be reading and all the noise and distraction from around me disappeared, that's how good the book Unadoptables is!'
- Madison, age 10, Auckland (read Madison's full review!)
'I would definitely recommend this book to kids who are 10+ years old. It's appropriate for both genders because the problem's she had to go through are problems anyone could face. I felt a bit sad when I finished.'
- Michael, age 10, Lower Hutt (read Michael's full review!)
'I LOVE the book The Unadoptables. I love adventure stories just like that. It was a book I couldn't stop reading. Like when you're right in the middle of an exciting part and you're asked to do a job. You're always so reluctant to stop reading.'
- Netanya, age 9, Ruapehu (read Netanya's full review!)
'. . .as I kept reading the book got better and better.  In the end I thought it was magnificent!'
- Sienna, age 9, Hamilton (read Sienna's full review!)
'Set during the wintertime in Amsterdam, there is nothing not to love about the Unadoptables! Tied by a common bond, this is the story of a brave little gang of five who encounter exciting adventures that keep you entertained every step of the way. '
- Divya, age 13, Wellington (read Divya's full review!) 
'I have one question... is there going to be a sequel?  I love it! I really like how the book captures you in a way that a lot of books don't. It's the sort of book that you would sneak under the covers because you don't want to put it down.'
- Lena, age 11, Christchurch (read Lena's full review!)
'I ended up reading the book in less than two weeks as I was so captivated by what was written and struggled to put it down.'
- Martha, age 10, Riverton (read Martha's full review!)
'I really want to read the next book in the series and hope the Author will write more books soon.'
- William, age 12, Auckland (read William's full review!)
'I loved this book as it had just enough mystery that it wasn't obvious what was going to happen but the book still made sense and you really felt compelled to keep on reading. I liked the way it put you on edge to see what was to come.'
- Wheriko, age 12, Auckland (read Wheriko's full review!)
'After one exciting adventure finished, another exciting adventure would start.'
- Luca, age 10, Blenheim (read Luca's full review!)
'I think if you're looking for something with friendship, bravery and adventure, then this is definitely the book for you!'
- Aliyah, age 10, Wellington (read Aliyah's full review!)
---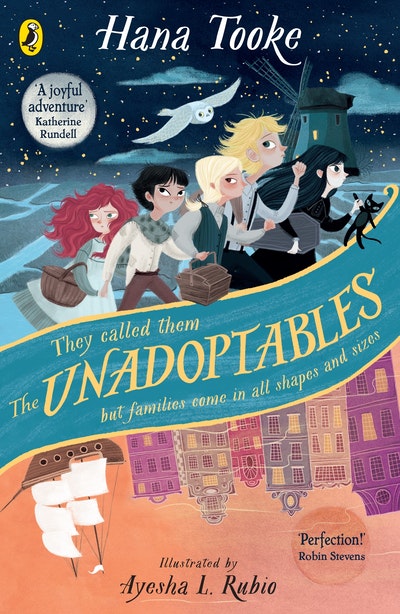 The amazing humour and world-building of Nevermoor meets the wisdom and warmth of Rooftoppers in this most un-ordinary adventure about five amazing children . . .
Buy now
Buy now
---