What do NZ YA fans really think of Jennifer Niven's latest book?
Breathless has been a recent favourite around Penguin NZ HQ and with that in mind we sent out digital ARCs (Advance Reader Copies) to some of our Turning Pages members to see what they thought about the newest book from beloved YA author Jennifer Niven. Take a look at what they had to say below! 
Note: If you'd like the opportunity to receive exclusive advance copies of our YA books, win fun prizes and take part in our forums and activities, join the conversation at Turning Pages or @TurningPagesNZ on Instagram.
"Naturally [Jennifer Niven's] writing blew me away once again. I was underlining delicious lines left, right and center... I'm so in love with her words, that characters who are frustratingly teenager-y, become loveable and real instead." 
- Madeleine (Full review here) 
"This YA contemporary was not fluff, but hard-hitting, dealing with topics such as virginity, sexuality, friendship, identity and familial relationships. I thought these topics were discussed really well, especially those surrounding consent. The author's note at the end made this story all the more poignant and gave this book a powerful punch."
- Emily (Full review here) 
"This novel was a raw roller coaster of emotions and it often made me uncomfortable. Claude is kind of a mess which made the story feel all the more realistic, I frequently wanted to yell at her." 
- Jennifer (Full review here)
"A moving story of love, laughter and loneliness, the sadness of a parents separation - even as a near-adult, everything you have ever known to not be now, a story of falling in love, becoming closer to womanhood, loss of virginity, allowing someone else a piece of your heart and discovery of self. I raced through this book, not wanting to put it down, my heart in my throat the entire time." 
- Kylie (Full review here)
"It's a book I wish younger me could have had the chance to read... it encourages you to be open about all the possibilities that life will throw at you."
- Piper (Full review here)
"When I started this I was expecting a cute romance over a summer break and instead I got a hauntingly beautiful tale of first love. Ever since I've finished it, my mind has wandered back to this love story many times." 
- Bethany (Full review here)
---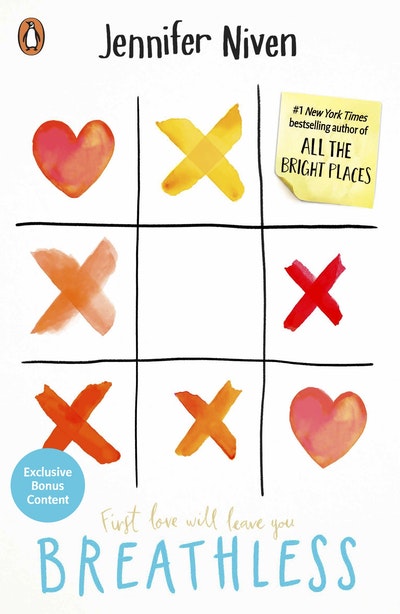 The much anticipated new novel from international bestselling author Jennifer Niven, author of All the Bright Places.
Buy now
Buy now
---