Meet the characters from the beloved children's series. 
Hairy Maclary
Hairy Maclary from Donaldson's Dairy is a small dog of mixed pedigree. He and his gang of canine friends love to trot through their town looking for trouble. Hairy is always bumptious and bustly, but a confrontation with Scarface Claw will send him straight back home to bed.
Hercules Morse
Hercules Morse is an Old English Mastiff and, 'As big as a horse' just about says it all. Hercules is mostly a sleepy gentle giant. He is loyal to his friends and kind and gentle.
Bottomley Potts
Bottomley Potts is the Dalmatian whose name is just a little rude! He sports a smart white coat with well-defined black spots. He is a strong, active and intelligent dog and loves being out and about.
Muffin Mclay
Muffin McLay is a faithful and popular member of Hairy Maclary's gang. An Old English Sheepdog, Muffin McLay looks just like 'a bundle of hay'. As with other members of his breed, his huge head and rather short, stocky body is completely covered in a profuse woolly coat.
Bitzer Maloney
Bitzer Maloney is the only other member of Hairy Maclary's gang that, like Hairy Maclary, is of mixed-breed parentage. With his large bright eyes, long legs, finely boned thin frame and snaky tail, he is definitely part greyhound.
Schnitzel von Krumm
Schnitzel von Krumm is the star of several of his own adventures as well as appearing in Hairy Maclary's. A red standard smooth-haired Dachshund, Schnitzel's legs are the shortest in the gang.
Scarface Claw
Scarface Claw is the toughest Tom in town. A huge, dusty black, yellow-eyed cat, he's notched up many battles on the ends of his ears! A great survivor and warrior, Scarface Claw fears no one, no cat, dog or human.
Slinky Malinki
Slinky Malinki is a slender, blacker than black cat with a kink at the end of his tail. During the daylight hours Slinky Malinki is playful and adventurous. But at night he becomes fiendish and sly.
Zachary Quack
Zachary Quack is a little duckling with a big heart. He's zippy and zappy, pittery and pattery and happy to frolic and footle. Despite Hairy Maclary's attempts to escape his attention, Zachary Quack keeps coming back.
---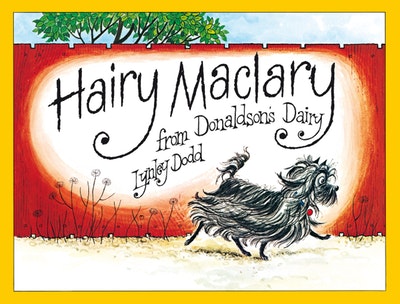 The iconic first Hairy Maclary book, which introduces Hercules Morse, Bitzer Maloney, Muffin McLay, Bottomley Potts, Schnitzel von Krumm and of course the famous Hairy Maclary from Donaldson's Dairy.
Buy now
Buy now
---