Dame Lynley Dodd's lovable animal friends have some harbourside real estate.
New Zealand city Tauranga's waterfront has some canine residents that have moved in to stay. After five years in the making, bronze sculptures of Dame Lynley Dodd's world famous and adored book characters were been officially unveiled in 2015 by Kiwi Prime Minister John Key.
Hairy Maclary and his friends Bitzer Maloney, Schnitzel von Krumm, Hercules Morse, Bottomley Potts, Muffin McLay, Zachary Quack, Slinky Malinki and Scarface Claw have all been positioned in a story book setting as part of a children's playground on Tauranga's waterfront. The sculptures were created by Brigitte West, who has worked as a lead sculptor with Peter Jackson.
Dame Lynley spoke to the gala crowd at the grand unveiling about the effort and sheer hard work that had gone into the creations: 'My book characters! It was a humbling and overwhelming moment. The nicest part of the process had been liaising with sculptor Brigitte West who had taken the two dimensional creations and re-created them in three,' she said. 'Not an easy task for a sculptor.'
Dame Lynley also spoke about the trickier aspects of the sculptures coming together, like portraying Bottomley Potts' spots on bronze, how to make the eyes of the characters really come alive, and whether or not Hairy Maclary's teeth would clear OHS regulations.
Prime Minister John Key congratulated Dame Lynley on her creations and how they had enriched the lives of children. 'People will come from all over New Zealand and around the world to see the statues,' he said.
For more information on Hairy Maclary and his friends, plus games, stories and more; head over to hairymaclary.com
---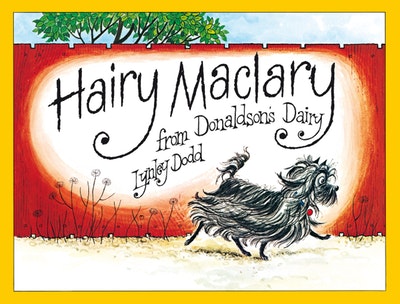 The iconic first Hairy Maclary book, which introduces Hercules Morse, Bitzer Maloney, Muffin McLay, Bottomley Potts, Schnitzel von Krumm and of course the famous Hairy Maclary from Donaldson's Dairy.
Buy now
Buy now
---