Find out the inspiration behind Beyond Burnout, as well as what you'll learn from reading it!
The Author's Inspiration
It was a Tuesday morning in late 2008, but it is seared into my memory as if it happened yesterday.
From the outside, it looked like I had it all. My life was awash with professional pinnacles and shiny badges of success. I was in my mid-thirties, a senior executive in the New Zealand division of the world's largest HR consulting and executive-search firm. I'd recently received a promotion and had come back from parental leave early, to lead our practice through the global financial crisis (GFC). I had a growing family of three children — my youngest daughter was just shy of six months old — and my husband was busy with his first CEO role.
My life was full to the brim — overflowing, even. I was one of those 'go-get 'em', high-achieving professional women. My friends used to call me Super Suzi. I wore that badge with honour, even if it did weigh me down a little.
Every morning, I'd jumble the kids into the back of the car, gulping down a piece of cold toast, with baby spittle on my crisp navy suit as I careened out of the driveway. I'd hurl the kids out of the car doors at their respective schools and day cares, and tear into Auckland's CBD for a meeting with some bigwig CEO from some bigwig corporate organisation about leading the search to find some other bigwig executive.
On this particular Tuesday morning, my then seven-year-old son Nicholas clambered out of the back seat of the car as we pulled up outside his school. As he did, he turned to me, hesitated and asked, voice trembling, 'Mummy . . . can I please have a hug?'
This was a big deal. Nicholas was not a physically affectionate kid, so for him to reach out and proactively ask for a hug was unusual. He'd been struggling a little at school, and his teacher had told us he had been crying a lot when he got something wrong. It was another thing on my list of things to sort out.
However, in that moment, his trembling words didn't compute with me. I glanced over at him, then looked over his shoulder, my mind racing anxiously through the presentation I had to give in 30 minutes. Then I shoved him and his little backpack onto the pavement and replied in a clipped, rushed, stressed-out tone, 'No! I don't have time.'
I slammed the door in his dear little face and drove off, leaving him standing alone on the footpath.
To this day, the look in my son's eyes in the rear-view mirror haunts me.
A few minutes later, I pulled over to the side of the road — sobbing so hard I could no longer see to navigate my way through rush-hour traffic. The numbness that had surrounded me like a thick blanket of sense-dulling fog just minutes earlier had evaporated. It was replaced by the searing, heart-wrenching realisation of what I had just done.
'What just happened?' I sobbed. 'Who am I!? Why don't I even have the headspace to hug my wee man?' Berating myself, despairing puddles of tears mixed with the baby vomit on my navy suit.
I'm usually a very warm and affectionate person. That's how I'm often described by people who meet me. But something was very wrong here. I had become so numb and emotionally distant that I couldn't even connect with one of the most important people in my life when he needed me.
Yet, as agonising as this moment was, I now know it was the wakeup call I needed. Someone had thrown a bucket of icy water in my face that Tuesday morning. That moment in the car, on the side of the road, was the moment when I realised things weren't as rosy on the inside as they seemed from the outside.
Although up until then my job had afforded me significant insights into the experiences of many burned-out senior executives (and it still does), this was the first time I'd really come up-close and personal with this thing called burnout. With hindsight, I now know I was in the thick of it. I was exhibiting one of the key signs of burnout — emotional distance and depersonalisation. And it wasn't just showing up in my relationship with my boy. My interactions with friends and loved ones were mechanical and distracted. At work, my usual enthusiasm and focus on possibilities had evaporated, replaced by robotic and distant leadership. I had started to feel like a failure.
And so began my own burnout journey, one which has taught me to better recognise the signs of burnout in myself and take steps to climb out of its debilitating quicksand. It has also helped me to see burnout more clearly in the people I have led — and to help them, too. These days, as a leadership coach, the journey continues. When I burned out, I never suspected I was joining a long list of business leaders who had suffered from the same thing.
Nor did I imagine that, eventually, my burnout journey would lead me to write this book.
Why You Should Read This Book
This book is not just for stressed-out, burned-out executives — although it will be super handy if that is you. It's for those of you who know there must be ways to achieve productivity and effectiveness, and execute strategy successfully — but not by burning out people (including yourself) in the process. You might be someone who has experienced or is experiencing burnout. You might be leading someone who you suspect is experiencing burnout, or have a loved one suffering from it. It's my hope that you are — at whatever level within your organisation — a leader who wants to create teams or organisations where people, as well as profits, thrive.
Burnout is not a new phenomenon, but it's a growing one. It's a big problem in our workplaces, regardless of which industry or profession you're in or where you sit on the organisational ladder. And it's a problem that's getting bigger by the year. A 2018 Gallup study of nearly 7500 full-time employees internationally found that 23 per cent reported feeling burned out at work very often or always, while an additional 44 per cent reported feeling burned out sometimes. That translates to about two-thirds of full-time workers experiencing burnout on the job. And it's estimated that 1 million workers are absent every day globally due to stress, causing losses for larger companies in excess of US$3.5 million per company, per year.
Covid-19 has also had an impact. A survey by Blind, an anonymous workplace community app, of over 6000 employees, reported an increase in burnout after Covid-19 emerged. In February 2020, 61 per cent of professionals considered that they were burned out. That number rose to 73 per cent between April and May 2020, when the Covid-19 pandemic was really taking hold.
Although there are plenty of books on burnout, most of them are targeted solely towards the person who's suffering from it. This book is different. It tackles the root causes of burnout, and it helps leaders, organisations and individuals create the conditions that help organisations and people thrive, not burn out. It also provides practical tools that individuals, leaders and organisations can use to combat burnout and the enormous costs it creates.
Here's What You'll Learn:
You'll learn about the significant costs of burnout, to both individuals and companies. Then, we'll shatter some common burnout myths.
We'll take a closer look at what burnout is — and what it isn't. We'll ask questions like:
What exactly is burnout?
What's the difference between 'just' being stressed and being burned out?
And we'll outline why stress itself isn't the problem.
You might also be wondering who is most likely to suffer from burnout and who is more likely to be immune, so we will take a look at who is most at risk. Spoiler alert: no one is immune — anyone can suffer from burnout. That said, there are certain professions, industries and personality types who are more at risk than others. Second spoiler alert: high performers often fall into that category.
Understanding the most significant causes of burnout is critical if you want to prevent it. Yes, there's the obvious issue of overwork. But there are also some other causes that you might be surprised to discover. We'll explore what they are.
Knowing all these things is vital in the fight against burnout. But what can actually be done to prevent and tackle this 'bigger than Ben Hur' problem that's seeping into the psyche of many organisations? The good news is that there are practical steps individuals, leaders and organisations can take.
Without a doubt, leadership plays a crucial role in burnout prevention — but this isn't reserved for traditional leaders only. Regardless of your level in an organisation, everyone can play a role in protecting our organisations, our teams and ourselves from burnout. We're going to cover the role that leadership plays in burnout prevention — and include a 'how to' guide at the end of each of the latter chapters for leaders, organisations and individuals alike.
In those later chapters, we will look at the four '-ises' I have coined — Recognise, Destigmatise, Socialise and Organise. These strategies are key to tackling burnout. I'll explain each concept in more detail and show you practical steps for how you can adopt them, whether it's from an individual, leadership or organisational perspective.
Here's the rub: burnout doesn't cause issues solely for the person experiencing it. It's also hindering organisational performance and costing billions in lost revenue, productivity and engagement. It's wreaking havoc on people's personal lives — on families and loved ones — as well as on people's health and their experience of professional life. And it's preventing our businesses from being the places they have the potential to be.
It's time we changed that. This book will show you how.
About the author: 
Suzi McAlpine is a Leadership Development Specialist and author of award-winning leadership blog, The Leader's Digest. She writes and teaches about accomplished leadership, what magic emerges when it's present, and how to ignite better leadership in individuals, teams and organisations.
Suzi has been a leader and senior executive herself, working alongside CEOs and executive teams in many guises. Her experience has included being a head-hunter and executive coach, and a practice leader for a division at the world's largest HR consulting firm.
Suzi provides a range of services as a Leadership Development Specialist, including executive coaching, leadership workshops and leadership development programmes for CEOs, leadership teams and organisations throughout New Zealand. She has worked with Meridian, Weta Workshop, The Ministry of Business, Innovation and Employment, The Department of Conservation, Merchant (Overland) Footwear, Auckland Council, BDO Accounting, and Nelson Airport to name a few.
Suzi lives with her husband and three children in Nelson, New Zealand, which means she is on a plane most weeks, but she doesn't mind because Nelson is the sunniest city in New Zealand!
Find out more leadership tips on Suzi's blog, The Leader's Digest. 
---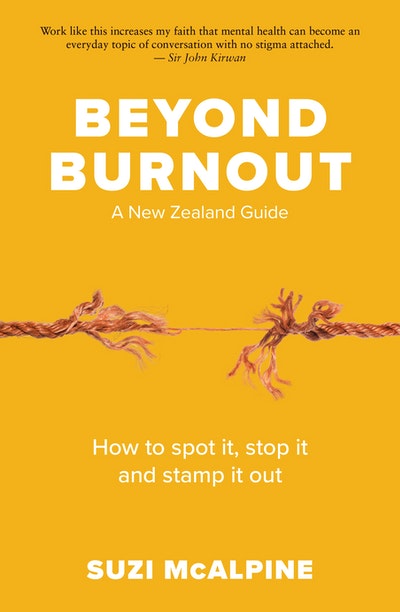 How to cope with stress and avoid burnout in yourself, your co-workers and employees.
Buy now
Buy now
---