Syd, the Muster Pony tells the story of the Wilson sisters' most epic adventure yet, and it's inspired by a real-life road trip Kelly and her sisters took in 2001! (warning: this article might induce a desperate longing to go adventuring around the country, read on at your own risk)
From the moment I began writing the Showtym Adventures series, four years ago, I've been waiting in anticipation to write the final book Syd, the Muster Pony! Putting pen to paper allows me to relive the adventures of my childhood, and for my sisters and I, there was no better adventure than back in 2001, when we took our ponies on a great New Zealand road trip.
And what better time for me to reminisce over how much fun we had in our own backyard, in a year when the borders closed and we had no choice but to stay home? For the first time in years, I had no international adventures planned and was struggling with the thought of being stuck in New Zealand. As I wrote Syd, however, it reminded me of the immense beauty of New Zealand, the diversity of the landscape, and that we live in a country with adventure in abundance. If you love horses, the possibilities of finding jaw-dropping places to ride are endless.
These memories of our road trip are still at the forefront of my mind: the awe-inspiring delight of seeing snow for the first time; swimming the horses in mountain lakes; mustering cattle in the high country; coming face to face with seals; and competing at events all over the country. For a 12-year-old who had barely explored the North Island, let alone visited the South Island, spending four months travelling around New Zealand with my family was life-changing. It gave me a love for spontaneous travel, a deep appreciation for the great outdoors, and an appetite to make the most of every moment.
In short, it set me up for many of the adventures I've had since. If you've read my book Mustang Ride (about Vicki, Amanda and I road-tripping around the Wild West of America with wild mustangs) or Wild Horses of the World (where I lived out with wild horses in the USA, Canada, Australia and New Zealand) then you'll appreciate our spontaneous and adventurous travel style; something we crafted as children, when we saw New Zealand as a great big playground waiting to be explored.
As I finished editing this book during lockdown, and the idea of the 'New Zealand Bubble' was introduced, it helped me see the possibilities of adventuring in my own country once again. Over the past year I've found plenty of opportunities to make the most of backyard travelling – sometimes with horses, sometimes without – with the same childlike enthusiasm captured in Syd, the Muster Pony.
Although 20 years have passed since that first road trip, there is a part of me that's desperate to relive the adventures in this book, not just by reading it, but by recreating it. I'm an adult now, with horses rather than ponies, but I'm still a child at heart. The thought of riding in scenes from Lord of the Rings, finding hidden trails and scaling mountain passes on our horses, still sounds like the adventure of a lifetime. I've already done it. But I'd do it again in a heartbeat.
---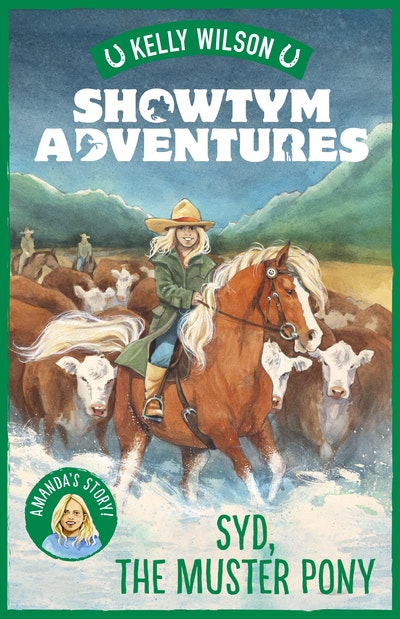 The eighth and final book in a bestselling junior fiction series inspired by true stories from the Wilson Sisters' childhoods. It's their greatest adventure yet — a road trip in search of ponies!
Buy now
Buy now
---