When Jesse O wrote Locked Down (then titled Staying Home) back in 2011, she never imagined that almost a decade later, the events of her novel would prove spookily accurate . . .
Locked Down (originally titled Staying Home) was first imagined in the late 2000s following several international influenza crises that threatened New Zealand. The newspapers of the day ran such perceptive headlines as 'Ministry warns NZ of possible bird flu pandemic' (2008), and 'NZ needs to be ready for "smart" flu virus' (2006). 
In 2009 one of these strains reached New Zealand. Twenty people died from H1N1, the swine flu pandemic, and there was a total of 3150 confirmed cases in the country. 
I remember the discussion that went on at the time about closing the borders. Thankfully, they remained open then, and life continued for the majority of the population. Words like pandemic and Tamiflu, swine flu, and bird flu were relegated to the past - and to the invented worlds of fantasy writers. However, it got me thinking, as writers do, What if . . .? And, How would we live?
To explore those two questions I conjured up a story of a family in a small provincial neighbourhood, and their daily life as they survived a lockdown. Staying Home, the resulting book, was published by Penguin in 2010 and went on to receive a Storylines Notable Book Award in 2011. 
However, the story didn't end there. 
In December 2019, a pneumonia of unknown origin detected in China was reported to the World Health Organization (WHO). On 30 January 2020, the outbreak was declared a Public Health Emergency of International Concern. In February 2020, WHO announced a name for this new coronavirus disease: COVID-19. By March there were almost 1000 deaths in Europe, and COVID-19 was declared a pandemic. The death toll worldwide reached more than one million by October 2020. 
It was spooky revisiting this novel ten years after its conception. What had been an imagined global scenario had now eventuated. Many of the fictional survival plans in this novel suddenly materialised in our daily lives, as the COVID-10 Alert System Level 4 Lockdown required the whole nation to stay home. It was real! 
Locked Down is about keeping safe. It's about cooperation, resourcefulness, and being kind to one another. 
Jesse O
Nelson, October 2020
---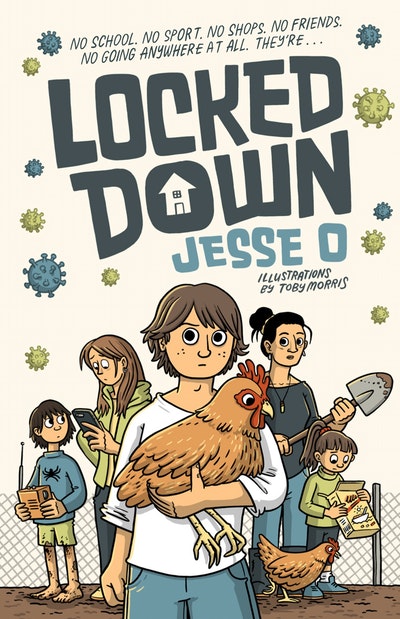 Locked Down
Jessica Le Bas, Toby Morris
Jesse O's award-winning novel about a deadly pandemic and a family in lockdown, rereleased with all new illustrations by Toby Morris.
Buy now
Buy now
---