We wanted to know what young Kiwi readers thought about Jesse O's book Locked Down (hint: they loved it!). Read on to see their reviews.
'Locked Down' book was a great read because everything fitted in like a jigsaw puzzle. It had some VERY funny bits!
- Angus, 10, Hamilton
I think people would like this book if they read journal/diary-type books or real-life set up ones. If you like books with pictures like the Treehouse books you should like this even though it's not goofy.
- Austin, 10, Timaru
The first chapter pulled me in immediately and once I had started reading I couldn't put it down.
- Brenna, 12, Rangiora
I enjoyed the book because it was about something that is actually happening right now around the entire world and something that so many people have mixed emotions about . . . it reminded me in such a vivid way that Covid-19 is bad, but there is hope that things can go uphill from here.
- Charlise, 10, Hamilton
I liked the book because it's hard to stop reading it once you start reading it. It hooks you in. It was interesting, had suspense and it was funny. I felt it could have been me and my friends in the story.
- Danica, 13, Whangarei
I loved Locked Down . . . I felt I was able to relate to the children of the Flint family.
- Emily, 9, Christchurch
Locked Down is an awesome book, it has everything! It has action, mystery, excitement, and a bit of romance.
- Jake, 9, Hamilton
[I liked Locked Down because] I would love to see new generations read and learn about other people's perspectives, ideas, and challenges that people went through during lockdown.
- Kate, 11, Southland
Locked Down was a really interesting book. I personally really liked this book because it really got me hooked and painted a picture in my head.
- Kyra, 12, Auckland
I am addicted to this book. I will love to read this book over and over again. I like this book because it really has a good story and theme (and also because it's in NZ!) 
-Laura, 10, Tauranga
I greatly enjoyed this book and hope others do too. I think other people should read it because it teaches you that you can always find an adventure even in your own house. It spreads your imagination to see the things around you differently. 
-Luke, 10, Auckland
Locked down was also full of facts about lockdown, the pandemic, and much more. It was also full of humour throughout the book and I found myself smiling on many occasions.
- Peyton, 11, Oamaru
What I think the author did well is it made me think that Zac is an actual person and the book is their diary and all of the things he and his family "went through" is so realistic that I nearly teared up. And yes I know it may seem a bit dramatic but I just felt that way.
- Sopheap, 11, Waikanae
It made me want to go climb a mountain or milk a cow or go on this exhilarating adventure outdoors. It made me wish I had a bush in my backyard.
- Wheriko, 13, South Auckland
---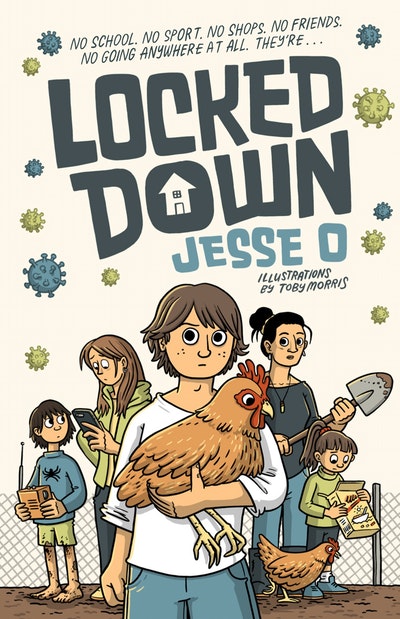 Locked Down
Jessica Le Bas, Toby Morris
Jesse O's award-winning novel about a deadly pandemic and a family in lockdown, rereleased with all new illustrations by Toby Morris.
Buy now
Buy now
---