The author of The Edible Backyard shares five of her favourite spring crops, why they're so fantastic and tips on how you can enjoy them too!
Purple Sprouting Broccoli
The rock star of the spring vegetable garden! Sprouting broccoli's take a long time to get going, but once they do they punch well above their weight in the production department, developing many small, nutty tasting heads over a really long period that can infact carry on for years.  To eat them in spring, they need to be planted late Autumn. Summer sprouting broccoli can be sown now and will start producing heads late summer onwards.
They take up lots of space, so I plant mine beneath my fruit trees where they aren't in the way of annual vegetables and can spread out and do their thing.
Hungry broccoli needs to start in a pile of compost. Each spring I shovel another load of compost and mulch at the base.
Purple sprouting broccoli underplanted with parsnips redclover and nasturtium
Parsley 
Ho hum, you may be thinking, but is there a more nourishing, low maintenance, go-with-everything, herb? For me it has to be Italian flat leaf, but curly or flat – choose the one that floats your boat.
 I have at least 6 plants on the go at any one time. Let them flower for the predatory wasps and use the flowering as your cue to plant a new lot of seedlings. This job ensures you'll be in the parsley loop and never need buy seedlings again because you'll always have some plants seeding growing the next generation and some providing fresh leaves for tea.
As with all herbs and leafy greens, for long lived plants, it's better to pick a little from each rather than a lot from one.
Flowering parsley for the beneficial insects and a heap of free seedlings
Cavalo Nero
Leafy greens are the best! They may not be as glamourous as a tomato or trendy as a kohlrabi, but they're the easiest, by far and away the most nutritious and so very generous. Cavalo Nero is the spunkiest of them all. And though it looks hearty and strong, its flavour is really mild.
If you keep up with picking the bigger, outside leaves for dinner and removing the old ratty foliage regularly from the bottom, Cavalo will bring you nourishing greens all year long. No fuss plants these, they'll grow in containers and tricky spots – the less you fuss with them the better they be.
Cavalo Nero
Landcress
Little landcress adds delightful spice to spring salads. Such an easy sweet little green to grow, she'll grow in most soils and either full sun or semi shade. Let the plants flower and go to seed and they'll resow everywhere for free seedlings next season. There's nothing cooler than a forest of useful leafy greens turning up right when you need them, without even lifting a finger.
As with all little plants, grow along the outside edge of your gardens so cress doesn't get swamped. This outside edge - called the picking edge, can be with fruit, flowers or vegetables. I like my daily greens to be as close to the house as possible.
Landcress on the picking edge
Broadbeans
Divisive I know, but I'm sticking to my guns here - broadies are one of my spring delights. The idea that they are gross is often an inherited notion or wrong footed cooking - you need to pick them small while the seeds are still bright green.
If it turns out they really aren't to your taste, they are still of great benefit – their nitrogen fixing ways are building and improving your soil, paving the way for a heavy feeder to follow.
Either direct sow them in the garden or sow them in trays first – which is what I need to do on account of all the slugs that'll take those first bright leaves out.
 For such a robust, vigorous looking plant, they're super flimsy in the wind so support is essential. Simply drive a stake in at each end of the row and tie twine around the outside at 20cm intervals to contain them.
Pinch the tops out as soon as the beans start forming on the bottom to stop them growing up and inspire more flowers and beans to set. The leafy tops, by the way, are also delicious, steamed or in a stirfry.
Heritage Red Flowered broadbeans
---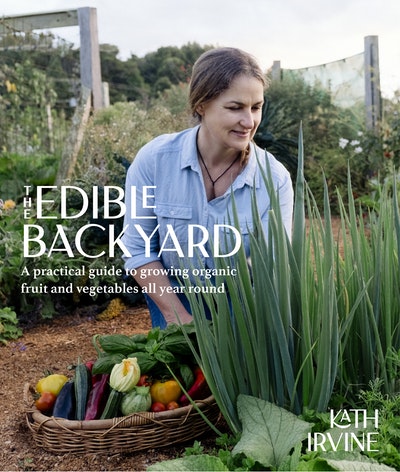 Gardening expert Kath Irvine's guide to everything you need to know to grow organic vegetables, fruit and herbs in your own garden, all through the year.
Buy now
Buy now
---