Five students get detention, only four leave alive. How far would you go to protect your secrets?
Did you catch the TV adaptation of Karen M. McManus' One of Us is Lying?
The internationally bestselling YA thriller by acclaimed author, Karen M. McManus, is now a major TV series streaming on Stan.
One of Us is Lying features around five students from Bayview High School, each given detention for significantly different reasons. Of these five, only four leave detention alive.
Bronwyn, Cooper, Nate, and Addy are each hiding a terrible secret, ones that outsider Simon is only too happy to expose on his Bayview High Gossip App.
In detention, Simon suffers an allergic reaction and the ambulance quickly arrives, taking him to the hospital. Within 24 hours Simon dies, just before he's able to post the group's deepest secrets online.
As police investigators start circling and looking for suspects, their attention lingers on those who were with Simon in his last moments.
So who exactly are the suspects, and how far will they go to protect their secrets?  
Meet the Bayview Four
Cooper Clay
A star athlete on the way to securing himself a college scholarship. Cooper is intensely focused and destined for baseball greatness. As he tries to hide the one secret that could jeopardise it all, his life starts to unravel, losing hold of his friends, social life, and professional career.
Addy Prentiss 
Prom Queen and miss popularity with a perfect boyfriend and social status. Raised by a mother who values physical appearance and station, Addy goes to lengths to protect her secret and hold on to her boyfriend Jake and the possible financially secure future that comes with him.
Bronwyn Rojas
Studious A-plus student on the Yale University track, who was vying with Simon for the position of Valedictorian. Smart, headstrong, and driven to succeed, her squeaky-clean image is about to be compromised, and as she falls deeper into the investigation her chance to leave Bayview slips further and further away.
Nate Macauley 
Juvenile delinquent and Bayview's requisite bad boy who's one step away from a life of crime. The obvious suspect in Simon's murder, Nate is quickly burning out and walking a fine line as he's already on probation for dealing drugs.
Everyone has secrets, but who has the most to hide?
---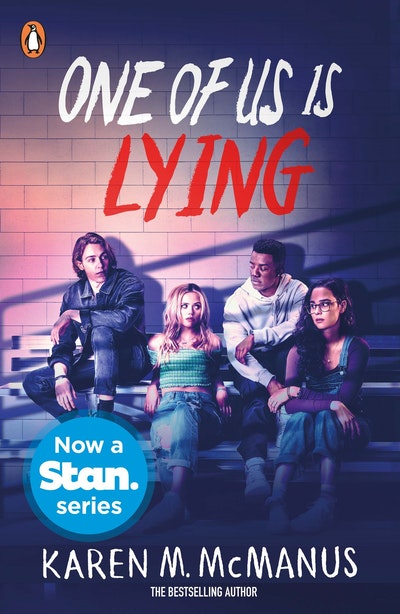 Five students go to detention. Only four leave alive. For fans of Gossip Girl and Riverdale, One Of Us Is Lying is the internationally bestselling YA thriller by acclaimed author, Karen M. McManus.
Buy now
Buy now
---