The Cunninghams don't really get along, and every one of them has killed someone. Meet the family to help you find the culprit.
Ernest Cunningham was dreading the family reunion even before the first murder.
Before the storm stranded them at the mountain resort, snow and bodies piling up. 
The thing is, the Cunninghams don't really get along. They've only got one thing in common: they've all killed someone. 
Get immersed in Everyone in my Family has Killed Someone, a fiendishly clever blend of classic and modern murder mystery, and solve this cryptic whodunnit. 
Before you dive in, get to know the family at the centre of scandal, and don't forget, they've all killed someone. 
Ernest Cunningham:
The narrator of the story 
Known as Ern or Ernie
Crime novel enthusiast 
41-years-old
Family outsider
Wiseguy 
Testified against his brother Michael at his murder trial 
Separated from Erin 
Audrey Cunningham: 
Family matriarch 
Mother of Michael and Ernest 
Married Marcelo Garcia after her first husband Robert died 
Scar above her right eye
Blames Ernest for tensions in the family 
Michael Cunningham: 
Jailed for three years after being convicted of murder 
Released right before the family reunion, but lied about when exactly he got out
In a relationship with Ernest's wife Erin
Lucy's ex-husband 
Marcelo Garcia:
Married to Audrey 
Yells at wait staff
Heavy-set bald man 
Wears a late 1980s platinum Presidential Rolex
Lawyer 
Defended Michael at his murder trial 
Sofia Garcia-Cunningham:
Ecuadorian 
Daughter of Marcelo 
Ernest and Michael's stepsister 
Family outsider 
Recently suspended from her job as a surgeon 
Katherine Millot:
Aunt to Ernest and Michael 
Married to Andrew 
Mother to Amy 
Has a slight limp after a car accident in her 20s
Non-drinker
Passive-aggressive
Favourite sentences: 'What time do you call this?' and, 're: my previous email'
Hyper-organised 
Andrew Millot:
Married to Katherine
Father to Amy 
Self-proclaimed feminist
Horticulturist 
Tries hard to bond 
Boring 
Amy Millot:
Daughter of Katherine and Andrew
Is not attending the family reunion
Lives in Italy
Once brought a prohibited peanut butter sandwich to her corporate picnic and her HR rep almost carked it
Lucy Cunningham:
Michael's ex-wife 
Stuck by him during his murder trial but whom he divorced while he was in prison 
Preened blonde hair cut into a bob
Runs independent online business
Doesn't let reality outweigh the image of success
Tries to sell you anything
Erin Cunningham:
Separated from Ernest 
Now in a relationship with Michael 
Mother died of cancer
Brought up in a single-parent household
---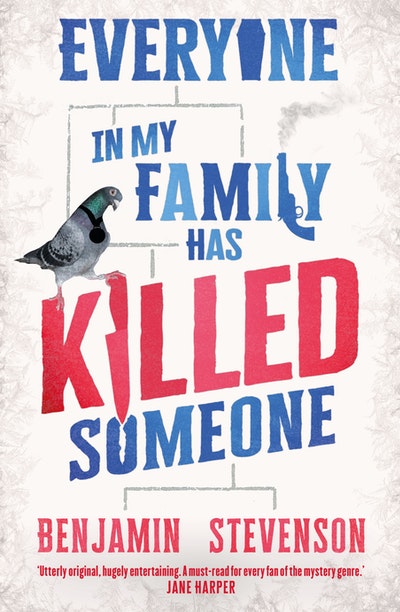 Agatha Christie and Arthur Conan Doyle meet Knives Out and The Thursday Murder Club in this fiendishly clever blend of classic and modern murder mystery.
Buy now
Buy now
---