Reading group discussion notes for Jojo Moyes' acclaimed tearjerker.
Jojo Moyes' Me Before You is a book to be savoured and passed around. What better way to share in the magic and heartache than make it your next reading group selection? Take a look at our discussion notes below and get the conversation started.
Book summary
Lou Clark knows lots of things.
She knows how many footsteps there are between the bus stop and home. She knows she likes working in The Buttered Bun tea shop and she knows she might not love her boyfriend Patrick.
What Lou doesn't know is she's about to lose her job or that knowing what's coming is what keeps her sane.
Will Traynor knows his motorcycle accident took away his desire to live. He knows everything feels very small and rather joyless now and he knows exactly how he's going to put a stop to that.
What Will doesn't know is that Lou is about to burst into his world in a riot of colour. And neither of them knows they're going to change the other for all time.
About the author
Jojo Moyes was raised in London. She writes for the Daily Telegraph, Daily Mail, Red and Woman & Home. She's married to Charles Arthur, technology editor of The Guardian. They live with their three children on a farm in Essex, England.
Reading group questions
When Lou meets Will for the first time he is less than welcoming to her, even playing a mean trick on her to put her on edge. What were your first impressions of both Will and Lou? Did your view of them change over the course of the book and to what extent?
Will and Lou have a profound effect on each other's lives. How do their lives change after they meet compared with how they were before? In what ways do they change each other?
When Lou first learns of Will's intentions to go to Dignitas to end his life, she is shocked that his mother, Camilla, could be prepared to play such a role in her son's death and thinks of her as heartless: a view shared by other characters, such as Georgina and Lou's mother. How do you feel about Camilla as a character? Do you think this view of her is justified?
Both Will and Lou have experienced a terrible life altering moment – Will's accident and Lou's assault in the castle maze. How do their reactions to each of their experiences compare? In what ways are their reactions similar/different?
As his nurse and friend, Nathan is also a big part of Will's life. How important is his role in the novel? How does he affect the dynamic between Will, Lou and Will's parents?
Lou is very close to her family, despite her frequent squabbles with her sister Treena. How important are they in the decisions she makes, such as her decision to take the job with the Traynors and keep it – even when she discovers why she is only contracted for six months – and her decision to go to Switzerland to be with Will at the end?
Will and Lou come from very different worlds. Will's was one of success, ambition and privilege before his accident, while Lou inhabits a modest, simple and unadventurous world, restricted to the boundaries of the small town she's lived in all of her life. Do you think they would have fallen for each other if they had met under different circumstances?
Will's right to die, and Lou's determination to change his mind about exercising that right, is a theme that runs throughout the novel. How did you feel about Will's decision at the end? Was it what you expected? Do you think the novel should have ended differently?
---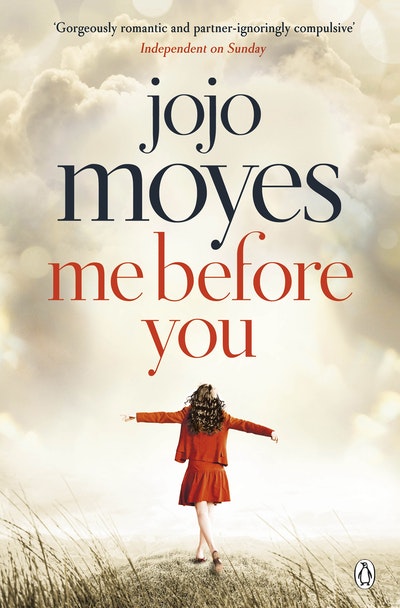 The heartbreaking novel of the year from Jojo Moyes proves you're never too old or young to cry
Buy now
Buy now
---