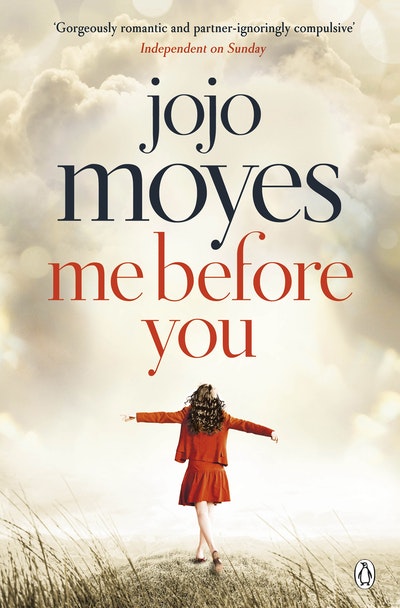 Published:

22 August 2012

ISBN:

9780718177027

Imprint:

Michael Joseph

Format:

Paperback

Pages:

512

RRP:

$26.00
Me Before You
The international bestselling phenomenon
---
---
---
The heartbreaking novel of the year from Jojo Moyes proves you're never too old or young to cry
Lou Clark knows lots of things. She knows how many footsteps there are between the bus stop and home. She knows she likes working in The Buttered Bun tea shop and she knows she might not love her boyfriend Patrick.
What Lou doesn't know is she's about to lose her job or that knowing what's coming is what keeps her sane.
Will Traynor knows his motorcycle accident took away his desire to live. He knows everything feels very small and rather joyless now and he knows exactly how he's going to put a stop to that.
What Will doesn't know is that Lou is about to burst into his world in a riot of colour. And neither of them knows they're going to change the other for all time.
Published:

22 August 2012

ISBN:

9780718177027

Imprint:

Michael Joseph

Format:

Paperback

Pages:

512

RRP:

$26.00
You might have seen the film, but we promise the book is better - you won't be able to forget quirky Lou's joruney with Will as she becomes his caregiver and their relationship blossoms. You will be needing tissues

Living North
This life-affirming tearjerker more than deserves its recognition as one of the most memorable books of the last decade

Woman & Home
Arm yourself with tissues for this incredibly emotional bestseller

Best Special Series
Poignant . . . heartfelt . . . Me Before You, at it's heart, is about two people who properly listen to each other; it is something good

The Independent on Sunday
Heartbreaking, soul-searching and utterly compelling

Easy Living
A disarmingly moving love story . . . a lovely novel, both nontraditional and enthralling

Publishers Weekly
A compelling novel of life and death decisions and unlikely affections. It's magical and heartbreaking, but doesn't shy away from difficult emotional realities. Waterproof mascara essential

Marie Claire
This truly beautiful story made us laugh, smile and sob like a baby - you simply have to read it

Closer
Compelling, moving and absorbing. It's also a real weepie

Daily Express
Destined to be the novel that friends press upon each other more than any other next year, it is a tremendous example of what commercial fiction can do when in the hands of an expert. Moyes does a majestic job of conjuring a cast of characters who are charismatic, credible and utterly compelling; Lou and Will are a couple who readers will take to their hearts as they did One Day's Emma and Dex

The Independent
Funny, believable and heartbreaking, this is sure to be the weepy of 2012

Woman's Own
Poignant and beautifully written, this book will stay with you long after you've put it down

Star Magazine
A compelling portrait of an unlikely couple

The Independent
Me Before You is a page-turner that sucks the reader into caring about the fate of the heroine . . . By turns funny and moving but never predictable. The plot contains a number of surprises and raises thoughtful questions

USA Today
A perceptive and moving tale

The Independent
Funny, surprising and heartbreaking, populated with characters who are affecting and amusing . . . This is a thought-provoking, thoroughly entertaining novel that captures the complexity of love

People
Beautifully written

The Sun
Another powerful love story. A deftly plotted narrative populated with likeable engaging characters . . . a bittersweet story about love, learning and letting go. It's a tremendous read and I loved it

Daily Mail
Keep the tissues close as Jojo Moyes returns with Me Before You, a heartbreaking yet ultimately uplifting tale about the relationship between an embittered quadriplegic man and the carer who is trying to give him a reason to live

Good Housekeeping
An unlikely love story . . . To be devoured like candy, between tears

O, The Oprah Magazine
Read it and weep: Heartbreak collides with humour in Jojo Moyes's Me Before You

Good Housekeeping USA
Jojo Moyes has done it again with this funny, touching tale that is impossible to put down. Make sure you have a box of tissues to hand!

Candis
When I finished this novel, I didn't want to review it: I wanted to reread it. Which might seem perverse if you know that for most of the last hundred pages I was dissolved in tears. Jojo Moyes, the writer who produced this emotional typhoon, knows very well that Me Before You . . . is a 'real weepy'. Moyes's story provokes tears that are redemptive, the opposite of gratuitous. Some situations, she forces the reader to recognise, really are worth crying over . . . An affair to remember

Liesl Schillinger, The New York Times Book Review
At last, a new Moyes novel - and it's a triumph. Her story of love blossoming in the most unlikely of ways packs such an emotional punch, you'll need a box of tissues

Elle
Jojo Moyes's poignantly romantic tales have readers streaming their way through boxes of Kleenex . . . Me Before You is compelling reading...a profound, fundamental, thought-provoking conundrum lies at the heart of the story, a huge moral dilemma, explored with great fictional finesse. Devotees of Jojo Moyes and newcomers alike will settle into this entertaining book with gusto

Sunday Express
Romantic, thought-provoking tear-jerker than you won't be able to put down

Woman & Home
Article
Article
Spotify playlists for your reading adventures
We've all been there. . . reading the perfect book, completely invested in a fictional world, only to be disturbed by a neighbour mowing their lawns or the distant sound of dogs barking. Suddenly you're pulled back to reality wondering what on earth happened.