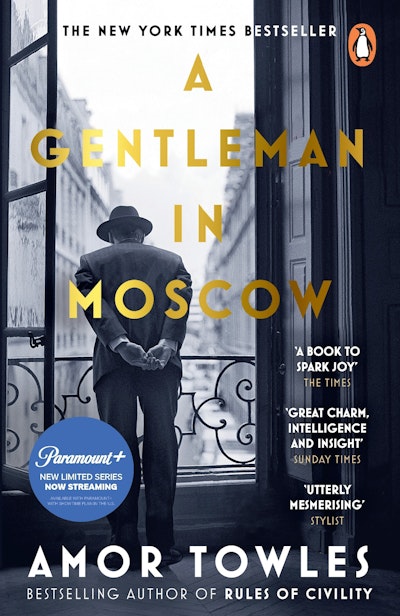 Published:

2 January 2018

ISBN:

9780099558781

Imprint:

Windmill Books

Format:

Paperback

Pages:

512

RRP:

$26.00
A Gentleman in Moscow
The worldwide bestseller
---
---
---
From the New York Times bestselling author of Rules of Civility - a transporting novel about a man who is ordered to spend the rest of his life inside a luxury hotel.

** Available for pre-order, THE LINCOLN HIGHWAY, the dazzling new novel from Amor Towles **
Chosen for the Duchess of Cornwall's online book club The Reading Room
OVER A MILLION COPIES SOLD: a BBC Radio 4 Book Club choice, soon to be a major TV series starring Kenneth Branagh
_________________________
'A wonderful book' - Tana French
'This novel is astonishing, uplifting and wise. Don't miss it' - Chris Cleave
'No historical novel this year was more witty, insightful or original' - Sunday Times, Books of the Year
'[A] supremely uplifting novel ... It's elegant, witty and delightful - much like the Count himself.' - Mail on Sunday, Books of the Year
'Charming ... shows that not all books about Russian aristocrats have to be full of doom and nihilism' - The Times, Books of the Year
_________________________
On 21 June 1922, Count Alexander Rostov - recipient of the Order of Saint Andrew, member of the Jockey Club, Master of the Hunt - is escorted out of the Kremlin, across Red Square and through the elegant revolving doors of the Hotel Metropol.
Deemed an unrepentant aristocrat by a Bolshevik tribunal, the Count has been sentenced to house arrest indefinitely. But instead of his usual suite, he must now live in an attic room while Russia undergoes decades of tumultuous upheaval.
Can a life without luxury be the richest of all?
_________________________
A BOOK OF THE DECADE, 2010-2020 (INDEPENDENT)
THE TIMES BOOK OF THE YEAR 2017
A SUNDAY TIMES BOOK OF THE YEAR 2017
A MAIL ON SUNDAY BOOK OF THE YEAR 2017
A DAILY EXPRESS BOOK OF THE YEAR 2017
AN IRISH TIMES BOOK OF THE YEAR 2017
ONE OF BARACK OBAMA'S BEST BOOKS OF 2017
ONE OF BILL GATES'S SUMMER READS OF 2019
NOMINATED FOR THE 2018 INDEPENDENT BOOKSELLERS WEEK AWARD
Published:

2 January 2018

ISBN:

9780099558781

Imprint:

Windmill Books

Format:

Paperback

Pages:

512

RRP:

$26.00
Praise for A Gentleman in Moscow
WINNING . . . GORGEOUS . . . SATISFYING . . . TOWLES IS A CRAFTSMAN

New York Times Book Review
The same gorgeous, layered richness that marked Towles' debut shapes this novel

Entertainment Weekly
A masterful writer . . . a talent for conjuring up scenes from the past and present and bringing them into remarkable focus

Washington Times
Spread across four decades, this is in all ways a great novel, a nonstop pleasure brimming with charm, personal wisdom and philosophical insight.

Kirkus
This is parable for all world travellers.

GQ
A Gentleman in Moscow is a tale abundant in humour, history and humanity, with a poignant message about time passing. That Towles also makes this rollicking good fun is no mean feat.

Constance Watson, Sunday Telegraph
An inventive and charming novel

You magazine
A work of great charm, intelligence and insight.

Nick Rennison, Sunday Times
I adored A Gentleman in Moscow . . . This is a lovely, meandering story as charming and elegant as the Count himself.

Red
Elegant sentences, wonderful characters and inventive storytelling . . . This is everything a novel should be: charming, witty, poetic and generous. An absolute delight.

Mail on Sunday
A charming novel.

Sunday Times Culture Magazine
There is so, so much to love in this book as we keep company with the endlessly entertaining Count . . .[This] novel is wistful, whimsical and wry and elegantly captures that most apposite of lessons: 'By the smallest of one's actions, one can restore some sense of order to the world'. Brilliant

Eithne Farry, Sunday Express
A love story like no other, in a beautiful-looking book.

Sun
The perfect escapist read, Amor Towles' A Gentleman In Moscow is utterly mesmerising.

Stylist
Towles' use of language is an absolute pleasure to read and you can't help but savour every last word . . . What makes it a great work of historical fiction is the apt creations the author builds outside the hotel walls in a truly tumultuous time. Towles creates such a memorable character in Rostov and this book brings something for everyone - humour, history, friendship and philosophy

Irish Times
A Gentleman in Moscow is quite a novel. Towles' use of language is a pleasure and you can't help but savour every word . . . a great work of fiction.

The Herald
What makes it a great work of historical fiction are the creations the author builds outside the hotel in a truly tumultuous time.

i Newspaper
If we do a better book than this on the [Simon Mayo Radio 2] Book Club, we'll have a very very good year!

Matt Williams, Radio 2 Book Club
Lovely, long and lingering story.

Red
A sheer delight . a gorgeous comic epic.

Daily Express
A comic masterpiece . . . very funny, tender and as laughably accurate an account of the dismal nature of life in Soviet Russia as one could hope for . . . Quite apart from the ingeniously ludicrous plot and the acutely drawn characters, what adds to the joy of this book is the precision of Towles' style. Again and again he conveys exactly the right impression with a deliciously surprising choice of words . . . a sheer delight.

William Hartson, Daily Express
A Gentleman in Moscow is exquisitely propped and styled, from the silver samovars to the red covers of Baedeker guides . . . [T]he count charms and disarms, and his story sparks much joy and a new anti-Kondo philosophy: chuck much, but keep all the books.

The Times
This novel is as much a celebration of that great culture as it is a biography of an irrepressible and indomitable spirit . . . an absolute must read.

Irish Independent
Written with a clipped, capering style and comic flair that can't fail to charm.

Compass magazine
A profound, often funny survey of mid-20th-Century Russia

Daily Telegraph
I think the world feels so disordered right now. The count's refinement and genteel nature are exactly what we're longing for. His world was also in shambles but he maintained his grace and humor.

Ann Patchett
Unputdownable

Irish Independent
No historical novel was more witty, insightful and original

Sunday Times, Culture Magazine
No historical novel was more witty, insightful and original

Sunday Times, Culture Magazine
This novel is astonishing, uplifting and wise. Don't miss it.

Chris Cleave
[A] supremely uplifting novel ... It's elegant, witty and delightful - much like the Count himself.

Mail on Sunday, Books of the Year
Among the greatest comic novels of all time . . . told with such style and wit that every page reduced me to helpless laughter and admiration

The Daily Express, BOOK OF THE YEAR
The book I would recommend to anyone who appreciates what only fiction can do . It's a page-turner and a delight.

David Hepworth, Radio Times
A heart-warming story that asks the reader to consider what is important in life. We loved it. *****

Woman's Weekly
I can highly recommend A Gentleman in Moscow by Amor Towles as lockdown reading ... The story resonates because we have all endured restricted lifestyles of late and may continue to for months to come.

Philip Rodney, The Times (Scotland)
It is a good book to read during this pandemic because it's about how he is being confined to Moscow's Hotel Metropol.

Dougray Scott, Metro
I love the novels of Amor Towles, especially A Gentleman in Moscow - he has this ability to nail the idiosyncrasies and quirks of a character in just a few words.

Antonio Pappano, Daily Telegraph
Towles's book is a delight, with a beguiling central character and lively descriptions of life in Russia over a period of 30 years.

Independent
A wonderful bookwhich gives the reader an understanding of life in post revolution Moscow.

Camilla, Duchess of Cornwall
I just reread A Gentleman in Moscow ... It's a wonderful book at any time, and this time it brought home to me how people find ways to be happy, make connections, and make a difference to one another's lives, even in the strangest, saddest and most restrictive circumstances.

Tana French, Good Housekeeping
Totally original novel ... A great deal of Russian history is also subtly woven into this magical book, which is tear-jerking but never sentimental, with a quite unexpected and thrilling ending.

Daily Mail
Wonderful, combining brilliant storytelling with beautiful writing.

Jeffrey Archer, Daily Express
I love the novels of Amor Towles, especially A Gentleman in Moscow - he has this ability to nail the idiosyncrasies and quirks of a character in just a few words.

Antonio Pappano, Daily Telegraph
It's hard not to fall in love with Count Rostov, an impeccably mannered and mischievous aesthete placed under permanent house arrest at Moscow's Metropol hotel ... An endearing and frequently hilarious novel that covers big topics with a velvet touch.

Independent