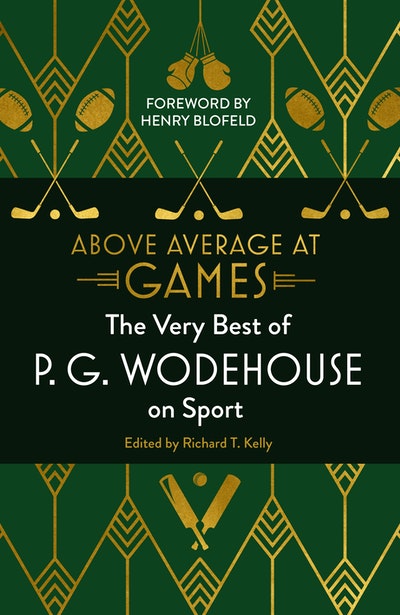 Published:

31 October 2019

ISBN:

9781473573956

Imprint:

Cornerstone Digital

Format:

EBook

Pages:

416
Above Average at Games
The Very Best of P.G. Wodehouse on Sport
---
---
---
A beautifully produced collection of Wodehouse's golf and cricket stories - some of the funniest stories from one the the world's funniest writers, this makes the perfect Christmas gift for fans of Wodehouse or all things sport.
P.G. Wodehouse was an ardent, lifelong sports fan and, in his younger days, a sportsman of distinction, known at school as 'a noted athlete, a fine footballer and cricketer, a boxer.' As his biographer Frances Donaldson observed, it was vitally important to the boy Wodehouse that he was 'above average at games.'
Sport also inspired a lot of Wodehouse's earliest writings, as well as some of his very finest and laugh-out-loud funniest. He brought a knowledge and a passion born of practice, writing with trademark wit on a rich range of games – and on cricket and golf, in particular, as well as anyone ever has.
English cricket inspired in Wodehouse what he himself long considered to be his favourite work; and yet America (which he first visited keenly and then came to call home) led him to the love of baseball, and golf – enthusiasms that drew him to new tales for new audiences, including the celebrated golf stories which John Updike described as 'the best fiction ever done about the sport.'
This rollicking anthology, selected, edited and introduced by the novelist Richard T Kelly, offers a vivid picture of Wodehouse at play – in the ring, at the crease, on the tee – which is guaranteed to please any sporting crowd. Beginning with early journalism, taking in extracts from novels and short stories in their entirety, it all adds up to a medal-winning collection.
Published:

31 October 2019

ISBN:

9781473573956

Imprint:

Cornerstone Digital

Format:

EBook

Pages:

416
Praise for Above Average at Games
Above Average at Games is the sort of book that should be tackled from the comfort of a deep leather armchair in front of the fire at the Drone Club […] If Wodehouse hadn't found success with Jeeves and Wooster and Lord Emsworth and all that crowd, he would have made an excellent sports writer […] He writes with great affection about the sporting world.

Sunday Times
There are several authors whose work should be required reading for every youngster in the land . . . PG Wodehouse, widely regarded as the greatest comic author of the twentieth century, is [one] . . . Novelist Richard T. Kelly has selected, edited and introduced a rip-roaring anthology . . . we're treated to extremely funny observations on cricket, golf, boxing, rugby and even baseball.

Wales Evening Post: Sports Book of the Month
[H]ilarious and incisive; Wodehouse brilliantly sends up his own ineptitude (he was an 18 handicap), while managing to write of the sport with keenness of insight.

Irish Times
[E]ven if you aren't [interested in the technical aspects], bits make you laugh out loud.

Tablet