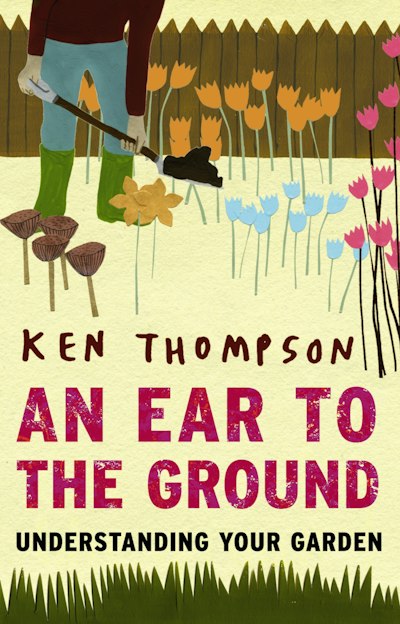 Published:

30 June 2011

ISBN:

9781446437780

Imprint:

Transworld Digital

Format:

EBook

Pages:

256
An Ear to the Ground
Understanding Your Garden
---
---
---
Garden questions answered; horticultural myths debunked; upmarket, witty literature for gardeners.
How did plants get to be the way they are? Why do they have pretty flowers? How different would things have been if the wrong kind of pollinators had got the upper hand? Why are Latin names so complicated, and why Latin anyway? Why is a weed-free lawn an ecological impossibility?
This entertaining book gives the answers to these questions and many more. It shows how a little botanical knowledge can bring not just better results but peace of mind, and that losing sleep over such traditional gardening bogeys as weeds, pests and pruning is not necessarily the best course.
In this new edition Ken Thompson grabs the opportunity to explain why any old plant will do for companion planting - but also that it can do as much harm as good - and why planting by the moon is complete and utter nonsense.
Published:

30 June 2011

ISBN:

9781446437780

Imprint:

Transworld Digital

Format:

EBook

Pages:

256
Praise for An Ear to the Ground
An excellent read for the beginner gardener who wants to understand the science of gardening without getting bogged down in formulae and graphs.

The Times
This neat little book will bring peace of mind from worries about weeds, pests and pruning for all those anxious gardeners who'd rather be up at the allotment than down on the beach.

Daily Mail
Refreshingly down-to-earth guide

Red
This amusing and very useful book is a must for any gardener, whether highly knowledgeable or rank amateur.

Good Book Guide
This joyful little book will help debunk some gardening myths, and reveal your garden as it really is.

Gardening Which?
It is the perfect book for the armchair gardener!

Period House
This is the book we've been waiting for.

Sunday Telegraph
Good popular science books for gardeners do not come along every day. Those that are also easy to read, witty and do not insult the intelligence of readers are rarer still. So I can't recommend too highly An Ear to the Ground by Ken Thompson, which gives up-to-the-minute answers to all those questions that nag at you when you are bottom-up in a flower border or floating off to sleep at night. Its style - forthright, breezy and authoritative - is most appealing. Thompson politely, but firmly, puts the boot in. It is about time someone told it how it really is.

Ursula Buchan, Telegraph
A gem of a book

Todmorden News
An essential gardening book:Ken Thompson's book should be on every gardener's bookshelf. It is a well-written, easy to read publication with a nice touch of humour. Ken Thompson makes gardening science easy without trivialising it - and, throughout, there are useful practical tips. As a professional gardener, I highly recommend this book.

DP Tabberner, Stourbridge, Amazon
A delightful read: A lovely diversion from the dumbed down style of gardening you see on TV, this small book runs through the science background of gardening without coming over at all too technical. I was slightly disappointed with the chapter on Latin names, but the rest of the book was just packed with interesting facts and anecdotes. If you're interested in how your garden works then you'll enjoy and be informed by this book.

G. Thulbourn, Amazon
An entertaining guide to the biology behind green tomatoes and red cabbage, brambles' peculiar sex lives and why not to be afraid of Latin, it is learned and authoritative without blinding with science.

Independent