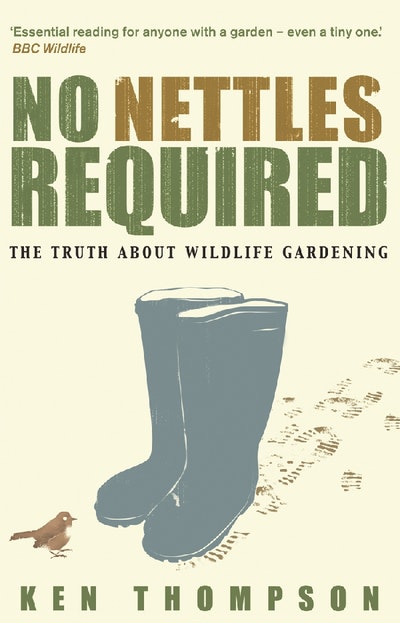 Published:

31 May 2011

ISBN:

9781446437803

Imprint:

Transworld Digital

Format:

EBook

Pages:

192
No Nettles Required
The Reassuring Truth About Wildlife Gardening
---
---
---
New packaging for this refreshing and much needed counterpoint to other books on wildlife gardening, blowing away the many myths and misconceptions on the basis of unique detailed research.
In 2003 a MORI poll for the Royal Horticultural Society revealed that an extraordinary number of us are interested in attracting wildlife into our gardens. It also indicated, however, that many of us have no idea how to go about it. Information is sparse, and public opinion seems to suggest that gardens that are plentiful in wildlife are unattractive, expensive to upkeep and hard work to maintain. But this couldn't be further from the truth.
In this illuminating book, Ken Thompson explains that encouraging wildlife is actually entirely compatible with ordinary gardening, costs next to nothing and is almost completely effortless. Packed with helpful hints and tips, the book shows us how easy it is to fill our gardens with everything from foxes, frogs and mice to butterflies, ladybirds and literally thousands of fascinating creepy-crawlies. Why should we? Because we'll be promoting the biodiversity of the UK, we'll be reconnecting with nature, getting more from our gardens, and we'll be doing our plants a favour.
Published:

31 May 2011

ISBN:

9781446437803

Imprint:

Transworld Digital

Format:

EBook

Pages:

192
Praise for No Nettles Required
Top Title: Hints and tips from a plant ecologist who maintains that encouraging wildlife in your garden and promoting biodiversity is cheap and compatible with ordinary gardening. Delightfully readable, and attractively packaged, too

Caroline Sanderson, The Bookseller
A good read: informative and well-explained.

Bob Flowerdew, Gardener's Question Time
BOOK OF THE MONTH...Attractive and highly readable follow-up to his excellent An Ear to the Ground

The Telegraph, Gardening supplement
The author...[demystifies] and [simplifies] wildlife gardening in a friendly and accessible way. A must for anyone interested in this subject.

Gardening Which?
It's full of tips on how to fill our gardens with everything from foxes and frogs to butterflies and ladybirds...He also makes us more aware of the struggles for life that go on among the inhabitants of our garden every day, but that we rarely take time to notice.

Eastern Daily Press
I finished this book torn between wild feelings of omnipotence and a nagging sense of guilt for poisoning the mice in my garden shed...he guides us around the millions of varieties of insects that most of us either ignore or abhor...even slugs, the gardener's most persistent foe, are given respect.

Ludovic Hunter-Tilney, Financial Times
Packed with tips and sensible, easy-to-follow advice, this is a timely and welcome book to add to any gardening collection.

Nottingham Evening Post
Full of helpful hints and tips, this book reveals how easy it can be to fill our gardens with everything from foxes, frogs and mice to butterflies, ladybirds - and thousands of creepy-crawlies

Western Daily Press
Written in an easy, popular style, No Nettles Required analyses the hard scientific data behind biodiversity in gardens, whilst gently poking fun at well-worn principles promoted in a plethora of 'wildlife gardening' books...My own advice...is never to manicure the lawn...But don't listen to me - read No Nettles Required.

John Akeroyd, Plant Talk
A cheerful hand grenade of a book...fantastic science writing for a lay audience.

New Scientist
Fascinating reading. It dispels myths and offers science-based advice.

Saga
Discover how you can enjoy the pleasures of a wildlife garden, and how a whole host of wildlife can enjoy your garden, too!

The Good Book Guide
A fresh look at wildlife gardening which punctures myths and gives sold, science-based advice. Hoorah!. The book many of us have been waiting for: wildlife gardening backed up by science....Essential reading for anyone with a garden - even a tiny one

Sanjida O'Connell, BBC Wildlife
A well-researched gem. I love it. Buy it and read it.

Cleve West, The Independent
This little book is a thoroughly readable, amusing, fact based, accessible account of a research project that will be relevant to anyone with a garden or outdoor space. The advice is unfailingly practical and the received wisdom questioned. The book does not simply regurgatate the same old advice about wildlife gardening, but offers in many cases a new approach, based on the empirical evidence of the research. The author is clearly aware that wildlife gardening is viewed by many gardeners as expensive and/or unattractive, and he offers lots of sensible suggestions for things that cost next to nothing, perfectly in keeping with the most traditional garden and are proven to be effective. He stresses that anyone, no matter what size garden, can garden with wildlife in mind with very little effort.

S. Walter, Essex, Amazon