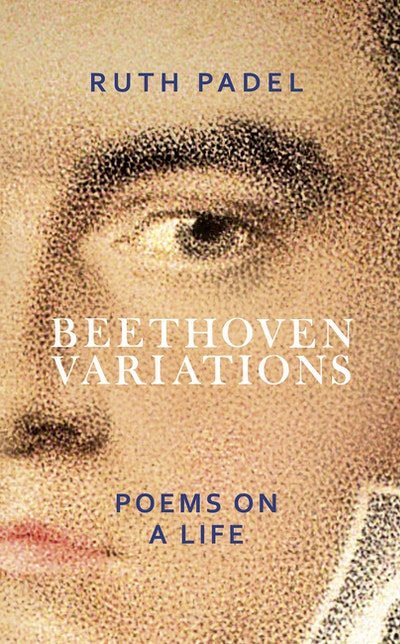 Published:

30 January 2020

ISBN:

9781473558588

Imprint:

Vintage Digital

Format:

EBook

Pages:

144
Beethoven Variations
Poems on a Life
---
---
---
From the author of the bestselling Darwin: A Life in Poems, Ruth Padel's new collection follows in the footsteps of one of the world's greatest composers, Beethoven, and investigates what his life and music might mean to us today
DIVINE SPARK, published in the 250th year of Beethoven's birth, explores the man and the music, the suffering and astonishing innovations of a man whose work touches all our hearts. Award-winning poet Ruth Padel goes on a personal search for Beethoven through places where he lived, through letters, friends' memoirs, the Conversation Books he turned to when deaf, and in his music.
This very personal book is rooted in the poet's journeys to Beethoven's birthplace in Bonn and adopted city of Vienna, and her own music-making. These poems, capturing moments of Beethoven's life, grew out of Ruth's collaboration with the UK's leading string quartet, the Endellions, In four movements, her poems conjure Beethoven's pain-filled childhood, his drunk father beating music into him as Enlightenment ideas, challenging the aristocratic right to rule, sweep Europe inspiring the boy with a lifelong passion for freedom and justice. We follow young Beethoven's hopeless love affairs, especially with the mysterious Immortal Beloved, and finally his disastrous adoption of his nephew, leading to the boy's attempted suicide and Beethoven's own death.
The book opens with Europe on the brink of violent change as the French Revolution shatters the thousand-year-old Holy Roman Empire. We see the young man whose Ode to Joy will became anthem of the European Union, dashing towards Vienna through troops mobilizing to fight Napoleon; his genius at piano improvisation, his triumph as Vienna's pre-eminent virtuoso, and agony as deafness makes performing impossible. As Napoleon besieges and occupies Vienna, altering the face of Europe, we see Beethoven writing masterpieces which will change music for ever, and finally his revolutionary path into the avant-garde daring, unspeakable sorrow and luminous resolution of his harrowing final years, as he retreats to the intimate world of chamber music to express his last profound thoughts. The man we meet is surprisingly warm-hearted, passionately idealistic and isolated. A man who never married, whose human relationships were often explosive and destructive, but whose musical relationships took harmony to new heights.
Published:

30 January 2020

ISBN:

9781473558588

Imprint:

Vintage Digital

Format:

EBook

Pages:

144
Praise for Beethoven Variations
How to uncover from biographical details the mystery that is music? With precision, heart-breaking beauty and lyric insight, Ruth Padel performs a miracle: Beethoven comes alive before us, the son of a drunk, who became a genius, and lost everything, and found his way back to the center. And here we are, following Padel's own genius for composing the music of a story via lyrical means. You will find your heart shored up / by meeting the trapped brilliance of his eyes, she writes. Indeed

Ilya Kaminsky, author of Deaf Republic
Poetry, biography, music and memoir collide in this wonderful collection from Ruth Padel... A tender and evocative portrait of the man and his music, and most of all the profound ways it affects listeners and performers

Tatler
What a wonderful and unusual idea. Ruth Padel writes with true passion; her love for, and understanding of, the man and his music shine through each poem

Steven Isserlis, cellist
Beethoven's music encompasses the entire blinding spectrum of human thought and emotion, from violent to ethereal, from chaos to sublimity. Ruth Padel's poems encompass that uncontainable spirit to an astounding degree, and preserve the primal shock of our first hearing

Alex Ross, author of The Rest is Noise, music critic of the New Yorker