Let Lette walk you through her remarkable writing career.
You may've come across Kathy Lette's Puberty Blues as a teenager and identified with Deb and Sue's struggles to find identity in a world of conformity. It might've been her razor-sharp journalistic wit that drew you in. Perhaps your introduction came via the comic twists and emotional turns of The Boy Who Fell to Earth, inspired by her experiences raising a child with Autism. Or maybe you're just in it for the laughs.
Lette's unique spin on contemporary feminism has captivated, emboldened and delighted readers for almost 40 years. 'The legendary Dr Johnson once observed that, "The true end of literature is to enable the reader better to enjoy life or better to endure it",' she says. 'If I've enabled my readers to feel less lonely, more empowered around misogynistic men and able to laugh at life's adversities, then I've done my job.'
Here, Lette takes us on a blow-by-blow journey through her body of work to date.
I only write because it's cheaper than therapy. Otherwise I'd be a permanent member of Couch Canyon. 'Poetic justice' is the only justice in the world – and I say that having been married to a lawyer for 27 years! A comic writer can always impale enemies on the end of a sharpened pencil.
I first realised the wounding power of the pen as a teenager. The Aussie surfie males I grew up with disproved the theory of evolution – they were evolving into apes. These were the type of guys who thought 'sex drive' meant doing it in the car. I decided to exorcise my angst in a novel and shish-kebabbed those boys on my Bic biro in a book called Puberty Blues. It was published when I was 19 and became a bestseller. It was furious, yes, but also bleakly funny. The success of the novel taught me how much more effective it is to comically kneecap the opposition.
In the 14 novels I've written since, I've lampooned many subjects. In Girls Night Out I set my satirical sights on married men who think monogamy is something you make dining room tables out of.
In The Llama Parlour I took aim at Hollywood – a place where they say 'have a nice day' and then shoot you.
In Foetal Attraction I blew a literary raspberry at natural childbirth – a case of stiff upper labia.
In Mad Cows I wanted to barbecue the sacred cow that motherhood is the ultimate fulfilment for a female. Yes, I love my children with a primal passion but, like all mums, am occasionally tempted to shove them back into the condom vending machine for a refund.
Altar Ego was the antidote to Bridget Jones, because I don't believe a woman should wait around to be rescued by a Knight in Shining Armani. It seems to me that a perfect marriage is like an orgasm – many of them are faked.
Nip'n'Tuck was a feisty attack on the facial prejudice older women endure and the cosmetic cowboys who want to disfigure us. (My mother told me never to pick my nose – especially from a catalogue!)
I then penned Dead Sexy – a satire on the sex war. (Why do men like intelligent women? Because opposites attract.)
How To Kill Your Husband – and other handy household hints was a cry for help for the generation of women who thought we were going to Have It All, but just ended up Doing It All. Even though women make up 50% of the workforce, we're still doing 99% of all the housework and childcare. The Dunkirk evacuation would have been easier to organise than a working mum getting her kids up and out of the house in the morning. Men may say they'd like to help more around the house, only they can't multi-task. This is just a biological cop out. Would any man have trouble multi-tasking at, say, an orgy? (Men, take note, it is scientifically proven that no woman ever shot her husband while he was doing the vacuuming.)
To Love, Honour and Betray poses the theory that teenagers are God's punishment for having sex in the first place. Living with a teenage daughter is like living with the Taliban. A mum is not allowed to laugh, dance, sing or wear short skirts. My top tip for mums of teens who scream at you, 'I wish you'd just die!!' is to take a big drag on a cigarette and a big gulp of wine and say, 'I'm doing my best, darling'.
Courting Trouble was my literary raspberry at the misogynistic legal world. (It's dedicated to brilliant barrister Helena Kennedy, who's promised to get me off when I kill my first book critic.)
The Boy Who Fell to Earth tells the poignant tale of a single mother raising a child on the autistic spectrum. This novel was inspired by my own lovely boy who has Autism. Although the book twangs the heart strings, it is also a celebration of eccentricities, idiosyncrasies and being different.
My 2017 comic novel, Best Laid Plans, is the sequel. It tackles the taboo subject of what happens when your child with special needs becomes sexual. (But when it comes to sex, we all have special needs, right?) It starts with middle-aged Mum Lucy being arrested for kerb-crawling to procure a prostitute for her son's 21st birthday. In other words, fasten your psychological seatbelt for a bumpily hilarious ride…
So, as you can see, I have a lot to get off my Wonderbra-ed chest. So, why use humour? Because if you can disarm with charm, you're more likely to get your message across. The author and critic Amanda Craig puts it more eloquently: 'Critics refuse to accept that literature can be profound, but also pleasurable; an experience which lifts the spirits while engaging the mind.'
Looking back on my work, I realise that all I've done is to write the book I wish I'd had when I was going through something. I also just write down the way women talk when there's no men around. It's a great male myth that women aren't funny. Men always say that women can't tell jokes. Of course, this might be because we marry them! But perhaps one of the reasons men don't want to admit that women are funny is because they're terrified to think what we're being funny about. For any men reading this, let me just put you at your ease: on our all-girl gatherings, we don't just talk about the length of your appendages… We also talk about the width, which, after childbirth, is much, much more important.
I'd better get back to work now, but I do hope you'll slip between my covers, my book covers that is. Fun, frivolity and feminism guaranteed. And just remember, laugh and the world laughs with you. Cry… and you get salt in your martini. 
Cheers, Kathy 
---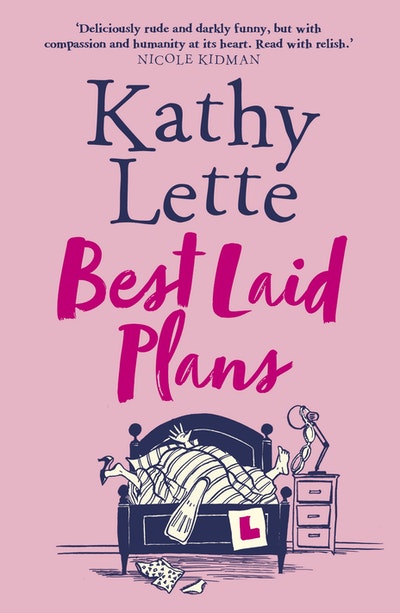 Uproariously funny and provocative, tender and life-affirming, this is Kathy Lette at her very best.
Buy now
Buy now
---