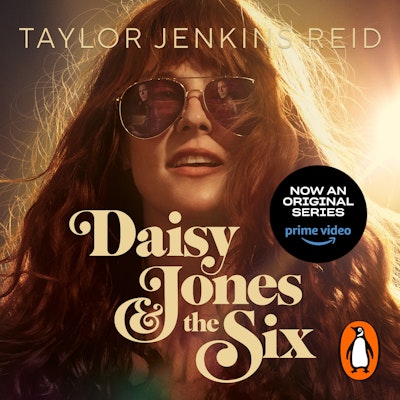 Published:

5 March 2019

ISBN:

9781473565951

Imprint:

Cornerstone Digital

Format:

Audio Download

Length:

9 hr 4 min

Narrator:

Sara Arrington, Jennifer Beals, Arthur Bishop, Fred Berman, Benjamin Bratt, Jonathan Davis, Ari Fliakos, Holter Graham, Judy Greer, January LaVoy
Daisy Jones and The Six
The must-read bestselling novel
---
---
---
'I fell head over heels for Daisy and devoured this in a day' -Reese Witherspoon
Brought to you by Penguin.
THE SUNDAY TIMES AND NEW YORK TIMES BESTSELLER
A Daily Mirror best fiction pick of 2019
A Daily Express best book of 2019

Everybody knows Daisy Jones and the Six.
From the moment Daisy walked barefoot on to the stage at the Whisky, she and the band were a sensation. Their sound defined an era. Their albums were on every turntable. They sold out arenas from coast to coast.
This is the story of their incredible rise: the desire, the rivalry - and the music.
Then, on 12 July 1979, Daisy Jones and the Six split up.
Nobody knew why. Until now.

'I LOVE it . . . I can't remember the last time I read a book that was so fun' DOLLY ALDERTON
'New obsession, incoming' TELEGRAPH
'I didn't want this book to end' FEARNE COTTON
© Taylor Jenkins Reid 2019 (P) Penguin Audio 2019

Published:

5 March 2019

ISBN:

9781473565951

Imprint:

Cornerstone Digital

Format:

Audio Download

Length:

9 hr 4 min

Narrator:

Sara Arrington, Jennifer Beals, Arthur Bishop, Fred Berman, Benjamin Bratt, Jonathan Davis, Ari Fliakos, Holter Graham, Judy Greer, January LaVoy
Praise for Daisy Jones and The Six
I devoured DAISY JONES AND THE SIX in a day, falling head over heels for it. Taylor Jenkins Reid transported me into the magic of the 70's music scene in a way I'll never forget. The characters were beautifully layered and complex... Daisy and the band captured my heart, and they're sure to capture yours too.

Reese Witherspoon
Taylor Jenkins Reid is a stunning writer whose characters are unforgettable and whose stories are deeply emotional. Her new book is her most gripping yet.

Emily Giffin
A tremendously engaging, and completely believable tale of rock and roll excess, one made all the more enjoyable by being written as an oral biography. It's inventive, persuasive and completely satisfying.

Dylan Jones
I spent a lost weekend in this book. Daisy Jones is an instant icon.

Erin Kelly
Once in a blue moon you get to discover a book you end up pressing upon many other people to read. Taylor Jenkins Reid has got every nuance, every detail exact and right. I loved every word.

Paul Rees
So brilliantly written I thought all the characters were real . . . I couldn't put it down.

Edith Bowman
The heady haze of the 70s music scene, and a perfectly flawed Daisy, combine to create a fresh, rock n roll read. I loved it.

Ali Land
DAISY JONES & THE SIX is a transporting novel - at once a love story, a glimpse into the combustible inner workings of a rock-and-roll band, and a pitch-perfect recreation of the music scene of the Fleetwood Mac era. You'll never want it to end.

Cecelia Ahern
Part juicy celebrity tell-all, part A Star Is Born . . . Be prepared to read it in a single night.

Vogue, Best New Books 2019
Utterly refreshing - and too charming not to love

Image
Brilliantly gripping.

Reader's Digest
I LOVE it . . . I can't remember the last time I read a book that was so fun.

Dolly Alderton, The High Low
With wonderfully layered and complex characters, Reid's latest novel is brilliantly written and hard to put down.

Psychologies
Utterly believable . . . fabulously entertaining.

Will Hodgkinson, The Times
Brace for 2019's first pop-culture sensation . . . we're not exaggerating . . . new obsession, incoming . . . If you liked Almost Famous, you'll love it.

Stella Magazine, Telegraph
The characters leap off the page, seducing you with their dramas, and making you wish the band was real. Five stars.

Heat
A book that reads like an addictive Netflix documentary meets A Star Is Born - despite being utterly fictional . . . It's also a call-to-arms that when you find your niche, don't doubt, embrace it.

Emerald Street
Prepare to be obsessed.

Stylist
With Daisy Jones, Taylor Jenkins Reid has conjured up a legend both on the page and off. A zeitgeist book for 2019, read it before the series becomes the next must-see.

Stylist
Fascinating . . . you can't wait to find out what happens next . . . Everyone should read this.

Claudia Winkleman, RADIO 2
It's as if a woman wrestled the narrative from Almost Famous, drenched it in sunshine, sex and tequila, then left it for us to read on a rainy Sunday.

Grazia
Chances are that by the end of the year you'll want to track down Daisy's music and play it, even though the fabulous 1970s songbird never existed.

Writing Magazine
[T]his absorbing novel is full of irresistible characters, and brilliantly evokes its time and place. It's my favourite novel of the year.

Charlotte Heathcote FICTION OF THE YEAR, Daily Mirror
Unique, inventive and stylish...It's exciting and intoxicating, and I loved the effortlessly cool Daisy Jones. It is a novel I'll revisit regularly.

Zoe West, BOOKS OF THE YEAR, Woman & Home
I totally fell for Taylor Jenkins Reid's engaging recreation of the 70s rock 'n' roll scene . . . this novel has a lot of heart.

Joanne Finney BEST READS OF 2019, Good Housekeeping
It's mostly set in the Seventies, an era that Jenkins Reid conjures like a Tarantino film. The counterculture, the drugs, the parties, the promiscuity, the terrible relationships. It's also about how some people can be stars, and others can't, and the addictive lure of fame. Jenkins Reid has arranged this as an oral history, so we see the story of the band's rise to excess from many points of view. You keep wondering: how far can this go? How crazy will things get? This is the Seventies. Pretty crazy. Hugely readable.

Evening Standard
I completely forgot that Daisy Jones and The Six was a fictional book and not a real story. The cast of characters with different narrators portraying them made it feel so real. One of my favourite audiobooks of all time.

Pop Sugar
Video
Daisy Jones and the Six by Taylor Jenkins Reid
A thrilling story told in the form of an extended oral history, Daisy Jones and the Six transports the reader to the world of '70's rock 'n roll; creative chaos, musical alchemy and an iconic sound. Learn more: https://www.penguin.com.au/books/daisy-jones-and-the-six-9781786331519