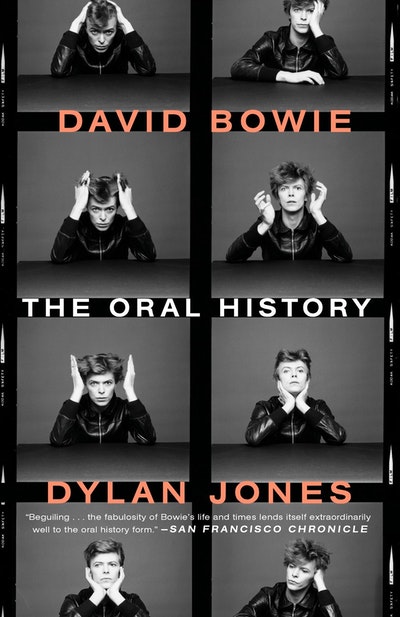 Published:

28 May 2019

ISBN:

9780451497840

Imprint:

Crown

Format:

Paperback

Pages:

576

RRP:

$37.00
David Bowie
A Life
---
---
---
In the manner of George Plimpton's ground-breaking oral biographies of Truman Capote and Edie Sedgwick, this is the definitive oral biography of David Bowie told through over 180 carefully edited and curated original, exclusive interviews with those who knew Bowie best from school friends to global megastars.
Dylan Jones's engrossing, magisterial biography of David Bowie is unlike any Bowie story ever written. Drawn from over 180 interviews with friends, rivals, lovers, and collaborators, some of whom have never before spoken about their relationship with Bowie, this oral history weaves a hypnotic spell as it unfolds the story of a remarkable rise to stardom and an unparalleled artistic path.
Tracing Bowie's life from the English suburbs to London to New York to Los Angeles, Berlin, and beyond, its collective voices describe a man profoundly shaped by his relationship with his schizophrenic half-brother Terry; an intuitive artist who could absorb influences through intense relationships and yet drop people cold when they were no longer of use; and a social creature equally comfortable partying with John Lennon and dining with Frank Sinatra.
By turns insightful and deliciously gossipy, David Bowie is as intimate a portrait as may ever be drawn. It sparks with admiration and grievances, lust and envy, as the speakers bring you into studios and bedrooms they shared with Bowie, and onto stages and film sets, opening corners of his mind and experience that transform our understanding of both artist and art. Including illuminating, never-before-seen material from Bowie himself, drawn from a series of Jones's interviews with him across two decades, David Bowie is an epic, unforgettable cocktail-party conversation about a man whose enigmatic shapeshifting and irrepressible creativity produced one of the most sprawling, fascinating lives of our time.
Published:

28 May 2019

ISBN:

9780451497840

Imprint:

Crown

Format:

Paperback

Pages:

576

RRP:

$37.00
"Jones' Bowie opus serves as the ultimate oral history of the artist's life and musical journey." —Billboard "Revelatory and surprising — perfect for the Ziggy completist." —New York Magazine "Beguiling… the fabulosity of Bowie's life and times lends itself extraordinarily well to the oral history form." —San Francisco Chronicle "Drawn from over 180 interviews with friends, rivals, lovers and collaborators, some of whom have never before spoken about their relationship with Bowie, this oral history weaves a hypnotic spell as it unfolds the story of a remarkable rise to stardom and an unparalleled artistic path." —Parade "There have been many books about David Bowie, both before and after his death, but GQ editor Dylan Jones's is among the best, as well as the most revelatory… For any admirer of the great man, there is a smorgasbord of new information, mixed with well-judged analysis. But even for agnostics, there is no denying Jones's flair and dedication in giving his hero the most comprehensive of eulogies." —The Guardian "Devour David Bowie: A Life, an oral history by Dylan Jones. It's full of irresistible stories of art, music, and, of course, sex – this is rock'n'roll, after all." —Men's Health "[David Bowie] is alternately endearing, heartbreaking and remarkably retentive of the capacity to surprise even longtime fans." —Arkansas Online   "This is a no-brainer. David Bowie: A Life, by Dylan Jones is a must for the Ziggy Stardust fan." —South Coast Today "Dylan Jones has excavated the cacophony of voices that make up a life and curated a phenomenal portrait of the artist from childhood to the final days. The witnesses who comprise this oral biography animate the pages like characters in a non-fiction novel. Damn nigh peerless." —David Mitchell, author of Cloud Atlas "A labor of love with many vivid voices and fresh insights." —Jon Savage, author of England's Dreaming and Teenage "What a story—no screenwriter could have made it up. Dylan Jones tells the epic tale of how David Bowie turned the world upside down, from his early scuffling London days to his rock-and-roll golden years—a starman who kept reimagining himself and his art in ways that transformed our whole culture." —Rob Sheffield, author of Love Is a Mix Tape and On Bowie "A must-read, incredibly diverse and detailed oral history of the rock god's entire existence. From the cradle to the grave. Best. Bowie book. Ever." —Denis Leary, author of Why We Don't Suck "Dylan Jones elevates the art of oral biography to a cinematic level. Scene by scene, this is the movie of David Bowie's life." —Robert Greenfield, author of S.T.P: A Journey Through America with the Rolling Stones "Capturing the kaleidoscopic range of David Bowie's life and work seems like an impossible task. But through more than 150 interviews spanning the entirety of Bowie's extraordinary time on Earth, Dylan Jones thoroughly and seamlessly conveys the creativity, curiosity, and velocity of a visionary who transformed the very possibilities of pop music." —Alan Light, author of The Holy and the Broken and Let's Go Crazy "One can never have enough books on David Bowie… [Jones] offers his own thoughtful and insig