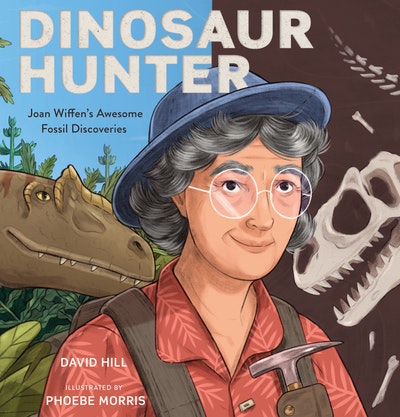 Published:

6 August 2019

ISBN:

9780143773221

Imprint:

Picture Puffin

Format:

Hardback

Pages:

32

RRP:

$25.00
Dinosaur Hunter
Joan Wiffen's Awesome Fossil Discoveries
---
---
Meet Joan Wiffen, a super-determined, self-taught palaeontologist, and join her on the hunt for the fossils that will prove New Zealand once had dinosaurs.

The award-winning true story of science superstar Joan Wiffen, whose fossil discoveries proved that dinosaurs lived in ancient New Zealand.
Once there was a clever girl who liked searching for interesting things on the ground. She wanted to know why shells could be found in rocks so far away from the sea. But her father thought education was no use to a girl, so Joan had to leave school.
Many years later, she bought an old map. To her amazement, she saw that it marked a treasure hoard. Not of gold and jewels, but of dinosaur bones.
Nobody had ever found dinosaur fossils in New Zealand before – in fact, top scientists had said it was impossible. But Joan was intrigued. She decided to learn everything she could about palaeontology and hunt for these dinosaur fossils.

This is the fifth picture book in an acclaimed series of true stories about the lives of famous Kiwis written by David Hill and magnificently illustrated by Phoebe Morris.

Published:

6 August 2019

ISBN:

9780143773221

Imprint:

Picture Puffin

Format:

Hardback

Pages:

32

RRP:

$25.00
Praise for Dinosaur Hunter
[T]his incredible true story is bound to inspire young readers. Science superstar Joan Wiffen was in her 50s when she made her first discoveries and went from having no formal schooling to teaching herself palaeontology. She excavated numerous dinosaur fossils to prove that Aotearoa was once alive with the "terrible lizards". Hill's pitch perfect words are matched by Morris' entertaining drawings.

Dionne Christian and Zoe Gadd, Weekend Herald
[T]his is not just a book for little dinosaur lovers. It is a history book, a biography, a textbook, and an inspirational read about a woman scientist all in one.

Rebekah Fraser, NZ Booklovers
...simply a marvellous book and an inspirational account of a truly remarkable woman's life.

Trevor Agnew, The Source
I love this series. David Hill knows how to pare back each story, without losing the fascinating details of that person's life story. He picks out all the really pertinent aspects of their life, builds up the tension, and then reveals what made that person famous. And Phoebe's illustrations are stunning; full of expression, lots of detail, and she always gets the colour tone just perfect for the era.

Maria Gill, Kids Books NZ
Dinosaur Hunter is a wonderful book...For Joan Wiffen, her remarkable story of fossil discovery didn't begin till she was 40 years old! Safe to say, mum and son alike were inspired, engaged, and schooled by the Dinosaur Hunter, the true story of an exceptional, and most unordinary woman, and a 5 year old boy tucked into bed happily with what he's determined to be an ankylosaurus.

Ronnie Swainston, Kidspot
Not only is this a story of New Zealand's own dinosaurs, it is the tale of an ordinary woman who proved the experts wrong...A great book about an important Kiwi. It's sure to interest budding fossil hunters.

Ann Kilduff, Kapiti News
Yes, Virginia, we did have dinosaurs. And they were discovered by a Hawke's Bay wife, who discovered a passion for geology when she took her husband's place in a night class. Palaeontologist and citizen-scientist Joan Wiffen, the latest subject of this award-winning duo's picture book biographies, died in 2009, aged 87.

Ann Packer, NZ Listener Best Children's Books 2019
Storylines Notable Non-fiction Award
Awarded • 2020 • A Storylines Notable Non-fiction Book
NZ Booklovers Award
Finalist • 2020 • NZ Booklovers Best Children's Book Award