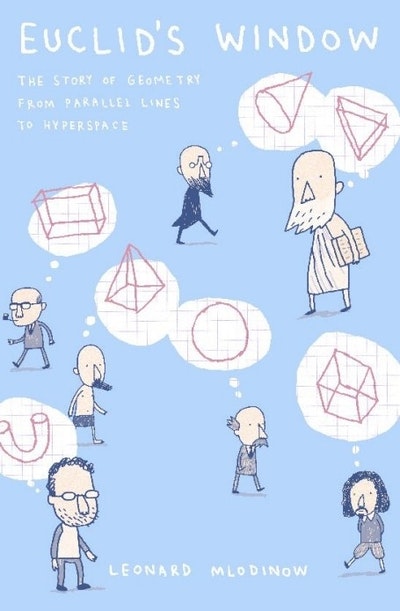 Published:

11 April 2003

ISBN:

9780141009094

Imprint:

Penguin Press

Format:

Paperback

Pages:

320

RRP:

$28.00
Euclid's Window
---
---
---
In Euclid's Window, Leonard Mlondinow takes us on a brilliantly entertaining journey through 3,000 years of genius and geometry, introducing the people who revolutionized the way we see the world around us.
Ever since Pythagoras hatched a 'little scheme' to invent a set of rules describing the entire universe, scientists and mathematicians have tried to seek order in the cosmos: Euclid, who in 300BC defined the nature of space; Descartes, a fourteenth-century gambler and idler who invented the graph; Gauss, the fifteen-year-old genius who discovered that space is curved; Einstein, who added time to the equation; and Witten, who ushered in today's weird new world of extra, twisted dimensions.
They all show how geometry is the key to understanding the universe. Once you have viewed life through Euclid's Window, it will never be the same again...
'Elegant, attractive and concise ... also very readable. Buy it'
Ian Stewart, New Scientist

'This is an exhilarating book ... an important book ... and finally, a lovely book, one that reflects the radiance of its subject'
David Berlinski
'Reader-friendly, high-spirited, splendidly lucid and often hilarious'
Washington Post
'Mlodinow has a talent for lively and clear exposition ... Pythagoras' proof has lost none of its capacity to astonish and delight'
Edward Skidelsky, Daily Telegraph
Leonard Mlodinow was a member of the faculty of the Californian Institute of Technology before moving to Hollywood to become a writer for television. He has developed many best selling and award-winning CD-ROMs and is currently Vice President, Emerging Technologies and R&D at Scholastic Inc. He lives in New York City. His other books include The Drunkard's Walk and Subliminal.

Published:

11 April 2003

ISBN:

9780141009094

Imprint:

Penguin Press

Format:

Paperback

Pages:

320

RRP:

$28.00