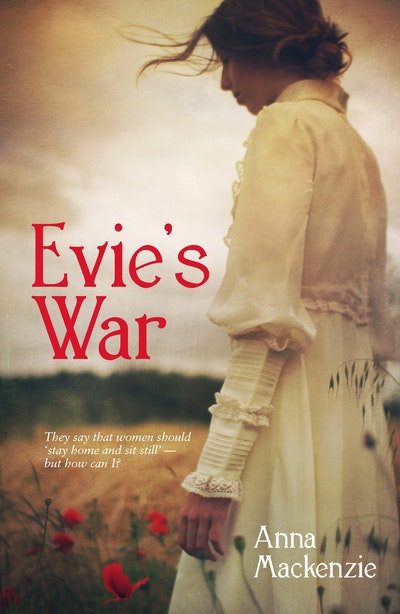 Published:

24 June 2015

ISBN:

9781775537656

Imprint:

Longacre Child

Format:

Paperback

Pages:

352

RRP:

$19.99
Evie's War
---
---
---
They offered up the innocence of a generation . . .
They offered up the innocence of a generation . . .
Evie is 18, straight out of school and excited by the prospect of a tour of Europe. Instead, she finds herself immersed in war; first in the Home Counties – where the young New Zealander is confronted not only by society's restrictions and her family's expectations, but by the burgeoning women's rights movement – then as a VAD nurse tending injured soldiers in a local hospital.
After personal tragedy changes the course of her life, Evie impulsively travels to Belgium, experiencing first-hand the shambolic horrors in a Casualty Clearing Station just 10 km behind the Front Lines. War, at first distant, becomes increasingly personal.
When her health gives out, Evie returns to England and a new battle: that of meshing her hard won independence and experience with the still Edwardian attitudes of her family.
From where can she find strength for love and the resilience to face the future?
A heartbreaking and brilliantly poignant novel.

2016 Storylines Notable Young Adult Fiction Award
Published:

24 June 2015

ISBN:

9781775537656

Imprint:

Longacre Child

Format:

Paperback

Pages:

352

RRP:

$19.99
A New Zealand Listener 50 Best Books for Kids

NZ Listener
vivid and moving

Ann Packer, NZ Listener
This excellent novel about a New Zealand girl's experiences in World War 1 can only be described as epic.

bob Docherty, Bob's Book Blog
utterly convincing

Lorraine Orman, Good Reads
The author invested years of intensive research and writing to accomplish this exceptional historical novel. Encompassing the sweep of the First World War, the book is a tour de force.

Jean Bennett, Bookrapt
Written in the form of a young woman's journal, Evie's War is dramatic and compelling.

Colleen Thorpe, Rotorua Daily Post
I was looking forward to reading Anna Mackenzie's YA novel about a (fictional) New Zealand nurse, and I wasn't disappointed. Anna has proved herself an expert in writing fantasy – and her skills have carried over into this vivid diary-style story...the author brings Evie and her Edwardian contemporaries to life...Recommended for all public and secondary school libraries – and to YA readers who want to know what it was REALLY like.

Lorraine Orman, Kids Books NZ
it provides a strong insight into darker times, of which the youth of today (and even those well past youth, like myself) cannot truly imagine, whilst also being a story of courage, love, compassion and friendship.

Angela Oliver, We Love Books, The Booksellers New Zealand Blog
I found this book to be a very useful tool for expanding my understanding of WWI, as it helped me to connect to an event which is distant to me. It allowed me to explore an aspect of war which is not normally covered in literature (as most focus on the soldiers' points of view), creating an impact on me as I could easily relate to Evie. . . . I highly recommend this book to girls my age, as I think that we are the demographic who can relate the most to Evie. Though, this does not mean that people outside this demographic should feel discouraged from reading it. I take my imaginary hat off to Anna Mackenzie for creating a piece of literature which gives recognition to the women of the war and all of their effort.

Sarah Dickson, 17 years old, NZ Books
I highly recommend this book to girls my age, as I think that we are the demographic who can relate the most to Evie. Though, this does not mean that people outside this demographic should feel discouraged to read it. I take my imaginary hat off to Anna Mackenzie for creating a piece of literature which gives recognition to the women of the war and all of their effort.

Sarah Dickson, aged 17, Hookedonbooks.org.nz
Storylines Notable Young Adult Fiction Award
Awarded • 2016 • A 2016 Storylines Notable Book