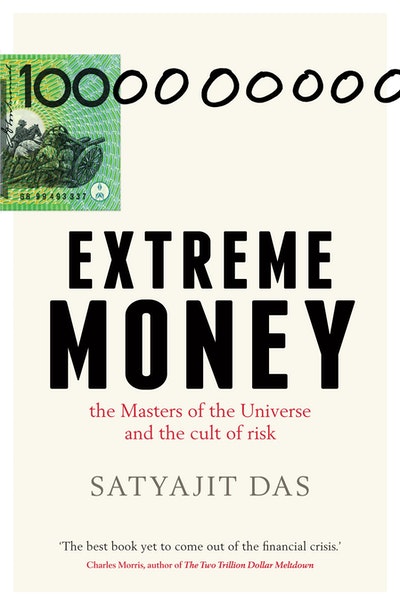 Published:

23 August 2011

ISBN:

9781742533926

Imprint:

Penguin eBooks

Format:

EBook

Pages:

496
Extreme Money: the Masters of the Universe and the cult of risk
---
---
---
Australia's most prescient and accessible financial commentator tells the story of money, and how it has changed forever.

The bestselling author of Traders, Guns & Money on how money and finance enslaved the world.
Once, we built things – useful things. Now, we construct immense financial structures from thin air and lies. We have crafted a colossal worldwide financial machine that makes a few individuals staggeringly wealthy and sacrifices everyone else at its altar of risk.
Bestselling author Satyajit Das draws on over thirty years of personal experience at the heart of modern global finance to narrate this story. Das reveals the spectacular, dangerous money games that have generated increasingly massive bubbles of fake growth, ponzi prosperity, sophistication and wealth – while endangering the jobs, possessions and futures of virtually everyone outside the financial industry.
You'll learn how everything from home mortgages to climate change has become financialized, as vast fortunes are generated by individuals who build nothing of lasting value. Das shows how 'extreme money' has become ever more unreal; how 'voodoo banking' continues to generate massive phony profits even now; and how a new generation of 'Masters of the Universe' has come to dominate the world.
Epic in its scope, EXTREME MONEY reveals how we have all become slaves to our own illusory, unsustainable creation: global finance.
'...virtually in a category of its own – part history, part book of financial quotations, part cautionary tale, part textbook. It contains some of the clearest charts about risk transfer you will find anywhere. ...Others have laid out the dire consequences of financialisation ('the conversion of everything into monetary form', in Das's phrase), but few have done it with a wider or more entertaining range of references...[Extreme Money] does... reach an important, if worrying, conclusion: financialisation may be too deep-rooted to be torn out. As Das puts it – characteristically borrowing a line from a movie, Inception – 'the hardest virus to kill is an idea.' Andrew Hill 'Eclectic Guide to the Excesses of the Crisis' Financial Times (17 August 2011)
'…a powerful book…highly readable and informative…Anyone who decodes the ratings of the three major agencies so amusingly – CCC means 'Russian roulette with five bullets in the chamber' and D means 'scrape your brains off the wall and place in a plastic bag'- demands to be read.' Lindsay Tanner, former Australian Minister of Finance in The Monthly
'A true insider's devastating analysis of the financial alchemy of the last thirty years and its destructive consequences.' Nouriel Roubini, Professor of Economics at NYC Stern School of Business and Chairman of Roubini Global Economics
Extreme Money was selected as one of Bloomberg's Best Business Books of 2011.
Published:

23 August 2011

ISBN:

9781742533926

Imprint:

Penguin eBooks

Format:

EBook

Pages:

496