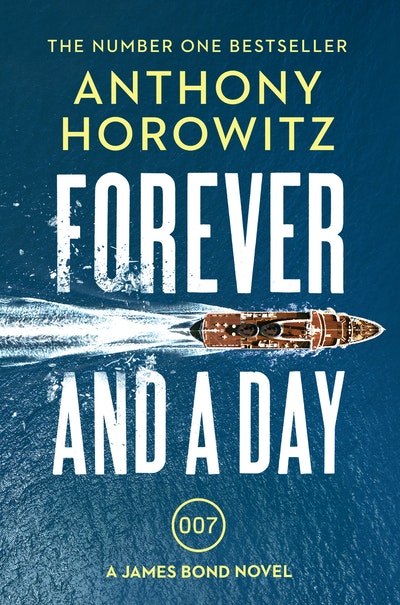 Published:

31 May 2018

ISBN:

9781473548398

Imprint:

Vintage Digital

Format:

EBook

Pages:

304
Forever and a Day
---
---
---
The new James Bond novel by No.1 bestselling author Anthony Horowitz

*THE NO.1 SUNDAY TIMES BESTSELLER*
James Bond is back in this explosive thriller.
A spy is dead. A legend is born.
*****
A British agent floats in the waters of the French Riviera, murdered by an unknown hand.
Determined to uncover the truth, James Bond enters a world of fast cars, grand casinos and luxury yachts. But beneath the glamour, he soon encounters a dangerous network of organised crime.
It's time for Bond to earn his licence to kill. He must find those responsible and unravel their devastating plan - before he becomes their next victim...
Discover the exhilarating prequel to Casino Royale
*****
'Exciting... 007 is back' Daily Express
'Evil villains, fast cars...and the story rips along' Guardian
'Tremendous fun... A first-class action writer' Sunday Express
'Horowitz excels at action sequences' Sunday Times

Published:

31 May 2018

ISBN:

9781473548398

Imprint:

Vintage Digital

Format:

EBook

Pages:

304
Praise for Forever and a Day
This is well-plotted, exciting stuff and Boyd has a great sense of time and place. His boozy, maturer, more fallible Bond is totally believable. Mission accomplished, Mr Boyd.

Natasha Harding, Sun
Boyd was a smart choice for a Bond thriller. The action clips along. There are welcome literary flourishes and a dense plot.

Richard Fitzpatrick, Irish Examiner
Written with aplomb, Boyd's Bond novel is a terrific twisting thriller.

Sunday Times
Anyone wishing this autumn to enjoy the Cold War with the assurance of a happy ending should seek out William Boyd's new James Bond novel, Solo, in which 007 is dispatched to West Africa and the fictitious country of Zanzarim, where he finds himself in the midst of a civil war.

Stephen McGinty, Scotsman
A fantastic read, which I ripped through in the time it would take to watch Skyfall, as it happens, and I found it significantly more enjoyable.

The Times
Triumphantly the equal of the great Bond adventures… A brilliant imitation that's occasionally superior to the prototype. Boyd IS Bond.

Robert McCrum, Guardian
It's good to report that Boyd has immersed himself in the character, the author and his oeuvre and come up with an Afro-American adventure that's triumphantly the equal of the great Bond adventures, Casino Royale and From Russia, with Love … Boyd IS Bond.

The Guardian
The poised, lyrical writing is a joy to read.

The Telegraph
[William Boyd has] a straightforward gift as a story-teller, coupled with a genius for evoking time and place… Boyd's prose gives at least as much pleasure as the first taste of a freezing cold beer, consumed at dusk on a tropical terrace, at the end of a long hard day.

Mail Online
Sebastian Faulks was the first author invited to pen a new Bond story…and Jeffrey Deaver the second. Now William Boyd has had a go, setting his story in 1969 and launching the spy on yet another mission.

Essentials
Events in Africa in 1969 drive 45-year-old James Bond to embark on an unauthorized solo mission in America, for which he's prepared to accept the consequences. 007 is back!

Fanny Blake, Woman and Home
The man with the golden gun is back in William Boyd's new novel paying tribute to the late great Ian Fleming.

Scott McMullon, So So Gay
The new Bond book, Solo, by William Boyd, is out now and, to my relief, he's kept the character exactly as he should be: alcoholic, violent and dripping with blonde bombshells.

Tim Stanley, Sunday Telegraph
Look how nice the new Bond novel looks.

Shortlist
Boyd has said the Bond films have turned the agent into a 'cartoon character' and he wants to show Bond as he originally was: 'far more troubled, nuanced and interesting.' That all sounds great.

Viv Groskop, Red
It might just be the ultimate in fan fiction.

Deirdre O'Brien, Sunday Mirror
Freeing Bond from all that usual world-in-his-hands nonsense, making him just that bit less invincible and the action just that bit more credible, Boyd has done something rather unlikely: he's given us a middle-aged, fallible Scottish hero we can almost believe in.

David Robinson, Scotsman
William Boyd brings back the real Bond, triumphantly… To bring a much-loved character back to life in this way is a formidable literary achievement.

Geoffrey Wansell, Daily Mail
Boyd is forging the Bond of Fleming rather than the sanitised version of film… Boyd has recreated the hero with wit, invention and no little humour.

Richard Kay, Daily Mail
The late Ian Fleming would surely have approved of novelist William Boyd continuing his James Bond writing franchise.

Hugh MacDonald, Herald
Solo's true literary craft lies in the subtlety of its correspondences – the way Bond's solitary celebration of his birthday at the beginning mirrors his solo mission at the end – and also the suspenseful quality that keeps us on our toes until the closing pages. Mission accomplished.

Ludovic Hunter-Tilney, Financial Times
[Boyd's] novel stays faithful to Fleming's character, from his meticulous approach to clothes to his fondness for cigarettes and whisky to his famous penchant for attractive women.

Jill Lawless, Irish Examiner
Terrific new outing… A tremendous Bond story, close to the model of the early Fleming novels.

David Mills, Sunday Times
Frankly, Faulks and Boyd are top-drawer writers. Yes, better than Fleming, though one can never take away his marvelous character creations.

Richard Brooks, Sunday Times
Boyd avowedly returns to the Fleming roots… Boyd's prose is lean, confident and well-crafted.

Ben Felsenburg, Metro
Showing the superspy as a complex character who weeps.

Sun
I was gripped by the story.

Cathy Rentzenbrink, Bookseller
This is a straightforward spy thriller the likes of which Ian Fleming would have loved. An excellent read by an excellent author.

Ben Keenan, UK Regional Press Syndication
The geographical and historical detail is excellent, Bond's character is beautifully fleshed out, and it all works brilliantly well.

Charlie Higson, Mail on Sunday
This is a novel, by a grown-up, and could only have been achieved by someone who had been enthralled when young and still believed, and also believed, with the thrilling self-confidence accorded to few writers, that he could make it better… A triumph. Bond is back.

Euan Ferguson, Observer
Boyd's strengths are at play here: from the names that stick like a tic (Digby Beadalbane the hack; Kobus Breed the killer) to the portrayal of a cracked African state weeded with mercenaries. And in 007 he has stripped the gadgets away to reveal a driven but existentially torn spook dealing with betrayal and a thirst for revenge.

Christian House, Independent on Sunday
[Boyd's] approach, he has said, was to write his own novel using Fleming's characters, and his gift for sustaining narrative momentum is the key to its success.

Richard Williams, Guardian
Written with aplomb, Boyd's Bond novel is a terrific twisting thriller.

Deirdre O'Brien, Sunday Mirror
Introduces a surprisingly sensitive Bond, but happily one who still has an eye for women, an impressive capacity for violence and a fondness for an eye-watering amount of booze.

Deirdre O'Brien, Sunday Mirror
It takes a brave chap to assume the mantle of Ian Fleming's Bond, but William Boyd is just the fellow.

Independent
The complex plot, full of twists and turns, as well as Bond's penchant for fine food and fast women, make this book a fitting addition to the 007 oeuvre.

Good Book Guide
Mixing the best ingredients of the Fleming novels with some unusual details, Boyd's take on 007 is crisp and invigorating like a stiff Martini.

Lady
A brilliant James Bond pastiche by a better writer than Ian Fleming.

Barry Humphries, Spectator
Brand-mad boys will love it. Boyd outdoes Fleming in politically incorrect, cocktail-slurping, Sobranie-smoking glamour, gastronomic and sexual specificity, gun technology and violence.

Christian Hardyment, The Times
Boyd's prose is crisp and clean, and the story fairly ricochets through its twists and turns as Bond zips from London to east Africa and on to the US. Fans of the original Fleming novels will find much to enjoy.

Declan Burke, Irish Times
Slyly deconstructs the assumptions – paternalist, imperialist, patriarchal – that underpin Bond's world, and concludes with a potent denunciation not only of the realpolitik of the late 1960s but of our own time... It is a lonely and chastened 007 whom we leave on the final page, one who possesses a sense of cultural and historical perspective that could only have been granted to him by someone like Boyd.

Jonathan Barnes, Times Literary Supplement
A terrific twisting thriller

Sunday Times
William Boyd brings back the real Bond, triumphantly

Daily Mail
A triumph. Bond is back

Observer
Works brilliantly well

Mail on Sunday
Superb

Scotsman
The late Ian Fleming would surely have approved

Daily Mail
Brilliant

Spectator
Keeps us on our toes until the closing pages

Financial Times
Terrific… A tremendous Bond story

Sunday Times
Exciting stuff… Mission accomplished, Mr Boyd

Sun
Manages to enrich and refresh a character we thought we knew too well. Solo is a terrific twisting thriller – just when you smugly think you have spotted a huge hole in the plot, Boyd turns it breathtakingly around.

David Mills, Sunday Times
Since the death of Ian Fleming, plenty of writers have tried their hand at perpetuating the career of James Bond, with mixed results. Boyd's Solo is undoubtedly one of the best.

Mail on Sunday
A triumphant thriller worthy of Bond's creator Ian Fleming.

Daily Express
I found myself wondering if Boyd had outdone Fleming.

Nicholas Lezard, Guardian
[Boyd is] an ideal writer of James Bond novels, and this one, his first, is very good

William Leith, Evening Standard
Perfectly judged homage

Mail on Sunday
A brand new James Bond adventure combining all the glamour and excitement of Fleming's original novels with the masterful storytelling of William Boyd

Western Morning News
A very good piece of literary ventriloquism, with a great baddie

Heathrow Express
Perfectly judged homage

Mail on Sunday
Fleming's James Bond lives again in this perfectly judged homage

Mail on Sunday
An enjoyably compact thriller, with an absolutely killer last line.

Guardian
Horowitz is a worthy successor to Ian Fleming, putting 007 back in his true domain. This New Bond is up there with the better Old Bonds. The denouement is a very fine piece of action writing. Horowitz has done splendidly.

Scotsman
A novel that feels very like a film. fast-paced, skilfully written. leaves you wanting more, and for serious Bond junkies [it] is the next fix in a long tale of addiction.

The Times
Straight away Horowitz is able to capture Fleming's flowing style and intricate details from how Bond likes his eggs in the morning to the cars he drives... He's just as faithfully suave as in the original novels.

Daily Express
Highly enjoyable.

Metro
[Horowitz's Bond] is once again in safe hands, not departing much from Fleming's entertaining formula... Horowitz's light touch and smooth plotting create something close to the ideal holiday read.

Irish Examiner
Exciting high drama. Horowitz stays loyal to the fabulous Fleming formula. And for that he surely deserves another mission guiding the fortunes of the world's favourite superspy.

Daily Express
Even better than Trigger Mortis. it is tremendous fun. Anthony Horowitz has the discipline and skill of a first-class action writer.

Sunday Express
This is another great new James Bond novel from Horowitz, who's filling the shoes of Ian Fleming with apparent ease.

Trucking
Forever and a Day is an explosive prequel to Casino Royale which promises to please Bond aficionados and a new legion of fans.

Northern Insight **Book of the Month**
Anthony Horowitz's second James Bond book will keep 007 obsessives happy with martinis, beautiful women and an enormously fat Corsican gangster.

The Times *Best New Novels*
Horowitz shows that he knows the Fleming books backwards, offering plot twists that are homages to the master's novels. This nicely imagined book... is an amusing and thought-provoking addition to the post-Fleming bond canon.

The Times *Audiobook of the Week*
Anthony Horowitz writes Bond in the style of Fleming... Total brain candy in the best possible fashion.

Rick O'Shea, RTE Guide
The super spy is back, with a fresh injection from novelist and screenwriter extraordinaire, Anthony Horowitz. The expert in suspense takes us back to the beginning of James Bond's story. the story rips along with plenty of familiar Bond staples: evil villains, fast cars and women falling for young Bond's charms. Ian Fleming would be proud.

Guardian
Horowitz proves himself so adept at getting inside the iconic character, and Fleming's writing style, that it's difficult to see the join. Rip-roaringly recommended.

Pat Carty, Hot Press
Horowitz.captures the mood, pace and style of Fleming very well. the story thunders along with action galore in the Bond tradition. It whets the appetite for the 25th Bond film.

Alex Gordon, Peterborough Evening Telegraph
A rattling good thriller from an undoubted master of the genre.

Choice
Video
Forever and a Day by Anthony Horowitz
A spy is dead. A legend is born. This is how it all began. The explosive prequel to Casino Royale, from bestselling author Anthony Horowitz, will be released on 31 May 2018.
Article