The 4000 voices of Girl Stuff 8–12, Your Real Guide to the Pre-Teen Years.
I love the researching phase of any book. It allows me to fully exercise my best skills: bothering important people, being terrified of getting something wrong, and working in my pajamas.
When I started to research my new book Girl Stuff 8-12, I had a head start. A few years earlier I'd written its big-sister book Girl Stuff – Your Full-On Guide to the Teen Years with the help of lots of medical and other experts.
Although writing the new Girl Stuff for pre-teens took a lot of work, I already had a template and the right background. A career in journalism taught me that you have to go to the tippety-top expert and ask them to explain something. Even if you are shy and worried about seeming like a huge dill, in my case, you have to ask anyway. I'd already relied on specialist consultants when writing Up the Duff and Kidwrangling, luckily for me, all sorts of experts have helped me as an author.
I've found that the best medical and other specialists instinctively want to get information out there. I rather love them for it, because they're not only brilliant and knowledgeable but they believe in helping people.
So much information aimed at girls and parents is profit-driven: brand and product ads are placed strategically and search-engine optimisation is utilised by companies so that when you need a solution or info, you find them – or they find you. Other advice can be driven by people who want validation for their world-view choices such as not vaccinating (boo). Some info is just clickbait or tabloid TV sensationalism. I've always been intrigued by where the truth is, and how to find it and tell it.
In this case, I started with the voices of 4000 Australian girls to guide me: girls from city and country areas, from different families and religions and school types, who'd filled out the widely promoted Girl Stuff survey. Girls told me what they thought younger girls should know, and what they wanted to know – which isn't always the same as what they need to know. Ask an 11-year-old what she wants to know about sizes, she might say, 'Exactly how much should I weigh?' What she really needs to know is how to be healthy, and that there isn't one 'perfect' size or shape.
Girls sent their innermost thoughts and worries to me on everything from first periods and body hair to friendship-group problems. (We asked what girls aged 12+ wanted to know about sex, drugs and alcohol, but we've left those topics out of Girl Stuff 8–12.)
Kids as young as 8 are showing the first signs of puberty changes. Girls are already prone to feeling freaked-out about whether they're 'normal'. So part of the job I want to do with Girl Stuff 8–12 is help girls and their mums and dads understand that these changes are natural, and okay, and that a bit of knowledge can make everyone feel a whole lot better.
Incidentally, girls are not going through puberty earlier for any sinister reason. (It has nothing to do with hormones in chicken.) Girls get their first body hair, body shape changes and first period because of a mix of genetics and better nutrition; in other words, girls get their first period when they're big enough, and individually ready.
When researching, I don't rely on info from the company that targets a special range of body-hair removal products to 10-year-olds, or the cosmetic brands flogging a daily 'skincare routine' with three products, or the magazine sites that tell little girls to wear swimsuits to create the illusion of a 'better shape'. I talked to doctors in adolescent mental health, eating-behaviour specialists and dermatologists, people who work to combat bullying, and who help protect girls online and on social media.
Australia is home to lots of medical world leaders. I go for two types of experts: the world-rated researcher or head of department always up on the latest in their field, and widely-respected practitioners who see a lot of real-world patients or clients. Once I have all that info, I concentrate on writing. I aim to be positive and practical, and try to impart confidence and optimism through age-appropriate lists and suggestions. Each book is enhanced by its editor and designer – in this case Rachel Scully and Adam Laszczuk.
I don't reckon I have the attention span to write medical textbooks. I want to write friendly, fun books backed by information you can trust. I update all my big non-fiction books regularly and say everyone should buy new editions. This is not simply because I'm a rapacious money-grubbing sod (I could possibly have worded that better); it's important that everyone knows about changes in medical and safety recommendations.
Research underpins my books, but it's not the motivation. I want to have the best interests of girls at heart as I write. They are entitled to the info in both Girl Stuff books – the teen and the pre-teen versions. I reckon that knowledge should be delivered to girls with kindness and empathy – and quite a lot of cartoons, come to think of it.
#preteengirlstuff #kazcooke
---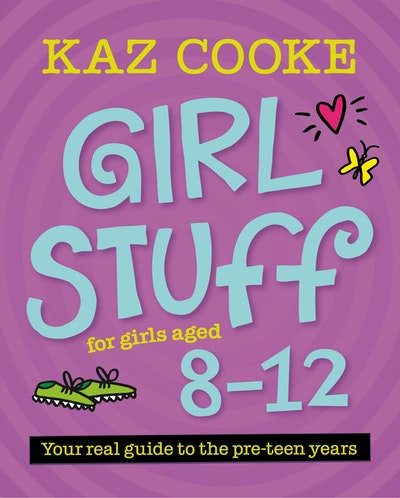 Girl Stuff 8–12 is the essential younger girl's guide to puberty and the pre-teen years. Fully revised and updated edition 2019/2020
Buy now
Buy now
---