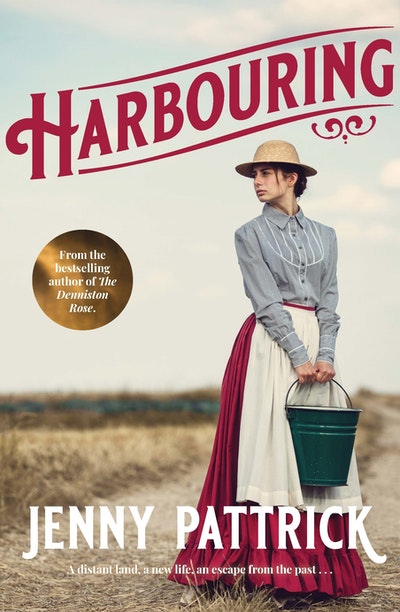 Published:

29 March 2022

ISBN:

9780143776673

Imprint:

RHNZ Black Swan

Format:

Trade Paperback

Pages:

304

RRP:

$36.00
Harbouring
---
---
---
A distant land, a new life, an escape from the past.
It is 1839 and Huw Pengellin is desperate to find a better life for his family than the one he ekes out in Wales. His wife, Martha, is fully aware just how foolhardy Huw's schemes can be, but she is keen to escape the foundry slums, as well as Huw's brother Gareth, with his hot eyes and roving hands. Might Colonel Wakefield's plans to take settlers to the distant shores of New Zealand offer a solution?
On the other side of the world, watching the new arrivals, is Hineroa, who is also desperate to find a better life. Will she be a slave for ever, will she ever be reunited with her people, and will the ships that keep sailing into the bay bring further trouble?
Change is underway, not just for these characters but also for the crescent of beach, thick bush and steep hills that are about to become the bustling settlement of Wellington.
Published:

29 March 2022

ISBN:

9780143776673

Imprint:

RHNZ Black Swan

Format:

Trade Paperback

Pages:

304

RRP:

$36.00
The story is from the lens of new 'settlers', those fleeing a brutal class system, those desperate for a new beginning and those in the 'tween ranks of life. I found this refreshing as many historical novels pitch the tale from the top power players and those that truly carve out the land become 'faceless' . . . A thoroughly encompassing novel to reach for as the colder winter nights start to close in. Highly Recommended.

Sue's Reviews, Wairarapa Times-Age
This I predict . . . will be another bestseller . . . Of course, if you know anything about Jenny's books, you'll know that her best qualities are . . . writing characters, absorbing them into her bloodstream in a sense and . . . you want to know what will happen next, not only that, of course, is the plots are usually very, very gripping and this one is no exception . . . we are always reminded of the people who have not been written about and that's what Jenny is so good at and she's done it again here. I've been very excited about this; I read it some weeks ago before it was officially published and I went straight back when my copy arrived to read it last week again and it holds up beautifully. It's got that extra, wonderful thrill of you're being right there . . . she's very good with the nasty people . . . she actually put New Zealand's historical novels on the map and then continued to do so.

Ralph McAllister, Radio NZ
. . . it was Pattrick's fiction which convinced me that19th century New Zealand could be made alive and absorbing. Since her best-seller The Denniston Rose, I've approached our fictional past with anticipation rather than apprehension. Pattrick shifted my view of the whole genre. . . So credible, too: the voices are authentic and subversive. . . . Pattrick has written thousands of pages in her years on the job; she's got a professional's awareness of which notes chime and which clang. . . Much happens, and it's competently placed and spaced. Many of the good end optimistically; a number of the bad don't. That's always satisfying.Pattrick knows how to include her research so that it's a background wash rather than a foreground blob. Those who wants good hard facts in their fiction (how peculiar) will find them. A multi-layered cast is adroitly controlled; you become rewardingly invested in the principals' arcs and ends. You also wish to smack the newcomers who intend to teach Maori "the Christian ways". Harbouring is a big, bold read.

David Hill, newsroom
Article
Find your perfect winter read!
Temperatures are dropping, the nights are getting darker and it's the perfect time to find a cozy spot to curl up with a good book . . .