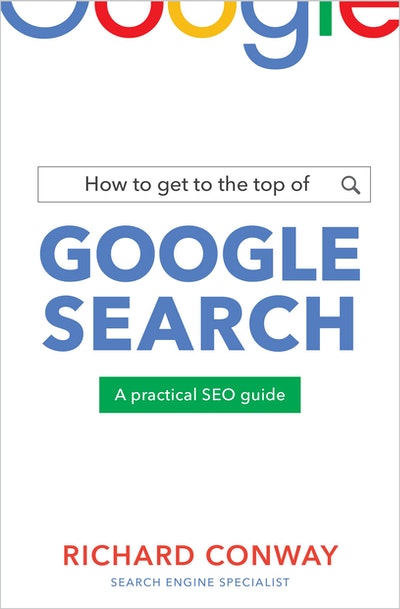 Published:

5 March 2019

ISBN:

9780143773535

Imprint:

Random House NZ

Format:

Paperback

Pages:

288

RRP:

$35.00
How to Get to the Top of Google Search
A Practical SEO Guide
---
---
---
Learn how to get your product or service onto the top page of Google searches.
Anyone trying to sell anything wants potential customers to be able to find them straight away when searching online. This book tells them how.
It has been written by a professional search engine consultant. Richard Conway started his company, Pure SEO, in 2009 with just $200 to spend on a single web page. From there, mostly using digital marketing, he has expanded the business to four offices in New Zealand and Australia. Pure SEO has been listed by Deloitte in the fastest-growing 500 tech companies in the Asia Pacific region for the past five years.
This practical guide cuts through the mis-information and sets the record straight on what actions you need to take, so searchers will find your product quickly and easily. It covers keywords, website content and structure, mobile search and optimisation, loading speed of your website and how that affects searches, planning content to make it easily searchable, tracking tools and much much more.
With Australasian-focused statistics and insights, as well as advice about how these two markets differ, the book is an authoritative and accessible 'how to' resource.
As well as practical and actionable advice (and 'red flags' to avoid), the book also looks ahead to consider the future of search marketing.
Published:

5 March 2019

ISBN:

9780143773535

Imprint:

Random House NZ

Format:

Paperback

Pages:

288

RRP:

$35.00
Praise for How to Get to the Top of Google Search
Even those who prefer to shop on the high street may still prefer to check out the internet first. So, whatever the nature of a modern business, it really does pay to avoid being drowned out by competitors on the world's most popular search engine. In this book, Richard Conway outlines such facets as keywords, website content and structure, mobile search and optimisation, tracking tools and much more, to reveal... How to Get to the Top of Google Search.

EastLife
Aunty Google has an answer for everything. Whatever did we do without her? But if you're a company, business, seller of anything, how do you get eyes on your offering in the midst of the internet jungle? Here's a whole book about conquering that vital SEO - search engine optimisation - to cut through the cyber soup. Yes, you could employ a company to help you do that, but it's cheaper and just as effective to do it yourself. As long as you know how. Keywords, metadata, searchable content, the anatomy of a web page, catering for mobile users, managing social media, tracking tools. It's all here. You need to know how to streamline your website and understand what people are searching for. And the author lives in New Zealand, and has an honours degree in business computing, so it's all relevant. So what do you want to ask Aunty today?

Linda Thompson, NZME Regionals