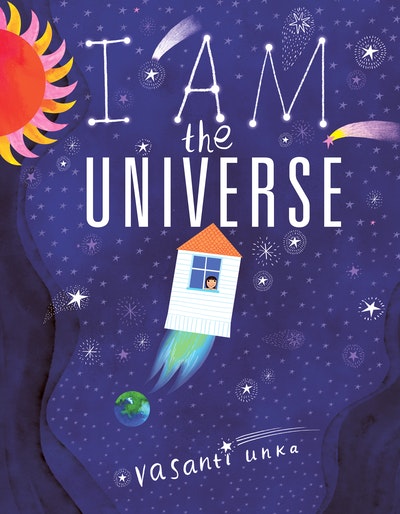 Published:

1 September 2020

ISBN:

9780143773443

Imprint:

Picture Puffin

Format:

Hardback

Pages:

32

RRP:

$25.00
I am the Universe
---
---
A gorgeous, award-winning illustrated story about our place in the Universe - it comes with a billion star rating!
From glittering galaxies to busy city streets, this stunning picture book takes you on a tour around the Universe.
I am the Universe,
an infinite space
of glittering galaxies.
It's a starlit journey through space that will lead you to a wonderful planet brimming with all kinds of life - including yours.
This stunning story demonstrating the scale of the Universe and our place in it was created specially for children aged three years and up by the award-winning author-illustrator Vasanti Unka, who lives in Auckland, New Zealand, the Earth, the Solar System, the Galaxy, the Milky Way, the Universe.
Winner, NZ Booklovers Award for Best Children's Book 2021
Winner, NZSA New Zealand Heritage Literary Awards Best Children's Book 2021
Winner, PANZ Design Awards Best Children's Book 2021
Published:

1 September 2020

ISBN:

9780143773443

Imprint:

Picture Puffin

Format:

Hardback

Pages:

32

RRP:

$25.00
Praise for I am the Universe
It's celebration time because a glorious new Vasanti Unka book has arrived in the world. It is scintillating. It gleams and it glimmers.

Paula Green, Poetry Box
I am the Universe embodies this desire to know where we are in the grand scheme of it all....[It] conveys a sense of wonder, a sense of the enormity of the infinite and the drama of the cosmos, and the thrilling diversity and richness of nature. But it also provides a sense of the collegiality of community, and the warm embrace of our family. It is at once reassuring and also mind expanding, with plenty of triggers to spark conversations about big scientific and philosophical concepts. And it is all done with simple yet compelling, thoughtful text, and bold, flat artwork that covers every inch of each page. The illustrations are attractive, colourful and dynamic sending the reader swirling through space, swimming through oceans and strolling through town, all enabled by a generously big format which makes you feel like you're falling into the world of the book.

Melinda Szymanik, Kids Books NZ
Coming from a writer based in Auckland, New Zealand, the Earth, the Solar System, the Galaxy, the Milky Way, this charming book takes readers on a tour of the universe. Designed especially to help young ones (aged 3-5 years) begin to understand the vast nature of nature itself and their place in it, I am the Universe is an 'out of this world' tale.

Rural Living Auckland
Wow! Reading this with a group of youngsters aged 6 – 9, it was clear that the illustrations – so bold and bright and simply stunning – were a clear winner in what's described as a "starlit" journey from the outer reaches of the universe to planet Earth and then right down to a family home and the heart and mind of a child. That it featured space and planets added to its appeal; animals and nature drawings were also popular. It's a big colourful book which makes readers think about the universe and the world and what it means to be part of it and would be good to read snuggled up to a parent or grandparent.

Dionne Christian, Kete
[A]n absolute winner...Each page throughout is a feast for the eyes and the brain

Becky Popham, The Sapling
fricking gorgeous (of course it was – Unka is the genius behind The Boring Book and Who Stole the Rainbow?)

Unity Books Children's Bestseller list, The Spinoff Review of Books
Magical, vibrant illustrations that will transport you from the furthest reaches of space to the neighbourhoods we live in and the beds we cuddle up in with books. Heaps of cool detail in the illustrations and simple but effective text – and all bundled up in a styley purple hardback cover.

The Sapling
a dazzling introduction to the basic concepts of stars and space, which comes back down to the personal with an intimate family bubble of hands, feet, books and cat. "We are a family: being together is all that we need."

Ann Packer, NZ Listener Best Children's Books 2020
[A]ccessible and appealing...Vasanti Unka's illustrations are simply spectacular, and her language charming and poetic: "I am an ocean, with dancing blue waves that sing to each shore." Highly recommended.

Emma Wood, Otago Daily Times
Wonderful illustrations combine with sparse, yet vibrant, descriptions to create a deftly structured book beginning with the vastness of the universe which then gradually narrows its focus to the earth and, finally, to the domestic lives of people living here. This is a book which informs through entertainment, and children – and adults – will be tempted into it again and again by the vivid and detailed images. In our current climate of COVID, the themes are particularly poignant as they remind us of our universal connectivity.

NZ Booklovers
NZ Booklovers Award
Winner • 2021 • Best Children's Book
PANZ Book Design Awards
Winner • 2021 • Best Typography Award
Storylines Notable Picture Book Award
Awarded • 2021 • A Storylines Notable Picture Book
The NZSA New Zealand Heritage Literary Awards
Winner • 2021 • Best Children's Book
New Zealand Book Awards for Children & Young Adults
Finalist • 2021 • Russell Clark Award for Illustration
PANZ Book Design Awards
Finalist • 2021 • Best Children's Book
Article
Beautiful NZ Picture Books from 2020
Sometimes a story is best told alongside a beautiful picture, Here's a small selection of some of our favourite 2020 picture books from local creators. 
Article