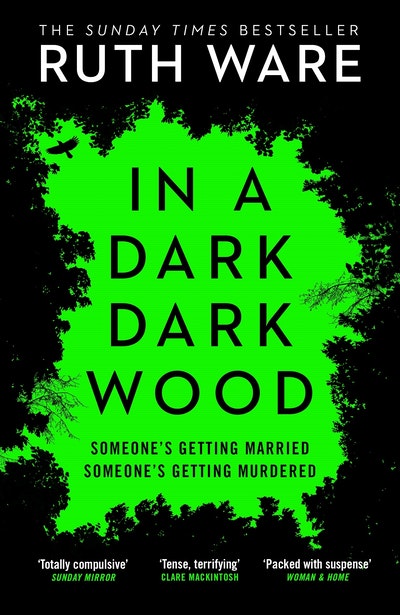 Published:

3 September 2021

ISBN:

9780099598244

Imprint:

Vintage

Format:

Paperback

Pages:

352
In a Dark, Dark Wood
---
---
---
The next big thing in crime fiction - does what for friendships what Gone Girl and The Girl on the Train did for marriages
THE SUNDAY TIMES TOP TEN BESTSELLER
A RICHARD AND JUDY BOOK CLUB CHOICE
SHORTLISTED FOR THE BRITISH BOOK INDUSTRY AWARDS' BOOK OF THE YEAR
'This year's hottest crime novel'
Independent
Nora hasn't seen Clare for ten years. Not since the day Nora walked out of her old life and never looked back.
Until, out of the blue, an invitation to Clare's hen party arrives. A weekend in a remote cottage - the perfect opportunity for Nora to reconnect with her best friend, to put the past behind her.
But something goes wrong.
Very wrong.
And as secrets and lies unravel, out in the dark, dark wood the past will finally catch up with Nora.
'Genuinely chilling and totally compulsive'
Sunday Mirror
'Mesmerising'
Guardian
'You won't be able to put down this creepy page-turner'
Closer
'A tense, terrifying novel'
Clare Mackintosh, author of I Let You Go
Now available for pre-order: Ruth Ware's brand new psychological thriller, The Death of Mrs Westaway. Coming June 2018.

Published:

3 September 2021

ISBN:

9780099598244

Imprint:

Vintage

Format:

Paperback

Pages:

352
Praise for In a Dark, Dark Wood
A slickly plotted, whip smart thriller - genuinely chilling and totally compulsive

Sunday Mirror, Book of the Week
[A] chilling psychological thriller...a tense, claustrophobic marriage of secrets, tequila shots and shotguns

Sunday Express
If the premise might be the sort that Agatha Christie would have toyed with had she been a 21st-century graduate, Ware's analysis of the power-games some women revel in – and the toxicity in the undertow of some female friendships – is more reminiscent of Sophie Hannah, Christobel Kent, or even Gillian Flynn and Harriet Lane

Patricia Nicol, Independent
You won't be able to put down this creepy page-turner

Closer
Thrilling, gripping & well-written

Metro, Book of the Week
Toxic friendships, an isolated house, a dark snowy wood... Everyone's worst nightmare, and the perfect ingredients for this tense, terrifying novel

Clare Mackintosh, author of I Let You Go
This is one of the hottest crime debuts around, one that does for friendship what Gone Girl did for marriage

Netgalley
So gripping. So glad my hen do days are behind me. It's going to be huge

Tamar Cohen, author of Dying for Christmas and The Broken
Ruth Ware has written an exciting, and in fact amazing book that never stops circling around behind the reader and clapping its cold hands over her eyes

Peter Straub, NYT bestselling author of Ghost Story and A Dark Matter
I raced through this, totally unable to put it down. It's gripping from start to finish: slick plotting, sharp twists and a pitch-perfect understanding of the many unique ways in which female friends hurt one another. Dark, smart and compulsive

Nicci Cloke, author of Lay Me Down
In a Dark, Dark Wood is going to be, without any doubt, this year's hottest crime novel. I challenge anyone not to finish this book on toxic female friendships in one sitting

Neel Mukherjee, Independent
A beautifully written psychological thriller that's going to be huge

Mark Edwards
Going to be THE summer read

Eva Dolan
Thrilling, gripping and well-written

Paul Connolly, 4 stars, Metro
Tense and packed with suspense, it tears along like a runaway train

Woman and Home
[a] stunning first novel (catch it before the inevitable film)… I stayed up for too late reading this and it was very bad for my blood pressure

Saga
dark and twisted tale

Manchester Evening News
A thrilling ride and Ware keeps us guessing right up until the final pages

Press Assosiation
Excellent characterisation give the ending a mesmerising, slow-motion car crash appeal

Laura Wilson, Guardian
the novel is a thrilling ride and Ware keeps us guessing right up until the final pages

Heather Doughty, Eastern Daily Press
Gripping and gruesome

Best
The hen night from hell ends in catastrophe. Creepy, compelling and clever.

Charlotte Heathcote, Daily Express
A slickly plotted, whip smart thriller - genuinely chilling and totally compulsive

Sunday Mirror, Book of the Week
[A] chilling psychological thriller...a tense, claustrophobic marriage of secrets, tequila shots and shotguns

Sunday Express
If the premise might be the sort that Agatha Christie would have toyed with had she been a 21st-century graduate, Ware's analysis of the power-games some women revel in – and the toxicity in the undertow of some female friendships – is more reminiscent of Sophie Hannah, Christobel Kent, or even Gillian Flynn and Harriet Lane

Patricia Nicol, Independent
You won't be able to put down this creepy page-turner

Closer
Thrilling, gripping & well-written

Metro, Book of the Week
Toxic friendships, an isolated house, a dark snowy wood... Everyone's worst nightmare, and the perfect ingredients for this tense, terrifying novel

Clare Mackintosh, author of I Let You Go
This is one of the hottest crime debuts around, one that does for friendship what Gone Girl did for marriage

Netgalley
So gripping. So glad my hen do days are behind me. It's going to be huge

Tamar Cohen, author of Dying for Christmas and The Broken
Ruth Ware has written an exciting, and in fact amazing book that never stops circling around behind the reader and clapping its cold hands over her eyes

Peter Straub, NYT bestselling author of Ghost Story and A Dark Matter
I raced through this, totally unable to put it down. It's gripping from start to finish: slick plotting, sharp twists and a pitch-perfect understanding of the many unique ways in which female friends hurt one another. Dark, smart and compulsive

Nicci Cloke, author of Lay Me Down
In a Dark, Dark Wood is going to be, without any doubt, this year's hottest crime novel. I challenge anyone not to finish this book on toxic female friendships in one sitting

Neel Mukherjee, Independent
A beautifully written psychological thriller that's going to be huge

Mark Edwards
Going to be THE summer read

Eva Dolan
Thrilling, gripping and well-written

Paul Connolly, 4 stars, Metro
Tense and packed with suspense, it tears along like a runaway train

Woman and Home
[a] stunning first novel (catch it before the inevitable film)… I stayed up for too late reading this and it was very bad for my blood pressure

Saga
dark and twisted tale

Manchester Evening News
A thrilling ride and Ware keeps us guessing right up until the final pages

Press Assosiation
Excellent characterisation give the ending a mesmerising, slow-motion car crash appeal

Laura Wilson, Guardian
the novel is a thrilling ride and Ware keeps us guessing right up until the final pages

Heather Doughty, Eastern Daily Press
Gripping and gruesome

Best
The hen night from hell ends in catastrophe. Creepy, compelling and clever.

Charlotte Heathcote, Daily Express