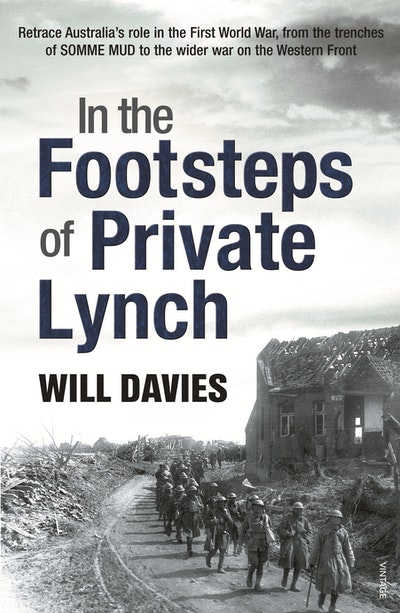 Published:

1 August 2008

ISBN:

9781741666106

Imprint:

Vintage Australia

Format:

Trade Paperback

Pages:

304

RRP:

$39.99
In The Footsteps Of Private Lynch
---
---
---
A companion book to the best-selling SOMME MUD, meticulously following the routeof Lynch's battalion, to illustrate the lasting impact of the men of the 45th battalion.
Imagine this.
You are a country boy and just eighteen. The war has been raging for two years and because of your age, you have not been eligible for enlistment. Your mates, older by a few months are joining up and disappearing to the great adventure across the world in Europe. And there is forever talk of the need for reinforcements, for men like you to join up and support the Empire, Australia and your mates in the line.
Such was the case for Edward Francis Lynch, a typical country boy from Perthville, near Bathurst. When war was declared in early August 1914, he was just sixteen and still at school, but like a generation of young males in Australia, there was something to prove and a need to be there.
Will Davies, editor of the bestselling SOMME MUD, meticulously tracked Lynch and his battalion's travels; their long route marches to flea ridden billets, into the frontline at such places as Messines, Dernancourt, Stormy Trench and Villers Bretonneux, to rest areas behind the lines and finally, on the great push to the final victory after August 1918. In words and pictures Davies fills in the gaps in Private Lynch's story and through the movements of the other battalions of the AIF provides impact and context to their plight and achievements. Looking at these battlefields today, the pilgrims who visit and those who attend to the land we come to understand how the spirit of Australia developed and of our enduring role in world politics.
Published:

1 August 2008

ISBN:

9781741666106

Imprint:

Vintage Australia

Format:

Trade Paperback

Pages:

304

RRP:

$39.99
Praise for In The Footsteps Of Private Lynch
"Lynch shows remarkable maturity in his abitlty to capture the banality of terror." - The Age
'IN THE FOOTSTEOS OF PRIVATE LYNCH is characterised by the manifest regard that Davies holds for Private Lynch and his fellow soldiers.'
Dianne Dempsey, The Age
"F.Scott Fitzgerald said that World War I could never be repeated because it would be impossible to get ordinary men to do it again.
There have, of course, been many other wars, but this book provides some evidence of wht Fitzgerald was right."
Michael Sexton, The Australian
Praise for SOMME MUD
"Lynch shows remarkable maturity in his ability to capture the banality of terror" - Sunday Age 12/08/06
"It is not written by a polished or professional writer but is a participants true story told in an authentic Australian voice - dispassionate, laconic and free of histronics, false heroics and phony literary flourishes." - The Mercury Magazine.
"If you have any interest in the history of war or if you simply like books filled with emotion then you must read this."- Swan Hill Guardian.
"We love in a world of Somme mud," Lynch Writes. "We sleep in it, work in it, fight in it, wade in it and many of us die in it. We see it, feel it, eat it and curse it, but we can't escape it, not even by dying."