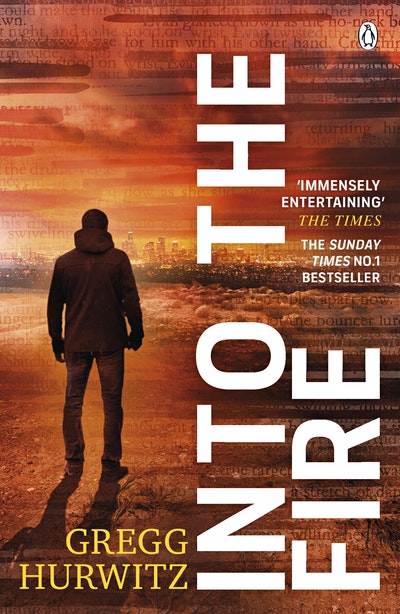 Published:

20 February 2020

ISBN:

9781405928571

Imprint:

Penguin eBooks

Format:

EBook

Pages:

464
Into the Fire
---
---
---
The astounding fifth novel from Gregg Hurwitz featuring Evan Smoak - Orphan X aka The Nowhere Man
Evan Smoak - former government assassin, 'Orphan X', turned white knight of last resort - is planning on hanging up his gun.
Then he gets one last call.
Max Merriweather has lost his wife, home and career. Now it looks like he's going to lose his life. A murdered cousin has left him a package and a team of assassins on his trail . . .
Nothing Evan can't handle.
If it weren't for the fact he's carrying a brutal concussion that's made him vulnerable. Or that the simple job of keeping Max safe quickly escalated into a mission unlike anything he's ever encountered.
But as Evan's problems mount just one thing is clear: he is now in the most dangerous position of his life . . .
Published:

20 February 2020

ISBN:

9781405928571

Imprint:

Penguin eBooks

Format:

EBook

Pages:

464
Another jet-fuelled thriller

Shots Magazine
A stellar series, and the stories get better with each instalment. Throwing the main character literally into the fire showcases how truly heroic Evan Smoak is. He's the man you want in your corner when justice is needed

Daily Mail
Sheer escapist fantasy, best enjoyed with all disbelief suspended going in. Sharp, stylish prose, an immensely entertaining adventure

The Times
Praise for Orphan X:

-
Orphan X blows the doors off most thrillers I've read and catapults the readers on a cat-and-mouse that feels like a missile launch. Read this book. You will thank me later

David Baldacci
Orphan X is his best yet - a real celebration of all the strengths Gregg Hurwitz brings to a thriller

Lee Child
Orphan X is the most gripping, high-octane thriller I've read in a long, long time!

Tess Gerritsen
Orphan X is most exciting new series character since Jack Reacher. A page-turning masterpiece of suspense

Jonathan Kellerman
Mind blowing! A perfect mix of Jason Bourne and Jack Reacher

Lisa Gardner
Orphan X is the most exciting thriller I've read since The Bourne Identity ... A new thriller superstar is born!

Robert Crais
Orphan X is not good. Orphan X is great. Whatever you like best in a thriller - action, plot, character, suspense - Orphan X has it

Simon Toyne
A new series character to rival Reacher . . . anyone reading Orphan X won't be surprised that a cadre of peers, from Tess Gerritsen to Lee Child, have lined up to praise it

Independent
Bestseller Hurwitz melds non-stop action and high-tech gadgetry with an acute character study in this excellent series opener . . . Evan Smoak is an electrifying character

Publishers Weekly
In terms of plot, characters, suspense and innovation, Orphan X is outstanding . . . I've always thought that one reason for Tom Clancy's success was the endless detail he provided about military hardware, and that the James Bond novels benefited from the loving attention Ian Fleming devoted to the martinis, expensive cars and gorgeous women he so admired. Hurwitz outdoes both writers . . . Orphan X is a smart, stylish, state-of-the-art thriller. It's also the start of a series, one that might give Lee Child's Jack Reacher books a run for their money

WASHINGTON POST
A masterpiece of suspense and thrills . . . Turn off the real world and dive into this amazing start to a new series

Associated Press
Article
Spotify playlists for your reading adventures
We've all been there. . . reading the perfect book, completely invested in a fictional world, only to be disturbed by a neighbour mowing their lawns or the distant sound of dogs barking. Suddenly you're pulled back to reality wondering what on earth happened.