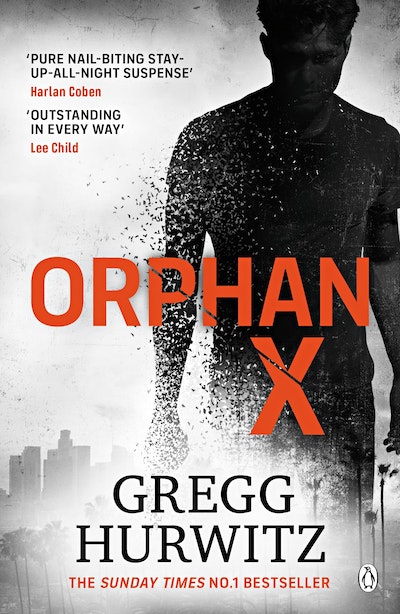 Published:

21 April 2016

ISBN:

9781405910729

Imprint:

Penguin eBooks

Format:

EBook

Pages:

544
Orphan X
---
---
---
I Am Pilgrim meets Jack Reacher in 'the most exciting thriller I've read since The Bourne Identity' - Robert Crais
'Do you need my help?'
It was always the first question he asked. They called him when they had nowhere else to turn.
As a boy he was taken from an orphanage, then raised and trained. As part of a top-secret programme, he was sent out do the things his government denied any knowledge of.
Then he broke with the programme, using everything he'd learned to disappear. He wanted to help the desperate and deserving.
But now someone's on his tail. Someone who has issues with his past. Someone who knows he was once known simply as Orphan X.
Published:

21 April 2016

ISBN:

9781405910729

Imprint:

Penguin eBooks

Format:

EBook

Pages:

544
Other books in the series
Orphan X blows the doors off most thrillers I've read and catapults the readers on a cat-and-mouse that feels like a missile launch. Read this book. You will thank me later

David Baldacci
Orphan X is his best yet - a real celebration of all the strengths Gregg Hurwitz brings to a thriller

Lee Child
Orphan X is the most gripping, high-octane thriller I've read in a long, long time!

Tess Gerritsen
Orphan X is most exciting new series character since Jack Reacher. A page-turning masterpiece of suspense

Jonathan Kellerman
Mind blowing! A perfect mix of Jason Bourne and Jack Reacher

Lisa Gardner
Orphan X is the most exciting thriller I've read since The Bourne Identity ... A new thriller superstar is born!

Robert Crais
Orphan X is not good. Orphan X is great. Whatever you like best in a thriller - action, plot, character, suspense - Orphan X has it

Simon Toyne
A new series character to rival Reacher . . . anyone reading Orphan X won't be surprised that a cadre of peers, from Tess Gerritsen to Lee Child, have lined up to praise it

Independent
Bestseller Hurwitz melds non-stop action and high-tech gadgetry with an acute character study in this excellent series opener . . . Evan Smoak is an electrifying character

Publishers Weekly
In terms of plot, characters, suspense and innovation, Orphan X is outstanding . . . I've always thought that one reason for Tom Clancy's success was the endless detail he provided about military hardware, and that the James Bond novels benefited from the loving attention Ian Fleming devoted to the martinis, expensive cars and gorgeous women he so admired. Hurwitz outdoes both writers . . . Orphan X is a smart, stylish, state-of-the-art thriller. It's also the start of a series, one that might give Lee Child's Jack Reacher books a run for their money

WASHINGTON POST
A masterpiece of suspense and thrills . . . Turn off the real world and dive into this amazing start to a new series

Associated Press
There is a pristine classicism to Gregg Hurwitz's Orphan X, which borrows from Robert Ludlum and superhero lore to bring us Evan Smoak, adopted as a child by a shadowy figure called Jack and trained to be an assassin as part of a secret US government scheme. When the Orphan programme (as it is known) is disbanded, Evan moves to California and devotes himself to good works - taking out a slum-landlord paedophile cop, for example, after his victim calls Evan's special number. However, his meticulously compartmentalised life makes him vulnerable . . . Orphan X is tight and tense in all the right places. But it wouldn't work half as well if we didn't feel Evan's pain and share his panic as the worst-case scenario unfolds: another former Orphan, with a less noble agenda, seems to be hunting him. Orphan X is weapons-grade thriller-writing from a modern master

Guardian
A masterpiece of suspense and thrills . . . Turn off the real world and dive into this amazing start to a new series

Daily Mail
Bond, Frodo, Paddington Bear - some of literature's greatest heroes have been orphans. Add Orphan X's Evan Smoak to the list

Shortlist
The page turner of the season

The Times
Article
Article