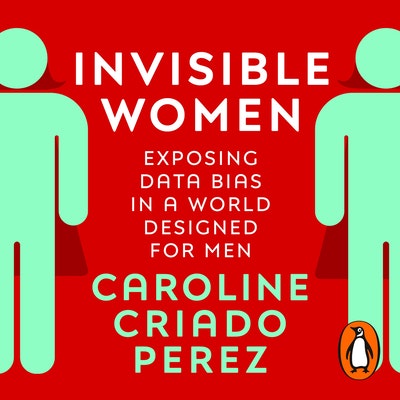 Published:

7 March 2019

ISBN:

9781473569003

Imprint:

Vintage Digital

Format:

Audio Download

Length:

9 hr 24 min

Narrator:

Caroline Criado Perez
Invisible Women
Exposing Data Bias in a World Designed for Men
---
---
---
An exciting and ground-breaking work of journalism and activism about women, and the systemic discrimination caused by a data gap that affects half the population - from an award-winning writer and feminist campaigner, who got a woman on our banknotes and a statue of Millicent Fawcett in Parliament Square
Brought to you by Penguin.
The audiobook edition of Invisible Women, readby Caroline Criado Perez.
**Winner of the Royal Society Insight Investment Science Book Prize 2019**
**Winner of the Readers' Choice Books Are My Bag Award 2019**
**Winner of the FT & McKinsey Business Book of the Year 2019 Book of the Year Award 2019**
**The Times Current Affairs Book of the Year 2019**
Imagine a world where...
· Your phone is too big for your hand
· Your doctor prescribes a drug that is wrong for your body
· In a car accident you are 47% more likely to be injured.
If any of that sounds familiar, chances are you're a woman.
From government policy and medical research, to technology, workplaces, and the media. Invisible Women reveals how in a world built for and by men we are systematically ignoring half of the population, often with disastrous consequences. Caroline Criado Perez brings together for the first time an impressive range of case studies, stories and new research from across the world that illustrate the hidden ways in which women are forgotten, and the profound impact this has on us all.
Discover the shocking gender bias that affects our everyday lives.
© Caroline Criado Perez 2019 (P) Penguin Audio 2019
Published:

7 March 2019

ISBN:

9781473569003

Imprint:

Vintage Digital

Format:

Audio Download

Length:

9 hr 24 min

Narrator:

Caroline Criado Perez
Praise for Invisible Women
Invisible Women takes on the neglected topic of what we don't know - and why. The result is a powerful, important and eye-opening analysis of the gender politics of knowledge and ignorance. With examples from technology to natural disasters, this is an original and timely reminder of why we need women in the leadership of the institutions that shape every aspect of our lives.

Cordelia Fine
The thoroughness of Invisible Women doesn't detract from its absolute readability. This is entertaining, scholarly and so very important.

Adam Rutherford
Invisible Women is an absorbing cornucopia of thought-provoking facts - fascinating, alarming and face-palming in equal measures. Caroline Criado-Perez shows up the shortcomings of a world designed for men by men. The consequences of treating men as the default option, or women just as smaller men - if they get considered at all - has wide-reaching implications for everything (and everyone) from snow clearing to seat-belts and many branches of medicine. I shall certainly think of this book next time I have a heart attack, a car crash or just want to go to the toilet at the theatre.

Professor Gina Rippon
A blisteringly good book... never less than eye-opening, and frequently staggering

Bookseller
Here are the facts! Caroline Criado Perez shines her penetrating gaze on the absence of women from the creation of most societal norms - from algorithms to medicinal doses to government policy. Knowledge is power - we all need to know how our systems work if we want change. Arm yourself with this book and press it into the hands of everyone you know. It is utterly brilliant!

Helena Kennedy
Hugely readable, packed with facts and insight. An important book written with humour and flair

Robert Webb
Wide-ranging and vastly well-informed, Invisible Women is a book that promises to transform the terms of the equality debate

Sarah Ditum, In the Moment, **Books to Look Out for in 2019**
Invisible Women is a game-changer; an uncompromising blitz of facts, sad, mad, bad and funny, making an unanswerable case and doing so brilliantly.the ambition and scope - and sheer originality - of Invisible Women is huge; no less than the story of what happens when we forget to account for half of humanity. It should be on every policymaker, politician and manager's shelves

Melanie Reid, The Times
It's a smart strategy to invite readers to view [a] timeworn topic through the revealing lens of data, bringing to light the hidden places where inequality still resides... Criado Perez wields data like a laser, slicing cleanly through the fog of unconscious and unthinking preferences.

Guardian
Criado Perez comprehensively makes the case that seemingly objective data can actually be highly male-biased. Policymakers everywhere should take heed

Sarah Gordon, Financial Times
arguably one of the most important publications of the year

Susan Dalgety, Scotsman
An eye-opening examination

Decca Aitkenhead, Sunday Times
Anyone who doubts that we live in a world designed by and for men needs to read this book, with its implicit message that even what we've won so far can never be taken for granted.

Literary Review
Invisible Women shines a light on the gender gap in data and what every woman needs to know about it

Joanne Finney, Good Housekeeping
Jaw-dropping. This book is a snapshot of the dangers of a world designed to fit a minority

Barbara Speed
Plain, detailed and almost overwhelming prose. There is no anger in Criado Perez's pages - she is too busy with evidence for that

Tanya Gold, UnHerd
This book is a devastating indictment of institutionalised complacency and a rallying cry to fight back. Invisible Women should propel women into action. It should also be compulsory reading for men

Christina Patterson, Sunday Times
Caroline Criado Perez brilliantly exposes the appalling gender bias that underpins the collection of data and how it's used. From medical treatments that fail to take female biology into account, to car safety features that are designed for the male body, women are the invisible 51%. This deeply researched and passionate book is the most important contribution to gender equality in years

Amanda Foreman
Invisible Women. is a book that changes the way you see the world

Allan Massie, Sunday Times
The book's force doesn't derive from the power of its rhetoric - instead it's the steady, unrelenting accumulation of evidence, the sheer weight of her argument'

Sophie McBain, New Statesman
Caroline Criado Perez brilliantly exposes the appalling gender bias that underpins the collection of data and how it's used. From medical treatments that fail to take female biology into account, to car safety features that are designed for the male body, women are the invisible 51%. This deeply researched and passionate book is the most important contribution to gender equality in years.

Amanda Foreman
In Invisible Women.Caroline Criado Perez expounds the far-reaching consequences of the "default male" mode. She urges a realignment of priorities. [a] call to action

Mia Levitin, Times Literary Supplement
Ending the biases she [Perez] exposes wouldn't just reduce inequality; it would, in some cases, save actual lives

The Week, *Book of the Week*
Perez's analysis is wide-ranging and compelling. one of the most powerful takeaways from Perez's book is the extent to which so much of this [gendered] bias is unconscious, such that we are all infected by it. Feminism is the process of unlearning this, but it's an ongoing process, for all of us

Conversation
Revelatory - it should be required reading for policy and decision makers everywhere

Nicola Sturgeon
An impeccably researched, determined and passionate demand for change

Sian Norris, Prospect
The depth and scope of this book will shock you. Invisible Women is an essential handbook in the fight to build a more equal world. Read it for yourself, then lend it to all your friends, of any gender

Philippa Matthews, Chemistry World
Invisible Women is an essential handbook in the fight to build a more equal world. It's based on enough data to satisfy even the fussiest scientist and will make you look at the world in a new light. However, the style is light enough that it doesn't feel like hard work. Read it for yourself, then lend it to all your friends, of any gender

Chemistry World
HELL YES. This is one of those books that has the potential to change things - a monumental piece of research

Caitlin Moran
An extraordinary book

Anthony Reuben, Big Issue
One of the most compelling books I've read in years

Josie Cox, Independent
[An] astounding book

Dominic Browne, Highways
A strong case for change

Sarah Shaffi, Stylist
Invisible Women makes excellent points about how biased data are hidden and have pervasive negative impacts on the lives of women and girls

Margaret McCartney, Lancet
Criado Perez's devastating indictment is a worthy bestseller

Guardain, *Summer Reads of 2019*
This book is a wake-up call for us all

Church Times, *Summer Reads of 2019*
Overwhelmingly powerful

Kistina Rapacki, Disegno
Few books this year are as important as activist Criado-Perez's data crunch into the inequalities between men and women. She finds something to engage and enrage on every page

Sarah Hughes, i, *Best books of 2019*
A fascinating look at the gender biases affecting our everyday lives

Women's Running
This book is comprehensive, well researched and thoroughly referenced with copious endnotes. [it] made me.shift my perspective

Toni Sekinah, DataIQ
Revelatory, frightening, hopeful. A secular Bible

Jeanette Winterson
Thought-provoking, eye-opening

Iona Grey, Heat
Not only a gripping but an important book. It's funny when it's not horrifying, deeply researched and done with real verve

Sam Leith, Spectator, *Books of the Year*
Few books really change the way you look at the world. Invisible Women is one of those rarities

Robbie Millen, The Times, *Books of the Year*
What makes Invisible Women so compelling is the mountain of data she draws on. a brilliant exposé

Ian Sample, Guardian, *Books of the Year*
Every man should read this book. [Invisible Women] chats, in page after steely, meticulous page, precisely how the world.is designed around men, and how this puts women at an impossible disadvantage

James McConnachie, Sunday Times, *Books of the Year*
It took the writer and campaigner Caroline Criado Perez to reveal the true extent of the man's world we live in. What makes Invisible Women so compelling is the mountain of data she draws on. Data, it turns out, matters... The pervasiveness of the problem is staggering...this is a brilliant exposé that deservedly won the Royal Society science book prize

Ian Sample, Guardian, Best science, nature and ideas books of 2019
Book that did most to change the way I thought? Caroline Criado Perez's Invisible Women... Perez has delivered a much needed correction: full of persuasive examples and analysis of areas from public policy, medicine, economics and elsewhere in which data have been gathered in such a way as to obscure or omit matters of most concern to women. I learned a lot

Tim Harford
Funny, exasperating and anger-inducing, there is something for everyone

Eleanor Parsons, New Scientist
The essential book of the year, mayhap the decade

Marina Vaizey, Tablet, *Books of the Year*
A staggering expose of design prejudice and an impassioned call to action

List
Perez takes the truism that ours is a world designed for men and backs it with evidence. Impressively collating vast amounts of research

Prospect, *Books of the Year*
A must-read for men and women alike

Hannah Beckerman, Sunday Express
This calm, dispassionate, hilarious, entertaining, maddening, infuriating narrative is a highly readable manifesto for real change

Marina Vaizey, The Arts Desk, *Books of the Year*
This well-researched book turns everything we accept as normal on its head.[Invisible Women] succeeds in making a powerful case for change in a non-preachy, educative style. It is not entertainment; it is a thesis - and a powerful one at that

Alison Herbert and Dr Phyl Hughes, Law Society Gazette
This incredibly well-researched and engaging book highlights how the lack of gender-focused data results in the needs of more than half of the population being ignored. The numerous examples cited by Criado-Perez - ranging from infrastructure to healthcare - are shocking and sobering. Invisible Women offers valuable insight into the transformative power of diversity and equality to drive better economic outcomes

Christie Guimond, Briefing
Such an insightful book and a good read for everyone

Julie Stewart, Business Times
Incredibly topical and relevant in a rapidly changing world, Criado Perez's multi-award-winning exposé on data bias has seen her become an authority on modern day inequalities

Capacity
Invisible Women...is already a classic, but I can't recommend it enough

Sarah Pedersen, Times Higher Education
A powerful, insightful book

Tim Harford, Week
Compelling... revelatory... Criado Perez provides bountiful evidence of her thesis

Mariel McKone Leonard, London School of Economics
A huge eye-opener

Jojo de Noronha, Grocer
A witty, furious page-turner

Emma Donoghue, Week
Invisible Women is highly recommended to both men and women as an incredibly readable piece of journalism... Many of you will also find you cannot put down this passionate and informative book until you've finished it... illuminating and engaging

Platinum Business Magazine